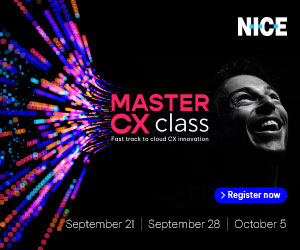 NICE brought Interactions EMEA 2019 to a close by celebrating the winners of its annual CX Excellence Awards.
In a ceremony attended by customers and industry experts, NICE presented awards to five organisations that excelled in the delivery of service and leveraged innovation to ensure unparalleled customer experiences and drive positive business results.
The five winners achieved remarkable results in analytics, automation, cloud and workforce management across the following categories:
Best Business Impact – for driving measurable improvements in KPIs including operational efficiency, revenue growth and customer satisfaction.
The winner is:
Swinton was presented this award for adopting an automation strategy to help guide agents on their new platform and automating repetitive high workload processes using NICE Robotic Process Automation (RPA). Swinton also increased process consistency and drove rapid compliance. Importantly Swinton increased employee engagement and boosted customer satisfaction, which led to an increase of 11% in NPS.
Best Cloud Implementation – for the implementation of cloud-based solutions to drive rapid innovation while enjoying a complete, omnichannel customer experience suite in the cloud.
The winner is:
Transcom won this award for combining disparate systems and moving to NICE Nexidia Analytics in the cloud for a client in the Spanish market. Transcom experienced a boost in average handling times (AHT), enhanced compliance, reduced infrastructure investment and drove improvements in revenues as a result.
Best Employee Engagement – for enhancing workforce engagement and empowerment, and demonstrating excellence in transparency, retention and motivation strategies.
The winner is:
Thomas Cook received this award for setting up a Center of Excellence to identify and automate key tasks and thereby assist agents in providing more efficient customer interactions using NICE RPA. These changes facilitated a greater focus on customer service, reduced the average handling time (AHT) of in-house processes, introduced global consistency in reporting and drove millions in savings.
Best Customer Experience – for achieving a deep understanding of customers' personalities and journeys to improve customer experience through advanced, real-time analytics.
The winner is:
Mesto was presented this award for implementing a new standard for measuring customer experience and loyalty, streamlining the business to quickly respond to issues and improve customer service by leveraging NICE Satmetrix. Of particular note is the improvement of Net Promoter Score by 9%, ensuring 70% of repeat responders remained promoters and driving 13% of responders to become promoters.
Rookie of the Year – for demonstrating excellence in quick adoption and turn-up, achieving rapid ROI.
The winner is:
The Environment Agency won this award for driving a productivity gain of 13-16 FTEs by streamlining processes such as water resource licences and water quality permit processes to less than 7 minutes each, down from 65 minutes and 45 minutes respectively, using NICE RPA. The accolade celebrates the boost in job satisfaction owing to a reduction in repetitive tasks and an increase in higher-value tasks, better compliance and accuracy as well as improved brand reputation.
John O'Hara, President, NICE EMEA, said, "Thanks to all the participants and congratulations to the winners of this year's awards."
"Today's evolving business environment demands innovation at the heart of the business to fulfil the superior service experiences customers are accustomed to."
"We're proud to be honouring organisations who embraced innovation and drove benefits for their customers as well as their employees."