Outbound Scripting Software
When agents are required to use multiple systems and multiple screens, their focus is distracted away from the customer. Working in this way often leads to multiple re-keying, mistakes and inevitably extends call durations. Outbound scripting software overcomes this by defining structured flows across all interactions via a single, intuitive-to-use application.
Benefits of outbound scripting software
The benefits of outbound scripting software include:
Reduction in call durations
Increase in conversion, or service closure, rates
Reduction in repeat calls
Improvement in customers' perception of the service
Optimisation of processes
Overall, clients see increased productivity and effectiveness, reduced costs and increased profitability.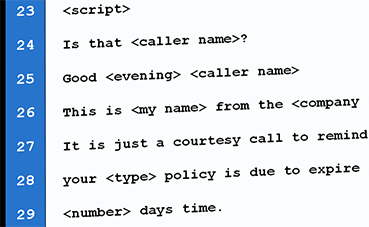 How does Outbound Scripting software work?
The call centre management team can use the outbound scripting tool to define call flows and determine what information from what systems is required at each stage of a call. The software then takes care of pulling in this information and updating the underlying systems with information gathered during the call.
With the advancement in call centre technology non-technical tools enable supervisors and managers to define these call flows, the data required and the scripts/prompts to be used.
This gives supervisors and managers the benefits of:
Full control over the structure of each interaction
The ability to manage workflow between agents, functions and departments
The flexibility to dynamically change process flows or introduce new services
Effectively handle interactions across multiple media
Monitoring and measuring performance.
The benefits are also extended to the agents, they are able to:
See the information they need, when they need it
Avoid complex navigation across multiple systems and data sources
Focus on the conversation with the customer
Avoiding the Pitfalls
All too often we see organisations that have invested heavily in their contact centre environment and telephony equipment only to ignore the agent desktop. Providing agents with access to a multitude of back-office systems that were never designed for use over the telephone severely hampers performance. It is the easy option that should be avoided at all cost.
By putting in place a scripting system, either providing call prompts or simply structuring the call flow, will ensure consistency in interactions and help guide the agent along the most productive conversational path.
Further Reading
Contributors
Carl Adkins, managing director at Infinity CCS