Scripting in Outbound Calls
Scripting is a technique that has been used in many outbound call centres to generate a repeatable call flow. Scripting is required in some companies for compliance reasons.
Scripting has traditionally got a bad press as it can make the call flow sound rather 'wooden' and inflexible. But more modern 'scripting' systems have recognised that a straight-line script doesn't meet the call recipient's or agent's needs.
Desktop scripting systems now:
Provide context-sensitive scripts based upon specific customer information
Personalise scripts for teams and individual agents to support champion-challenger processes
Dynamically route the call process based on the direction of the conversation – for example providing the agent with relevant objection handling prompts
Directly integrate with other IT systems to make sure that the agent has relevant information 'screen popped' when they need it
Quality 'scripting' support can be a significant productivity tool in an outbound operation, delivering:
Consistent process conformance
Improved performance through shorter transactions
Dramatically reduced training time for new staff and new activities
Scripting is widely used in outbound call centres, with around 51% of calls centres using this technique.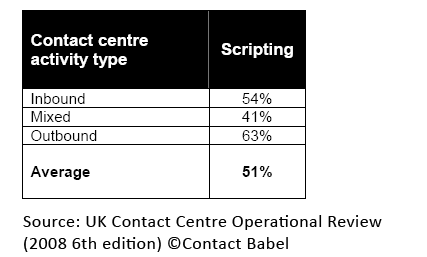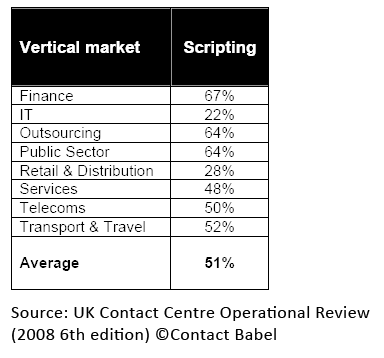 Further Reading
Contributors
Steve Morell at Contact Babel, Ken Reid and Jonty Pearce