In light of the findings of our 2022 survey report, we have put together five critical questions every contact centre manager should ask themselves to help their operations truly thrive into 2023 and beyond.
1. Do Your Agents Have a Good Work–Life Balance?
In the wake of the pandemic, it's clear that work–life balance is no longer seen as a nice to have, but as a cornerstone of modern life, where opportunity for homeworking and part-time shifts are par for the course.
Work–life balance is no longer seen as a nice to have, but as a cornerstone of modern life
This is evident in the continued popularity of homeworking, as identified in the What Contact Centres Are Doing Right Now (2022 Edition) report, where only a minority of contact centres said they had no homeworkers.
This is further supported by the increase in the number of contact centres offering part-time shifts.
This is food for thought for contact centre managers – particularly those with a high staff turnover and attrition rate.
It could be high time for some snooping on what other local companies are offering to tempt away your staff, or even asking some more focused work–life balance questions in your exit interviews. All of this information may very well help illuminate what needs changing and fast!
2. Are Your Customers Only Relying on Voice Because They Have To?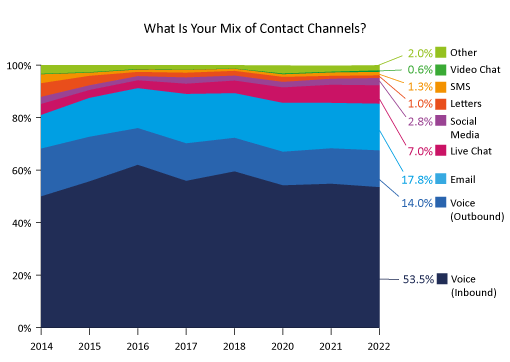 One of the clear trends highlighted in the report is that voice remains the channel of choice for customers.
However, this is not a black-and-white situation, as there is no guarantee that the volume of voice interactions demonstrates a preference for this channel.
Instead, it could be highlighting a failing across the industry to empower customers to find their answers or resolve their queries in other ways.
This theory is supported by the continued rise in self-service – through channels such as IVRs and chatbots, both on the increase in 2022 – showing that there is growing demand for these alternative channels fuelled by those businesses that get it right.
There's a real opportunity to look at the volumes coming into the contact centre and see if there's grounds for improving self-service options around common queries.
What does this all mean? For managers, there's a real opportunity to look at the volumes coming into the contact centre and see if there's grounds for improving self-service options around common queries – particularly the simpler ones.
Once these have been identified, managers can take action to direct this traffic elsewhere, and work more efficiently on resolving the more complex queries.
3. Are Your Metrics in Need of a Refresh?
Another clear trend coming out of the report is a shift in priority around the metrics in use – with Customer Effort, Average Handling Time (AHT) and First Contact Resolution (FCR) being just a handful of those taking less prominence this year.
By contrast, attrition rate is being prioritized, with many viewing this as a vital metric – possibly led by increased attrition and staffing issues.
For contact centre managers, these stats should prompt some housekeeping and general conversations around your current use of metrics – and where there might be room for improvement.
Is it time to stop doing things the way they've always been done, or at the very least add some fresh justification as to why you are continuing to rely on your current mix of metrics?
Watch our video Beware of Watermelon Metrics, to find out why contact centres need to be mindful of the metrics they use.
4. Are You Striking the Right Balance in Capturing Customer Feedback?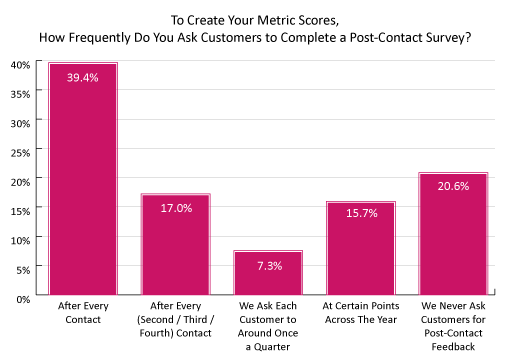 The report findings also showed a significant divide in the industry between contact centres asking customers to complete a post-contact survey after every interaction and those who never ask.
It's a tough balance to strike, as you don't want to send customers into survey fatigue and for them to disengage from any future feedback opportunities, but equally you don't want to miss out on this valuable insight.
So, what's happening in your contact centre? Do you sit nicely in the middle – not too much, not too little, or do you need to do some work to explore what the right balance might be?
Whilst there are other ways to establish the quality of your service – as shown in the increased popularity of speech and text analytics this year – perhaps it's time to take another look at how and why you are asking for customer feedback, and, if you aren't doing it at all, where it has the potential to be introduced and add value. Even if it's just quarterly.
If you are looking to develop your customer feedback practices, read our article: Customer Service Feedback: How to Perfect Your Strategy
5. Are You Proactively Addressing Absence and Lateness?
Over a third of contact centre professionals who took part in the research said that absence and lateness is now their biggest scheduling problem – resulting in scheduling chaos!
Possible factors behind this include employee dissatisfaction and lack of engagement, as well as the dreaded warning sign that staff are looking to change jobs.
However, there's also ample opportunity for improvement in these areas – before they risk having a longer-term knock-on effect across the contact centre.
Download our 'What Contact Centres Are Doing Right Now (2022 Edition)' survey report now to discover more great insights
Not sure where to start in addressing these challenges? Here are some helpful hints and tips…