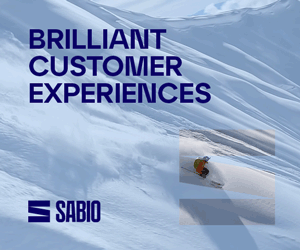 Sabio Group has been named Genesys' Partner of the Year for EMEA.
Sabio picked up the award for showing the highest levels of success and growth while at the same time supporting Genesys' corporate vision.
In the last 12 months, the business has welcomed significant new logo wins across EMEA, involving many cloud migration projects as well as a steady stream of next phase 'land and expand' contracts.
Sabio's formidable Genesys capability, including its specialist services and support team and its ability to connect best-in-class technologies to provide CX and digital transformation, also helped it stand out from the competition.
The business's success in 2021 was recognized at Genesys' PartnerFest conference, held annually to celebrate the success of partners across the region.
Matt Tuson, Chief Commercial Officer at Sabio, said: "This is a fantastic award; it's one that we are really delighted with and is a great end to a wonderful year as a supporting Genesys partner.
"Sabio is the dominant provider of Genesys' solutions in EMEA – our ability to harness the power of the Genesys platform is unrivalled – and we're committed to investing into the continued provision and support of Genesys' solutions in alignment with our own growth strategy.
"We have size, scope, depth of expertise and geographical reach – as well as the required track record – and have made the necessary investments to enable us to align tightly with Genesys' own evolution to becoming a cloud provider."
Matt added: "We recognize Genesys' vision, the technical capabilities of their platforms and their abilities to get their customers to where they need to be.
"I am truly delighted that our commitment and success has been recognized with this award, which further strengthens our standing as a trusted Genesys partner not just across EMEA, but globally.
"We have an extremely strong pipeline of cloud migration projects across the Group as we enter 2022, and will have more Genesys-related success stories to tell this time next year."
Sabio has been a Genesys partner for more than two decades and is renowned for its ability to harness the power of its platforms to solve varying customer service and customer experience challenges.
It is also the leading Genesys Gold partner in Europe, with practices in the UK, France, Netherlands and Spain to help its clients bring their CX strategies to life.
For more information about Sabio - visit the
Sabio Website