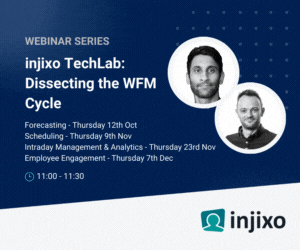 Our panel reveal the features you should be looking out for when choosing your next Performance Management Solution.
Automatically identify coaching needs
The clear goal of a performance management solution is to improve performance (lowered cost of care and increased customer satisfaction are good performance indicators).
The manager or team leader needs to be able to have a clear and accurate window into how every agent is performing and progressing (ideally within one click) – in order to see what needs to be done to raise their game.
Look for systems that automatically identify where managers and supervisors should spend their time coaching, and allow employees to drill into the metrics behind a performance problem.
Gamification can offer new challenges to your agents
Look for a performance management system that has customisable gamification features embedded.
Challenges and quests are a way to focus employees on learning new skills, goals, and objectives in a way that ramps up engagement and adds a dash of fun into the workday.
Empower agents to share knowledge and experience
Look for tools that facilitate social collaboration and team-building, empowering agents to communicate with each other, to share knowledge, experience and ideas via forums, chat or best practice libraries.
This will have even greater resonance if you are using home-based agents, as it may give them the community expertise they might be lacking in the absence of a traditional office space.
With thanks to Paige McCaleb at NICE Systems
Check your system gives you mobile access to performance data
Performance management tools should be able to give you an integrated view of key metrics across all contact channels, including voice, email, web and social.
Look for a system that allows you to see real-time performance as well as historical KPIs, with the flexibility to configure, adapt, monitor, manage and optimise your contact centre performance, without putting strain on team resource, or spending money on costly IT projects.
As well as this, check whether your system gives you mobile access to performance data wherever you are, allowing you to react in real time before it's too late to resolve an issue.
Your recording system should be tightly integrated
Make sure the recording system you choose is tightly integrated with your contact centre platform, so you can ensure that the best agent practice can be identified and shared rapidly, and worst practice avoided.
It is also vital to make sure your recording solution captures interactions across every channel.
With thanks to David Ford at Magnetic North
Give everyone easy access to their own performance information
Agents should have easy access to information on how they're delivering against their individual performance targets – not just at the end of the month but on an ongoing basis.
It's the same for team leaders – with cumulative agent performance showing how each team is performing.
Best practice performance management deployments see individual goals combining to reflect the overall company strategy throughout the business.
Alter scorecards to suit your organisation
Make sure that you can change your own performance management scorecards in the solution.
It's important for contact centre management to be able to adjust and refine individual and group performance management targets – and to be able to do this quickly.
What you want to measure today might not be what you want to measure in 12 months' time – and it's not effective if you have to wait for consultants to come in and reconfigure the system, as that could take weeks and cost a lot of money.
Your system should draw on a range of different inputs
Make sure that your performance management system draws on data from a range of different inputs – best practice performance management solutions perform optimally when they can integrate statistics from a number of different systems.
These could be workforce optimisation tools such as WFM, or corporate applications such as Sales or ERP.
This way you can ensure that performance is more balanced – and you can also enable agents to track their own performance in terms of specific sales conversions or package uplifts, for example.
With thanks to Steve Chaplin at Sabio
Providing agents with real-time customer feedback
Providing agents with real-time customer feedback can have a dramatic effect on performance and productivity.
It is important that feedback can be identified at agent level. Ideally, insight should be captured as quickly as possible, so that individuals have the ability to self-correct where they are going wrong.
Targets, incentives and scorecards can be linked to customer satisfaction data so that individuals strive to outperform their colleagues.
Combine Voice of the Customer feedback with productivity metrics
Link customer satisfaction scores to productivity and employee engagement to further understand behaviour and challenge the status quo.
Here are two ways this can benefit your contact centre:
Mixing number of contacts handled with customer feedback – This will give you a whole new view over who the true best agents are. For example, the ones that deliver customer satisfaction cost-efficiently.
Mixing Average Handling Time with customer feedback – You may have thrown out AHT as an agent incentive, but that doesn't mean you should stop measuring it. Mixing it with customer satisfaction feedback means that you will find advisors who spend longer with customers than they actually want.
With thanks to Mats Rennstam at Bright UK
Real-time speech analytics can prompt agents to give the right answer
A performance management solution should look to provide real-time capabilities for agents, helping develop agent productivity and improve their knowledge through their own initiative.
Technologies such as speech analytics can offer these real-time capabilities, such as prompting agents on how to give the information required.
If an agent is interacting with a customer and there is no detection of them providing customers with the proper response, the system will send 'push' training to the agent desktop if a particular area needs improvement quickly.
In this way, staff are immediately aware of what went wrong, and can rectify it as soon as possible.
Store information about your customers – including their buying habits
The solution should be able to collect and analyse customer data.
Being able to store previous customer data, from previous contact to buying habits, enables an agent to gain a fuller and more complete view of a customer's needs and wants.
This enables the agent to deal with a customer not just quickly, but more personally as well – which will help you to retain their loyalty.
With thanks to David McGovern at Aspect Software
Create tailored performance management agreements for each role
Your performance management system should allow you to create tailored performance management agreements for each role in your contact centre.
It should also allow you to build scorecard templates that include customer-focused metrics and balance quantitative metrics with outcomes based on your brand values and desired behaviours.
It's easy to fall into the trap of incentivising highly "efficient" robotic customer experiences that bear no resemblance to the brand image you want to project.
Continuously pull data onto your agent's scorecard
Your system should integrate easily with sources of real-time contact centre data such as quality, customer satisfaction and First Contact Resolution.
Choosing a system that continuously pulls all of this data into your agent's scorecard allows agents to understand how they are performing on a daily basis rather than just once a quarter.
By focusing the process on the employee, you can empower all employees to own their own performance and ensure there are no nasty surprises at review time.
Electronically sign off individual and team-wide targets
To avoid the most common performance management pitfalls, choose a system that uses performance data to drive meaningful and action-focused feedback and coaching sessions.
It should also allow agents and managers to electronically sign off on both individual and team-wide future targets.
With thanks to Jaime Scott at EvaluAgent
Automatically assign training classes
If you have a solution that, when knowledge gaps become visible, can automatically assign training classes with work schedules in mind, agent performance can be improved with the minimal possible impact on service levels.
Real-time self-management helps to ensure high performance
It is impossible for managers to assess every agent's performance every minute of the working day.
A degree of self-management for contact centre agents helps ensure optimum personal performance. A good performance management solution will include real-time self-management figures, so agents are always aware of their performance targets and attainment.
The figures agents see should be the same as supervisors see, allowing agents to proactively manage their own performance and see in real time how changing their approach can influence performance figures. This in turn provides both parties with coherent data for analysis and discussion.
Integrate cross-company data from all channels
As digitally conscious customers move between channels, it is important to look for a performance management solution which reflects this.
For many businesses, one of the most critical KPIs is First Contact Resolution, the number of times a customer's needs were addressed the first time they reached the contact centre.
Only a solution that integrates cross-company data from all channels can provide a really accurate representation of FCR.
With thanks to Stefan Captijn at Genesys
Your solution should be easy to manage and maintain
Look at the flexibility and ease of use of the system for your users.
A solution that is easy to manage and maintain while also accessible on PC, Mac, tablet or smartphone will offer quick, easy and informed performance management, reducing the cost of ownership and providing greater long-term value.
Automated analysis removes the need for clunky spreadsheets
Ensure that the solution provides automated analysis and a relevant visual presentation of your workloads and their adherence to the respective KPIs, without the need to export data from various sources to clunky spreadsheets.
The solution vendor should have full security certification
If you are looking for a cloud or hosted application, ensure that your performance management solution provider has full certification and encryption, e.g. SOC 1 Type II, ISO 27001 and/or PCI DSS Level 1.
All data traffic between your site and the solution should be encrypted using https or similar. Your provider must also comply with data privacy regulations as specified by the Data Protection Act 1998, which states that EU customer data must be stored in locations within the EU region.
Performance management solution providers should also ensure that secure networks, appropriate data encryption levels, firewall protection and strong user authentication, with the capacity for regular password changes, are in place.
With thanks to Chris Dealy at injixo
Make sure you have easy access to call recordings
Make sure your performance management solution offers easy access to call recordings.
Organisations can use these to identify performance or compliance issues within the business and make adjustments and changes in order to achieve greater effectiveness and efficiency in their operation.
Furthermore, they can easily define and demonstrate what great calls sound like in individual or group training sessions.
An integrated view across all channels including social media
Performance management tools should also extend beyond the voice channel and offer an integrated view across all contact centre channels, including email and social media.
With thanks to Jonathan Gale at NewVoiceMedia
A single view across the entire organisation
Integrating your performance management system can enable you to monitor KPIs, budget and objectives across the entire business.
Many organisations still operate in departmental silos, meaning that performance reporting can only be achieved by department, resulting in management spending valuable time making sense of these reports.
A performance management system needs to link various aspects of the business, people management and individual teams in order to create a holistic view so a business can understand risk, performance, and the impact of decisions company-wide.
Create customised reports yourself
No two businesses are the same. Each has its own unique goals which it wants to measure through its performance management solution.
Your system should therefore enable your business to create reports, in exactly the way you want your data presented.
This flexibility needs to extend across the whole system and allow different departments to customise their own dashboards and workflow so they can instantly access their own personalised view of data.
Real-time access with an accurate view of current performance
Whilst receiving daily, weekly or monthly reports is valuable, the pace of change in some organisations is so rapid that these reports are often delivered to resolve a problem when it is too late.
Performance management systems need to be able to provide real-time access that will provide management with an accurate view of current performance.
This access to real-time data allows management to actively analyse performance and make changes to ensure optimum operational efficiency whilst driving continuous process and performance improvement.
With thanks to Susannah Richardson at mplsystems
Automatically send out an end-of-call survey
You should always be asking yourself "what is the caller trying to achieve?"
Only by acting on this can the operation be properly allied with customer needs.
Your system therefore should enable you to measure this satisfaction by sending out a simple end-of-call survey.
Your system should be able to measure FCR and abandon rates
Data analysis shows that of all the available metrics, only first time resolution and average abandon rates have any correlation (albeit weak) with customer satisfaction.
Your system should be able to monitor first time resolution and abandon rates, provide powerful mechanisms for call classification and then use the data to act.
With thanks to Colin Westlake at Syntec
What do you think are the 'must have' features of a Performance Management Solution?