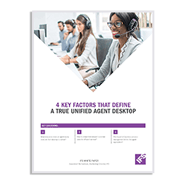 The agent desktop plays a crucial part in the delivery of customer service. However, the required functionality for an agent desktop has dramatically changed over the past decade.
This ebook summarises 4 key factors that define a true unified desktop.
White paper written by: IFS Customer Engagement & Service Marketing UK
Click here to download your copy of the white paper.
Published On: 12th Nov 2018 - Last modified: 1st Mar 2019
Read more about - Archived Content, IFS
---