This article explores the answers of 224 contact centre professionals when asked 'As Part of Your Knowledge Management Strategy, Have You…?'
The results have been taken from the Knowledge Management chapter of our 'What Contact Centres Are Doing Right Now'  2021 survey report, which was sponsored by ProcedureFlow.
As Part of Your Knowledge Management Strategy, Have You…?
Contact centre knowledge management strategy – results:
| Strategy Choice | Percentage |
| --- | --- |
| Involved Advisors in Knowledge Creation | 59.9% |
| Assigned a Knowledge Manager | 42.1% |
| Created a Review Process for New Pieces of Knowledge | 39.5% |
| Developed a Set Style Guide | 36.8% |
| Analysed Advisor Searches into the Knowledge System | 25.7% |
Advisors Are a Key Part of Knowledge Creation
The best people at simplifying customer responses are experienced contact centre advisors, who know the answers to common queries.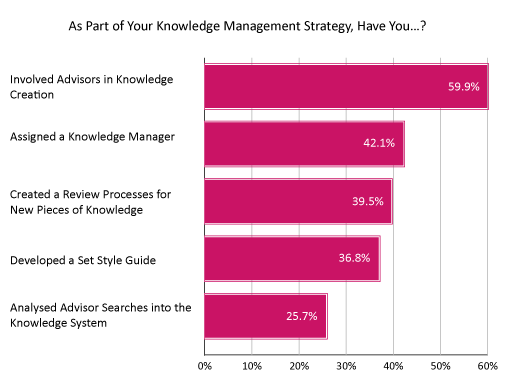 With this being the case, it was great to see 59.9% of contact centres involving their teams in knowledge creation.
An additional 42.1% have also appointed a knowledge manager to analyse content and keep the system up to date.
Style Guides Are Seemingly Underutilized
Setting a style guide, so that every piece of knowledge is formatted in the same way, can be very beneficial, as advisors are then able to immediately make sense of the material.
However, little more than a third of contact centres do so, overlooking a potentially simple method of simplifying knowledge content.
Also, only 39.5% of contact centres have set up a review process for pieces of knowledge. This could be a major factor in why knowledge base accuracy is so erratic.
This survey was done in partnership with Akixi, NICE, Nuance, Odigo, Poly and ProcedureFlow.