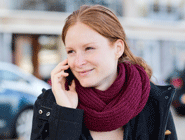 51% of customers feel more appreciated if they hear messages they can relate to over alternatives such as a dial tone, beeps or silence.
The study, conducted among 1,000 consumers on behalf of PH Media Group, also found that a further 54% believe a company appears more professional if it plays bespoke messages to callers who are waiting on hold.
On-hold marketing looks set to increase in importance too, as the research found younger generations respond particularly well to on-hold marketing messages.
61% of 16- to 44-year-olds believe a company sounds more professional if it uses bespoke voice and music on hold, but the figure drops to 48% for 45- to 54-year-olds and 41% among 55- to 64-year-olds.
Women are also found to be particularly receptive, with 57% claiming these messages are more professional, compared to 52% of men.
"These results will come as a surprise to many because generic 'please hold' messages are so often seen as an annoyance, as are music tracks looped endlessly while you wait to speak to someone," said Mark Williamson, Sales Director at PH Media Group.
"But the key word there is 'generic'," he continued. "Customers do not want to feel as if messages they hear on hold are simple placeholders designed to placate and pacify them – it reflects badly on the company's brand. Instead, businesses should aim to create voice and music messages that inform and entertain. Rather than simply filling time, they should speak to customers and prospects on a more relevant and personal level and, as such, exploit an ideal opportunity to reflect specific brand values."
Published On: 9th Sep 2015 - Last modified: 22nd Mar 2017
Read more about - Archived Content
---