'Are your contact centres primarily voice or are you moving to digitizing customer engagements?' was a question Josh asked our LinkedIn Community.
With 233 responses to the poll, it proved to be a popular topic amongst our contact centre professionals, and the results support our own research into contact centre channel choice.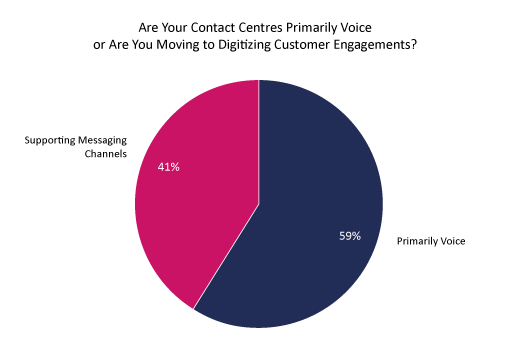 Channel Distribution
Response %
Primarily Voice
59%
Supporting Messaging Channels
41%
With 59% of respondents saying their contact centre is primarily voice, the question remains whether this is an active customer choice, or a result of the other channels on offer being unable to meet the necessary contact requirements.
Despite this, 41% of respondents did say their contact centre is not primarily voice so it does appear that at least some are moving away from the traditional voice option and developing their contact channels.
★★★★★
Several industry professionals also commented on the post, offering more information and insights, which we would like to share with you.
On Certain Projects We Offer Live Chat and Email
We are still primarily voice, but on certain projects we already offer "live chat" as well as support for info emails. In addition to the above, our company also develops AI call bots, which are already capable of conducting basic conversations – basic dialogues
Thanks to Arian
ALL Messaging Channels Need to Be Embraced
The move to digital is unstoppable IMHO (in my humble opinion), and customers are increasingly demanding their preferred channels be available to them when they need them.
ALL messaging channels need to be embraced, and if you're not yet on the journey, I would urge you to get started.
There are some factors affecting the choices people are making, including the availability of agents/wait times etc, but speed and convenience certainly for younger users is a primary concern – these are the ones who pay £3 delivery for a bottle of milk from Deliveroo because it's "convenient".
Thanks to Graham
Both
Both! Voice is primary, with chat, email and secured messaging as secondary channels
Thanks to Anthony
Live Chat Facilities Are a Fantastic Way of Contacting Customer Service
Having moved away from call centres, I've certainly found live chat facilities a fantastic way of contacting customer service. I have recently done this successfully with Ocean Florida about my holiday booking. Some companies have a lot of work to do.
Thanks to Mike
Source: Poll conducted in our LinkedIn Community Sample size – 233 Date: 2022