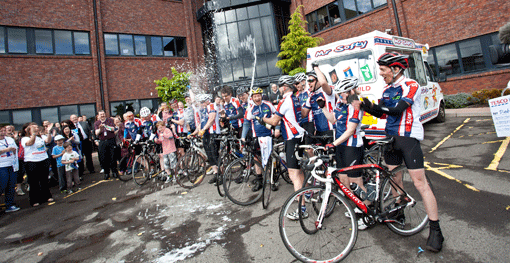 Following our recent story, we catch up with the colleagues from the Tesco Customer Service Centres who have completed their 500 mile trip.
The 14 cyclists and 4 support team members from the Tesco Customer Service Centre in Cardiff and Dundee completed the trip in 5 days to raise money for Tesco's Charity Partner Diabetes UK.
They rode 504.19 miles at an average speed of 14.5mph in a typical mix of British weather, they got drenched and sunburnt in the same day, they climbed 6,729 metres, pedalled 148,936 times and burnt 27,975 calories each.
Team Member Scott Crowe said, "It was an amazing experience… It was simultaneously the best and worst experience of my life. We're very proud of what we've done, but it was hard work."
"Everyone in the team trained hard, clocking up the miles in preparation for the challenge, we even had our legs waxed to raise more money."
"We felt this was a great way to help raise awareness of diabetes and highlight the importance of leading an active and healthy lifestyle to help reduce the risk of developing Type 2 diabetes."
The team have raised over £17,000 so far in aid of Tesco's Charity Partner Diabetes UK and would like to thank everyone who got involved for their support.
Published On: 24th Jul 2013 - Last modified: 22nd Mar 2017
Read more about - Archived Content
---