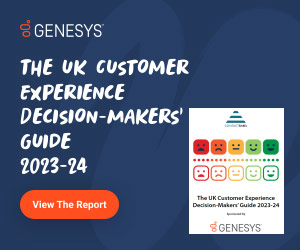 Foehn, the developer and integrator of cloud contact centre systems, has been awarded Gold Partner status by Genesys.
The endorsement is the highest level of accreditation within the Genesys Partner Programme.
Foehn's recognition stems from its outstanding achievements in the design, integration and deployment of the Genesys PureCloud platform over the past three years.
The accolade acknowledges Foehn's successful achievement of demanding standards set by Genesys in the quality of training, customer care, professional services and customer satisfaction.
The announcement comes following a year of unprecedented growth and success in Foehn's twenty-year history.
Highlights include winning the ITSPA 'Best VoIP Software of 2018' award for Foehn's newly launched Voxivo cloud phone system, the release of the Voxivo Collaboration suite and the launch of VoxivoCX cloud contact centre.
Other accreditations added over the past year include ISO/IEC 27001, Cyber Essentials and G-Cloud listing on the Government's Digital Marketplace for the seventh consecutive year.
For James Passingham, Foehn's CTO, the Genesys Gold Partner status endorses Foehn's capabilities and expertise in delivering a complete range of customer experience solutions for both SME and larger organisations.
James says: "Genesys PureCloud is of strategic importance to our product strategy and our own development roadmap in the long term."
"Nothing matches PureCloud's omnichannel capabilities and this provides a perfect solution to those of our customers whose requirements extend beyond the exceptional value of our own VoxivoCX system."
Genesys continues to dominate the global contact centre market, providing solutions to more than 11,000 companies in over 100 countries.
Commenting on Foehn's success, Genesys Channel and Alliance Director, John Bell, added: "We're pleased to announce Foehn as a Genesys Gold Partner."
"Foehn's in-depth understanding of customer experience technology combined with its consultative, educational and support services ensures our joint customers receive the maximum return on investment."
Foehn was named the Genesys PureCloud Partner of the Year twice, in 2017 and 2018.
The company has completed PureCloud deployments for customers in both the private and public sectors, including Kiwi.com and Ceredigion County Council.