THE DATE: Wednesday 27th June 2018
Time: 9:00 – 14:00
THE LOCATION: London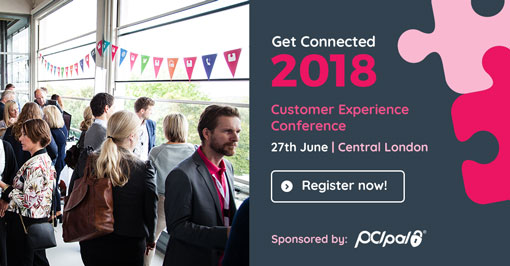 THE DESCRIPTION: Exceptional Customer Experience – People, process and technology
Our annual customer experience event attracts over 150 contact centre professionals across the UK. Join us and our panel of experts to learn about:
Emerging technologies such as Artificial Intelligent (AI) and Bots are changing the customer experience. Yet humans remain at the heart of every contact centre experience. In this conference we explore what customers expect in terms of service and what it takes to deliver an outstanding customer experience.
Compliance requirements such as GDPR and PCI DSS are often seen as an administrative burden in contact centres. We explore the opportunity compliance presents to review processes around sensitive customer data to benefit both your customers and your organisation.
Contact centre technology can be confusing and overwhelming. We put technology to the test to ensure an exceptional customer experience matched by cost effective delivery. It's not about technology, rather how you intelligently use technology to create exceptional customer experiences.
Get Connected is a free conference and places are limited, be sure to book your place now!
Please note that this is a conference for end users. Other registrations may be rejected. If you have questions regarding registration please contact naila.basit@puzzel.com.
THE ORGANISERS: Puzzel
THE WEBLINK: https://www.puzzel.com/uk/events/gc18
---