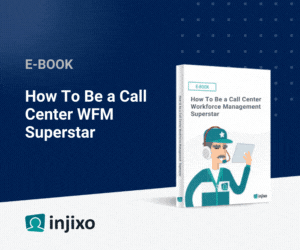 Lots of contact centre solutions now offer the ability to improve back-office functions.
We asked our panel for their opinion on the best ways that call centre technology can improve the back office.
Back-office workforce management
Back-office performance management and workforce optimisation has often been problematic due to difficulty in measuring processes and limited visibility of agent performance.  This situation has changed due to the capability of workforce optimisation solutions that can measure activity, schedule staff and provide performance metrics.
Screen capture is used to measure the all-important handling time for each process. This enables a staffing requirement to be calculated based on the back-office service level targets. This opens up all of the benefits of workforce management in terms of forecasting volumes, and scheduling of staff to optimise resource.
Back-office staff will also benefit from features traditionally utilised by the agent: engagement tools such as shift swaps, holiday bookings and fairer schedules, for example. This helps to reduce the "us and them" mentality between front and back office and potentially offer a more varied workload.
Gone are the days when back office was seen as the poor relation in terms of process management and improvement. Solutions exist where the dual benefit of improved efficiency and enhanced customer service are available and enterprise planning is becoming the norm.
David Evans, Consultant – Workforce Optimisation, Business Systems (UK) Ltd (bslgroup.com)
Sharing customer data
Often organisations operate two parallel but separate customer datasets, leading to two very different pictures of the same transaction or customer. This inconsistency can result in errors, delays, and unnecessary paperwork.
Customer data cannot be shared effectively without 'joined up' front/back office business processes. The introduction of straight-through processing is a must to eradicate departmental silos of information, unnecessary administrative overheads and process duplication.
Self-service voice forms
It is accepted that multiple interruptions for small queries and progress chasing can be very disruptive to the back-office operation.  As a consequence, many inbound enquiries may be sent to voicemail, or the contact centre staff may be asked to take a message, resulting in a potentially dissatisfied customer or at the very least a call-back.
These calls are often notifications, questions or queries that can be resolved much more efficiently using self-service voice forms to capture this information. The data is then fed directly through to the back-office systems, creating a solution that is positive for the agent and the customer and isn't disruptive to the back-office operations.
Richard Farrell, Netcall (www.netcall.com)
Integrated desktops
One of the main problems faced by back-office staff which we see every day is that they have to work with so many different systems and applications. As a result, their messy screens resemble desktips not desktops.
Whilst they need these applications to perform their roles, the technology is often a muddle and hampers their performance. We see people having to flick between mainframe screens, cut and paste from one database to another, update ad hoc spreadsheets, scribble down information and stick notes to the computer screen. This makes it very hard to keep track of everything, let alone do the best job.
Those who procure and implement systems and applications for the back office need to think carefully about who will be using them and how.
Ken Reid, Rostrvm Solutions (www.rostrvm.com)
Complete visibility across multiple locations
The key is to have complete visibility across multiple locations, platforms, technologies, versions and vendors via automatically created component relationships viewed through a 'single pane of glass'. For example, inbound and outbound VoIP calls traverse multiple devices and technologies, some of which will be under your control in the back office/network operations centre and some of which won't.
Within your network you'll be able to follow the progress of a call as it traverses your operational domains. This not only helps reduce finger pointing but means you can identify what the quality of the call is like before it leaves your network. This helps you address any issues more quickly with your service provider, and reduces mean time to resolution.
And in the case of a multi-channel contact centre, systems staff will have insight into the performance and availability of every piece of hardware, interconnection, process and application. This places them in the best position to recognise and address anomalies, with the ability to go to any point in time and identify spikes, hardware failures, trends and deviations.
Sue Bradshaw, Technology Writer, Integrated Research
Allowing the contact centre to access back-office systems
What do customers want when they contact a business?  Rapid resolution of their request!  To resolve this request typically requires getting data from, or inputting data into, a back-office application. The emphasis should not be on changing the back-office function but, rather, speeding up the process from contact centre to back office.
So, any contact centre solution used to address this must enable an agent to quickly access back-office resources directly from their desktop. This technology does exist and enables organisations to merge data from multiple systems into a single agent desktop. There is even technology that takes this one step further: the agent desktop automatically pulls data from multiple sources and launches the appropriate script or back-office function based on the call details as they are 'popped' onto the desktop.
Susannah Richardson, mplsystems (www.mplsystems.co.uk)