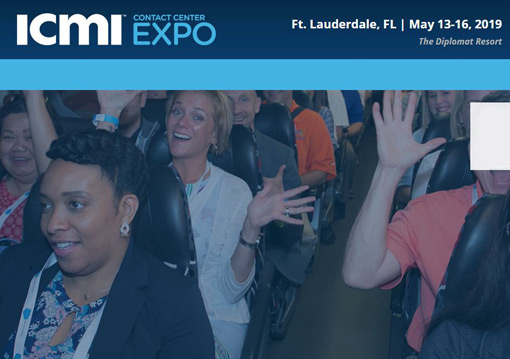 About the Event
THE DATE: May 13 – 16, 2019
THE LOCATION: The Diplomat Resort, Ft. Lauderdale/Hollywood, FL
THE DESCRIPTION: Contact Center Professionals trust the ICMI brand and know they can rely on ICMI to deliver the most comprehensive, credible, and unbiased program. ICMI's commitment to publishing a fully vetted program, confirmed speakers and the highest quality of customer service is the reason ICMI has been the most sought after knowledge source for over 30 years. Contact Center Expo includes 4 full days of workshops, local contact center tours, case studies, training, and discussions on a comprehensive selection of contact center-specific topics, all taught by leading industry experts. You'll also find valuable networking opportunities, inspiring keynote speakers, and the latest technologies and services from top industry vendors in the expo hall.
ICMI Contact Center Expo unites professionals looking to further their knowledge in an industry in constant transformation. As customer expectations continue to rise, it's up to us—the contact center professionals—to rise with them.
So how can we keep up with rapidly emerging and evolving technologies? With heightened emphasis on meaningful metrics that drive change? With an increasingly diverse workforce? With all the pressure to create a flawless customer experience—through every interaction not only within our contact centers but across the entire organization?
Simple. We do it together at CC Expo. Because that's the only place you'll be all in, linked by an unbreakable esprit de corps—unique in our profession of helpers and supporters. When we come together, whether it's within our organization or outside, we strengthen our industry, our customer relationships, and ourselves.
THE ORGANISERS: ICMI
THE WEBLINK: https://icmi.com/Contact-Center-Expo-Conference
Date and Time
Starting:
Monday 13th May 2019

Ending:
Thursday 16th May 2019
Date and Time
Starting:
Monday 13th May 2019

Ending:
Thursday 16th May 2019