Quick Overview
Recreating the office environment when everyone is working from home can be a challenge, but there are several ways to overcome this, including:
Hire Within a Commutable Radius
Replace the Traditional 'Floor Walker' With a Real-Time Support Team
Have a Virtual Drink Together
Stuart Aris, Customer Service & Operations Lead at ManyPets, shares some of the key lessons he's learned from managing a successful remote-first contact centre.
---
How to Make Homeworking a Success
Here are nine ways to make homeworking a success:
1. Hire Within a Commutable Radius
We are remote, but we interview in the local area and make sure our people are contracted to an office base within a reasonable commuting distance (generally a 45-minute commute radius).
This means we don't have anyone living in Scotland and reporting to a team in London (for example), so teams can easily come into the office for a teambuilding day, or pop into the office for a change of scenery if they want to.
2. Replace the Traditional 'Floor Walker' With a Real-Time Support Team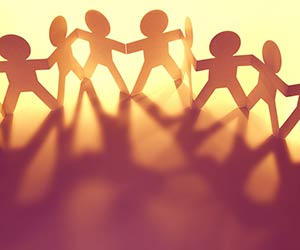 It's not possible to have a floor walker in a remote-working environment, but agents still need this support.
That's why we've created a dedicated support team, available in real time, so agents can reach out for support and get the answers they need quickly.
This allows customers to wait briefly on hold, instead of needing a call back later.
This is particularly necessary in our insurance world, as there are so many different dog breeds (for example) that can lead to nuances in policies and even the most experienced agents needing support.
3. Have a Virtual Drink Together
It can be isolating to work from home, so try to think of ways to get people to talk to each other and interact outside of their usual team.
We often have a virtual drink together on a Friday afternoon. We do this once a month within working hours, so everyone comes along for an informal chat and to end the week on a high.
Even though it's part of our working hours, we have a rule that no one is allowed to talk about work! It's an opportunity to talk about what else is going on in their lives. The sort of thing you'd talk about over a cup of tea in the kitchen.
For more great ideas on engaging your employees, read our article: Employee Engagement Activities for Your Contact Centre
4. Host Town Hall Meetings Online
Our CEO hosts regular Town Hall meetings online, so everyone is kept up to date with the latest company news and has the chance to ask any questions.
This helps people feel connected to the company and brand, even though we're not all together in a physical office every day.
5. Send Out Surprise Care Packages
We send out surprise care packages. Over the years, these have included everything from ingredients for pancake day, to new stationery.
We also ask the team for feedback on what they'd like to see and have even sent out things like cheese boards. It's a great morale booster.
This is funded by our engagement budget, which is a specific amount set aside per person, so nothing is diluted for the individual as the business scales up and continues to grow.
For examples of goodwill gestures that will help leaders strengthen employee relationships, read our article: 18 Goodwill Gestures to Build Better Employee Relationships
6. Connect Colleagues on a Video Call Whilst Doing Emails
Sitting next to each other on a call centre floor allows for some teambuilding chit-chat here and there, particularly on a shift of non-voice work. But this is lost in a remote-first operation.
One way to make homeworking a success is for team leaders to sometimes start a team video call to connect their colleagues for some background conversation, whilst they are busy with emails or other non-voice channels.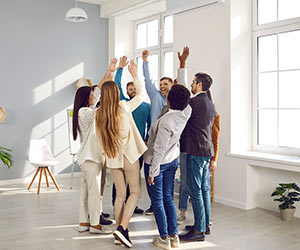 7. Make Sure Face-to-Face Time Is Quality Time
When our teams come together face-to-face, we make sure it's quality time and efforts are made to make it special.
We tend to find it takes the format of a 'half day' of teambuilding and a 'half day' of work, followed by dinner in the evening.
We also get together face-to-face for memorable summer events, sports activities, and fundraising for pet charities where possible.
8. Embrace Digital Tools to Help People Stay Connected
There are some great tools out there to help people stay in touch when they aren't physically together.
We use Slack and have created lots of different channels for teams to talk about specific areas of their work, as well as escalate issues to a manager. We also have a dedicated positivity channel to share good news and champion brilliant work.
We also use Gather Town, which mimics the office environment with a personal avatar that can walk around and start a video chat with any colleagues they meet.
From the moment new employees start, you can help them integrate into the company. To find out more, read our article: Simple Ways to Give Remote Workers a Warm 'Virtual' Welcome
9. …And Last, But Not Least… Don't Take It Personally if Homeworking Isn't for Them
Working from home doesn't suit everyone.
Even if they are excited about the prospect, some new hires may never have experienced a remote-first operation before, so don't take it personally if people leave early doors because homeworking just isn't the right fit for them.
Thanks to Stuart Aris, Customer Service & Operations Lead at ManyPets, for this article.
Read more articles in our "What I've Learned" series by following the links below: