We asked our readers 'How Many Knowledge Sources Do Your Advisors Currently Use?', this article looks at the responses of 224 contact centre professionals.

The results have been taken from the Knowledge Management chapter of our 'What Contact Centres Are Doing Right Now'  2021 survey report, which was sponsored by ProcedureFlow.
How Many Knowledge Sources Do Your Advisors Currently Use?
The number of knowledge sources available to advisors – results:
| Number of Knowledge Sources | Percentage |
| --- | --- |
| 1 | 10.8% |
| 2 – 3 | 47.9% |
| 4 – 5 | 22.7% |
| 6 – 9 | 8.4% |
| 10+ | 10.2% |
Only One in Ten Contact Centres Have a Single Knowledge Source
Just 10.8% of contact centres have created a single source of knowledge for advisors to dip in and out of as they respond to customer queries.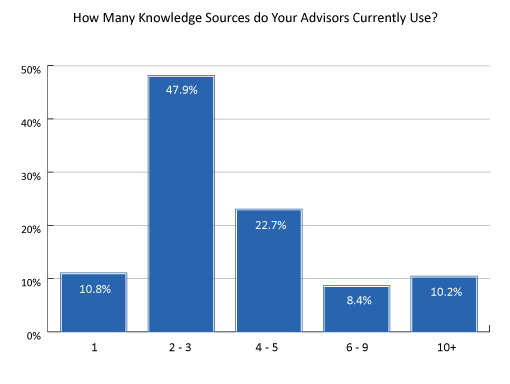 Yet, pleasingly, 47.9% of contact centres have managed to cut their knowledge sources back to only two or three. This removes effort from the advisor experience and lowers handling times.
All in all, this means that well over 50% of contact centres ask advisors to delve into – at most – three knowledge systems.
At the other end of the spectrum, however, 10.2% of operations will ask their teams to switch between ten sources of knowledge or more. That's quite a difference.
This survey was done in partnership with Akixi, NICE, Nuance, Odigo, Poly and ProcedureFlow.