Contact centres across the country got involved in Comic Relief this year. Here are some of their photos.

Severn Trent Took Donations for Comic Relief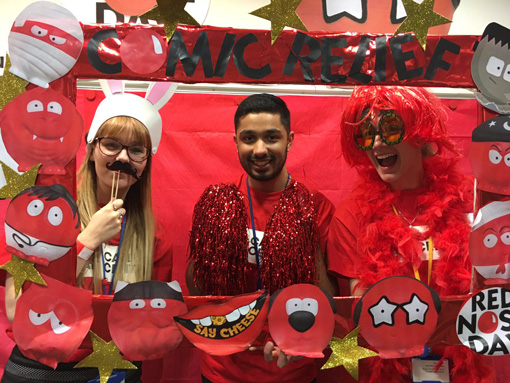 thanks to @stwater for the photo.
East Grinstead Living on Comic Relief Night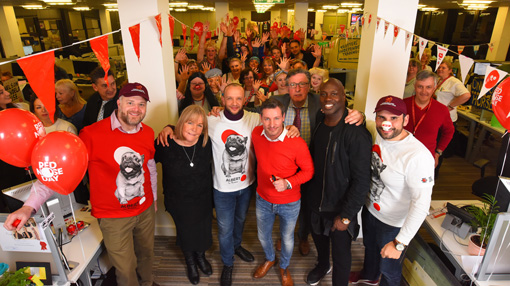 The Caravan and Motorhome Club (East Grinstead's largest employer) this year played host as a Sussex regional call centre for Comic Relief. The event was a great success collecting 25k for the charity.
Staff at the Club stayed voluntarily after work to partake in the event, all dressed up in comic themes and were joined by Jamie Baulch (olympian), Linda Robson (Birds of a Feather), Dean Gaffney (Eastenders), Rowland Rivron (TV Personality) and Martin Offiah (Rugby League).
Thanks to @EastGrinsteadLi and @elecomms for the photo
Cornish Mutual Call Centre Having a Great Night Supporting Comic Relief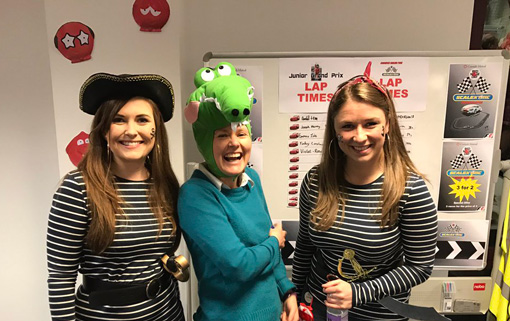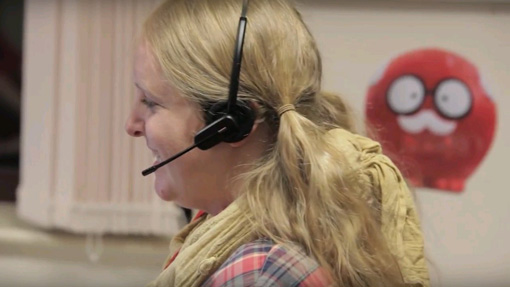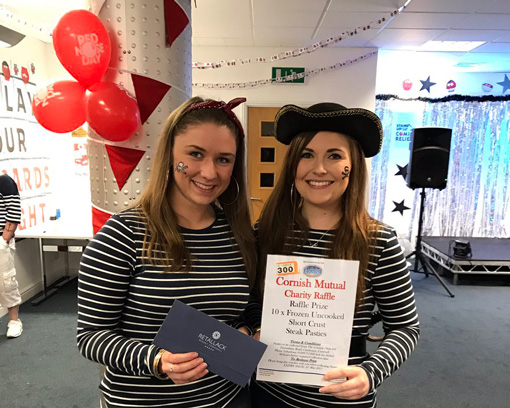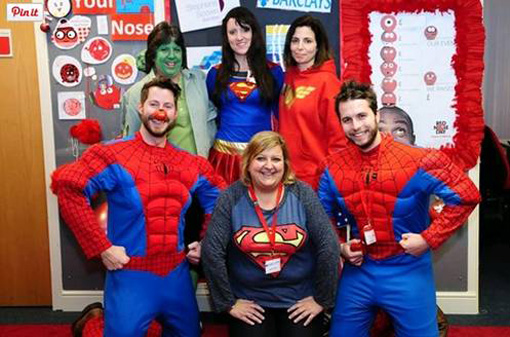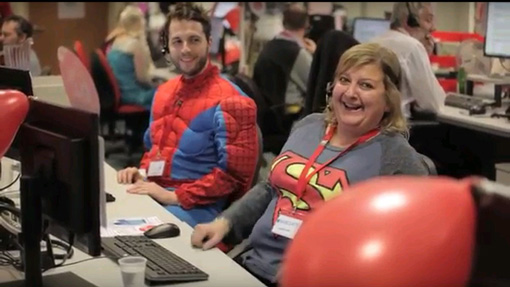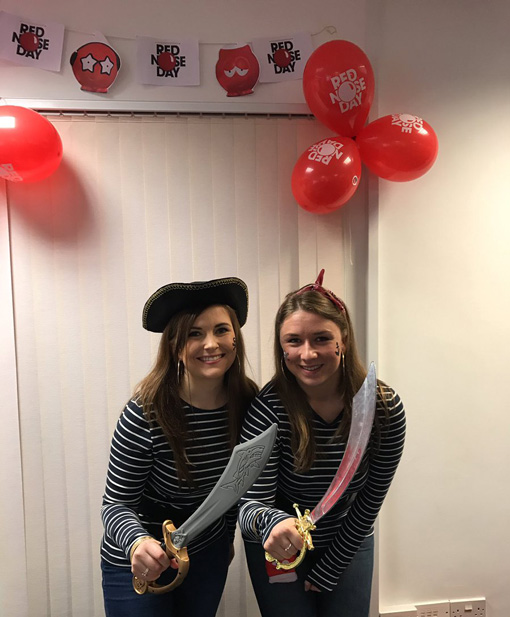 All Fleet Services – Up the Fundraising Factor for Comic Relief
Gloucester based All Fleet Services will be volunteering to receive donation calls for Comic Relief 2017 this Friday, 24th March.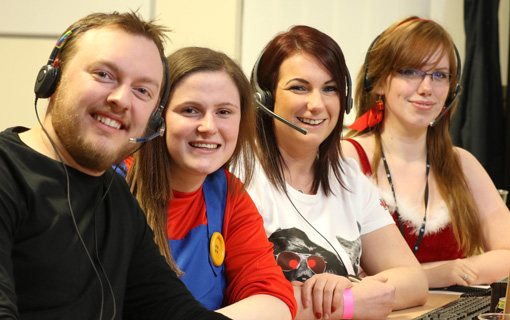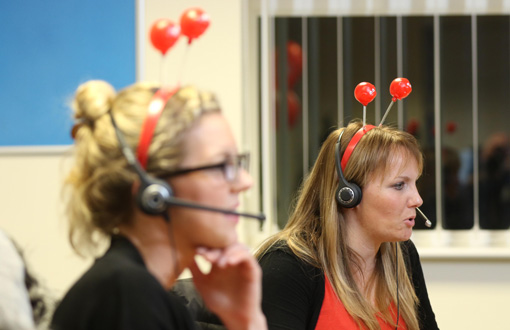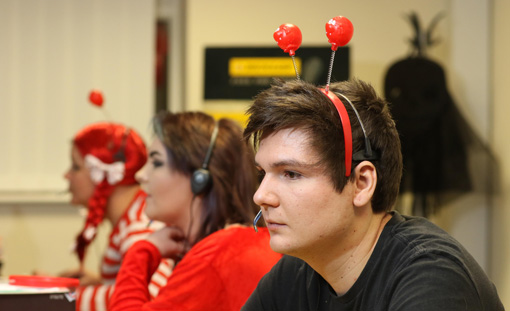 The call centre team are also proud to be joining the nation in the fun and games themselves, all in the name of charity. In 2014 over 80 call centres, including All Fleet Services, supported Sport Relief, helping to raise cash to give extremely vulnerable and disadvantaged people a helping hand to turn their lives around. This year will be the fourth year that All Fleet Services have supported either Comic Relief or Sport Relief in this way.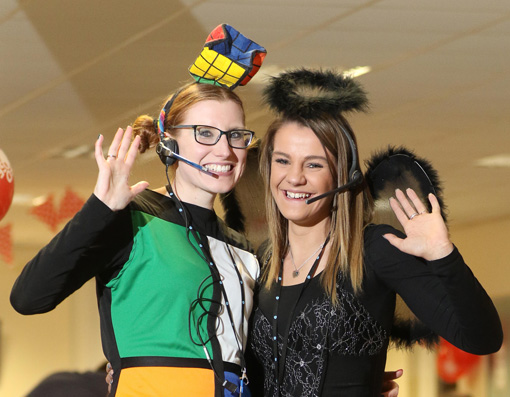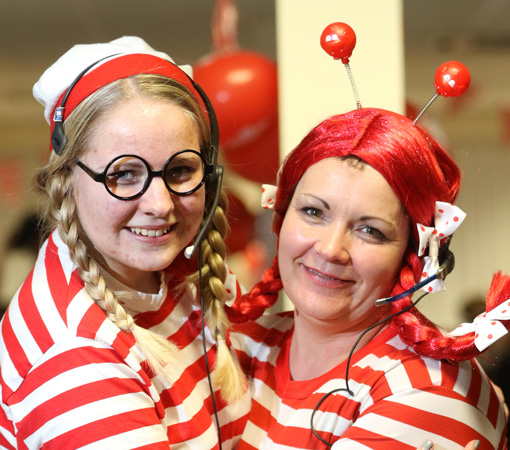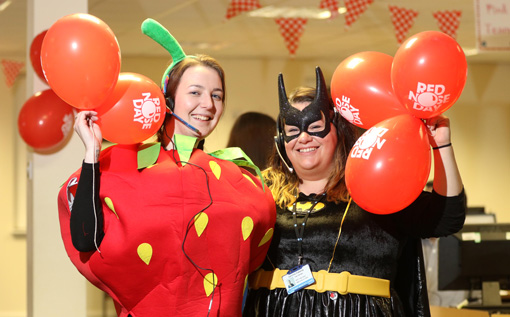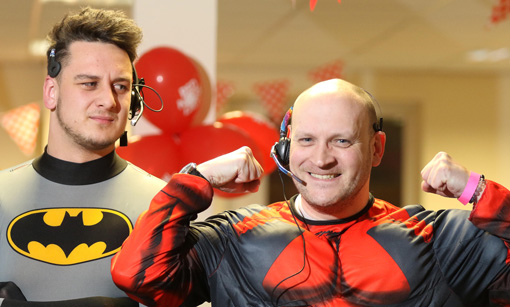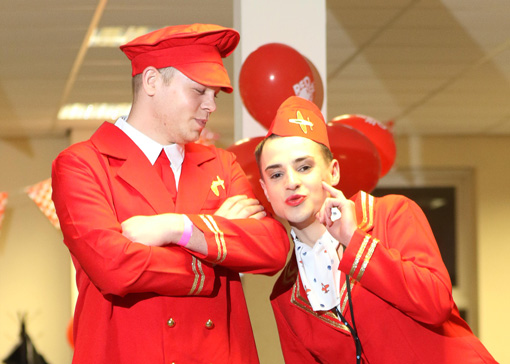 #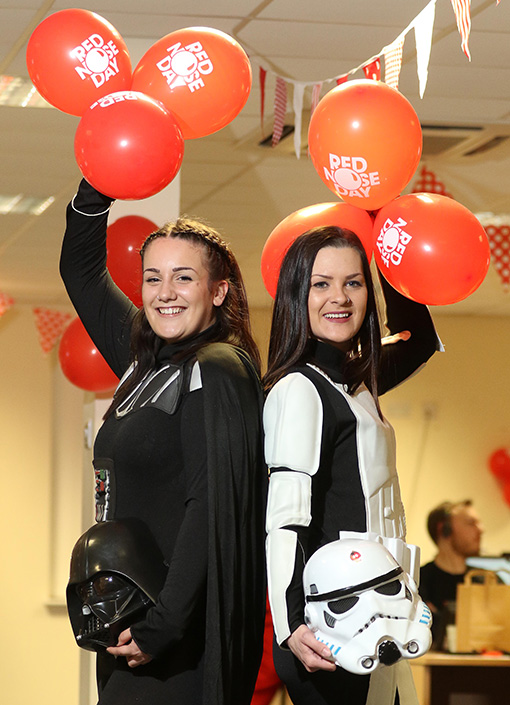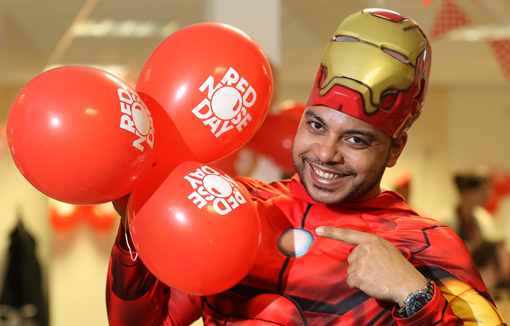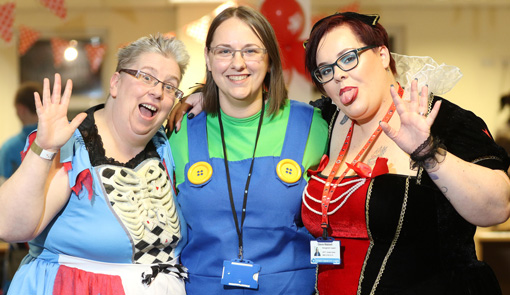 Comic Relief brings the entire nation together to put on their nose, change lives and have fun in the process. Half of all the money the public raise is spent by Comic Relief right here at home in the UK, with the other half used to make a difference in the world's poorest communities.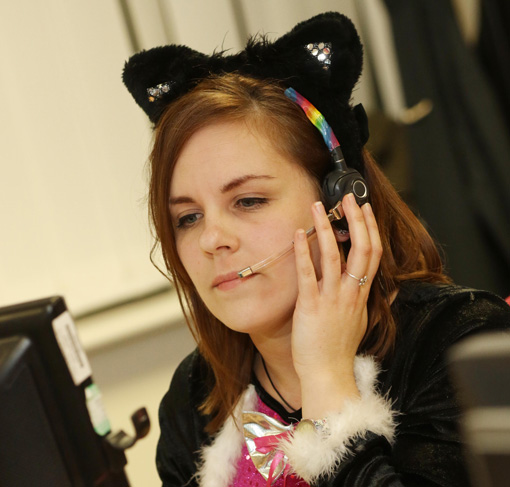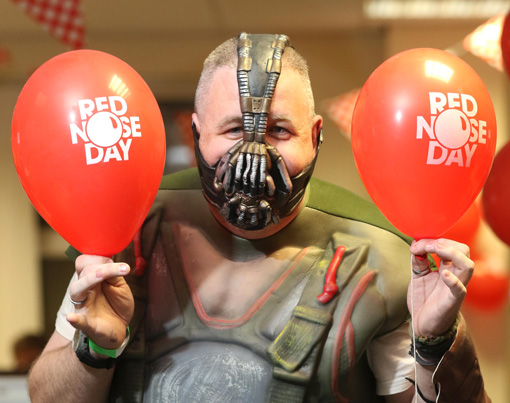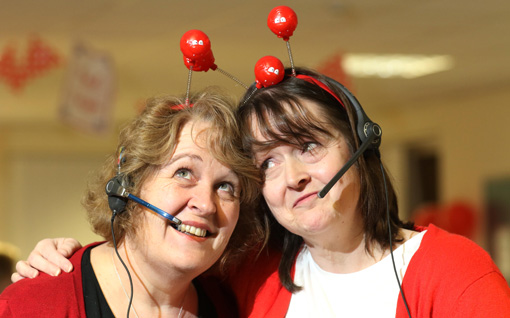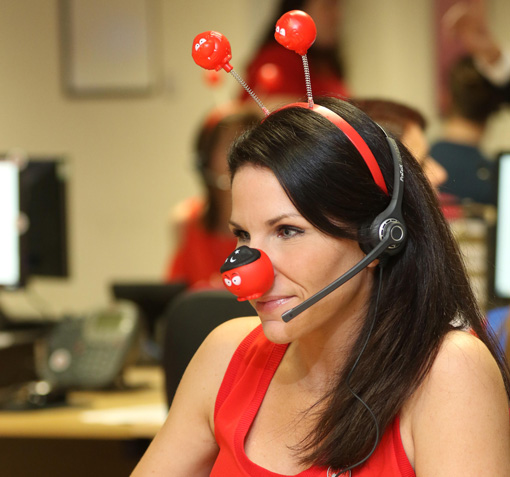 with thanks to

Red Noses in the Highlands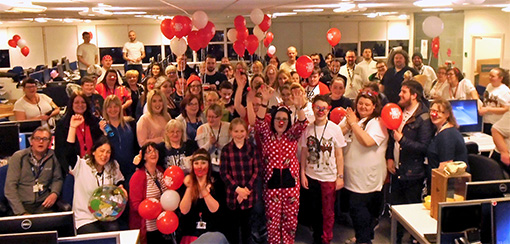 Having raised a staggering £78million from its last Red Nose Day, organisers hoped this year's event on Friday 24th March would prove to be even more successful in raising funds to help people who are living tough lives across the UK and Africa. And a call centre set in the heart of the Scottish Highlands will be playing its part in helping to make the year's most entertaining and popular fundraising initiative another success story for Comic Relief.
Call centres play a massive part in the success of both Red Nose Day and Sport Relief, taking many thousands of donations as well as completing their own fundraising projects. In 2015 over 146 call centres supported Red Nose Day, helping to raise cash to give extremely vulnerable and disadvantaged people a helping hand to turn their lives around. This year, the NSL Call Centre in Dingwall is the furthest north of all participating centres and, once again  played an important role, with operators manning 50 dedicated lines for the duration of the 4½-hour live evening TV broadcast. No fewer than 65 volunteers were on hand to handle call volume in excess of over 250 calls an hour and provide refreshments and cover for colleagues.
"We know from previous years that careful preparation is vital and that it will be a very busy evening," says Kirsty Rudynski, Quality Officer at NSL Dingwall. "But, invariably, callers are in good spirits thanks to the fun on the TV, and every member of the team enjoys playing their part in such an important fundraising exercise – which is why we have so many volunteers taking part throughout the evening. And, of course, we'll also be fundraising ourselves through raffles, competitions, bake and bottle stalls and other activities. We can't wait for the fun to begin and will soon be contacting pupils at local primary schools and local Brownie packs to help us design our fundraising posters and to make some decorations for us!"
Together and Sale Sharks tackle Red Nose Day 2017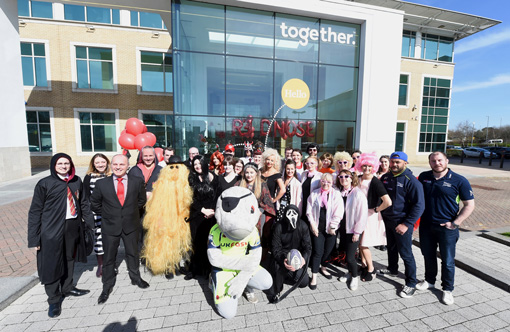 Leading specialist lender, Together, teamed up with Sale Sharks as part of its fundraising for Comic Relief, with colleagues challenged to take on the premiership rugby professionals in a passing challenge.
All in the name of fun and fundraising, the team's mascot was also on hand to cheer on colleagues and award the prizes to the best passers, with winners receiving tickets to see Sale Sharks take on the Worcester Warriors at their next game.
For those not familiar with the scrum, there was a whole host of further fundraising activity throughout Red Nose Day at the lender's Cheadle headquarters, including a Countdown competition with a previous champion from the TV gameshow, plus a raffle, tombola, cake sales, joke booth, fancy dress competition, comedy quiz and more.
The company raised £3000 in just one day, with all the money going to Comic Relief. In the evening Together acted as a Red Nose Day call centre, with over 100 staff volunteering to take donation calls for Comic Relief.
Kevin Fisher, HR director at Together, said: "This is the second time we've acted as a call centre for Comic Relief, and we're really proud of all our colleagues who gave up their time to make it possible. It was a great night for all involved and we're delighted with the amount of donations we took on behalf of such a great cause. This followed our own day of fundraising which saw a wonderful sense of team spirit across the business and a fantastic visit from Sale Sharks, who were great sports."
RSA Staff Support Comic Relief For 8 Years In A Row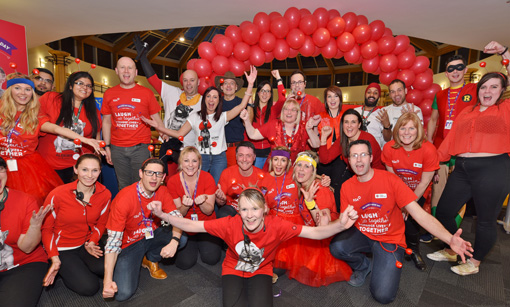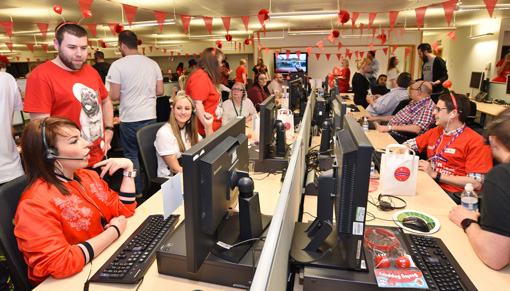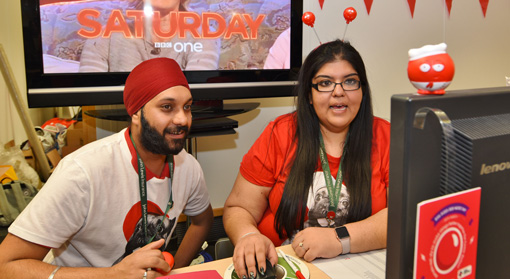 Staff and their families at global insurer RSA's call centre in Peterborough turned out in force to answer pledge calls to support Comic Relief for the eighth year in a row.
Over one hundred staff volunteered taking over 1,000 calls pledging £28,400 for Red Nose Day – combined with RSA's call centre in Sunderland over 250 of the company's staff volunteered over 1,000 hours to take £83,400 in pledges. On the night Comic Relief raised a staggering £73,026,234.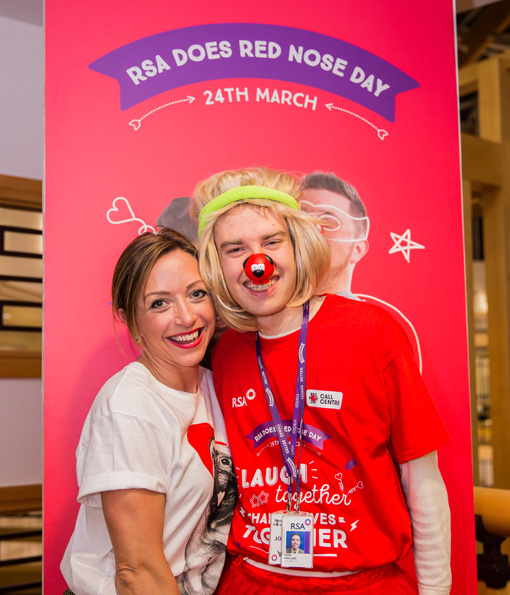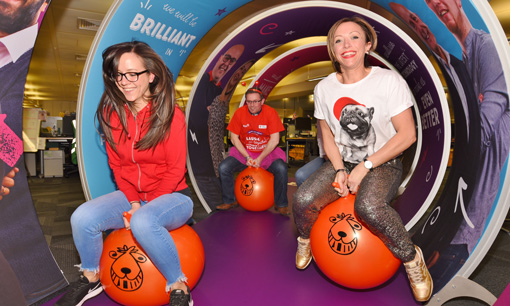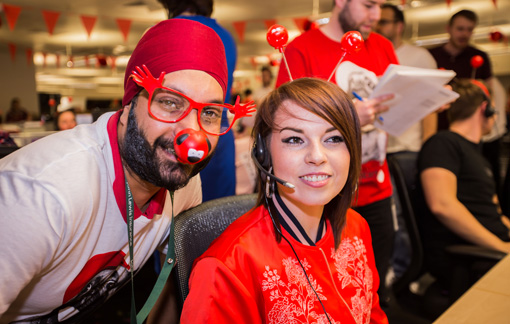 Staff also did something funny for money with their own cake sales, prize raffles and even put their senior managers in the stocks and bid to throw custard pies in their face – all their funds will be eligible for matching funding from RSA.
Comic Relief is a major charity based in the UK, with a vision of a just world, free from poverty. The charity works all year round to help make its vision a reality. And in the years since it started out in 1985, with the support of the UK public has raised over £1 billion.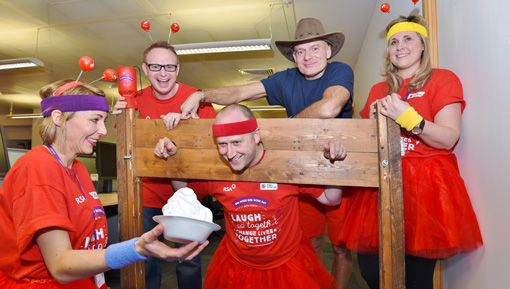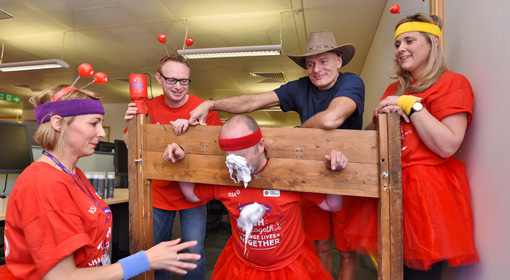 Kirk Bradley, customer services director, RSA, said "This was a great opportunity to help a fantastic cause raising millions for charity while having a great deal of fun and creating some friendly competition between our sites, all part of our ambition to create an amazing place to work"
Worldpay staff at the ready, as the UK gears up for Comic Relief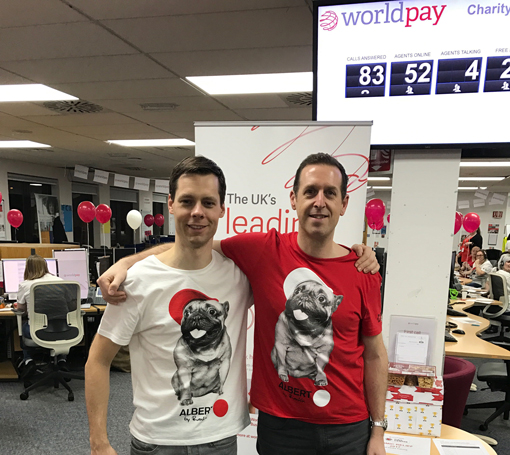 Over 100 volunteers from Worldpay's call centre in Gateshead will give up their evening this Friday to man the phones for Comic Relief, taking thousands of telephone donations from across the country, and processing millions of pounds from generous donors throughout the evening.
Staff at the call centre will be taking calls from 7pm on Friday evening until midnight. Colleagues from across the business will also take part in a range of fundraising projects happening in offices around the UK.
As a Primary Payment Service provider for Comic Relief, Worldpay process a wide network of web and call centre donations for free via Comic Relief's Online and BT's MyDonate platforms, ensuring more cash flows directly to the charity. During its 12 year relationship with Comic Relief, Worldpay has processed over £235 million (a fifth of all donations) destined for a range of good causes in the UK and internationally.
Comic Relief uses a variety of Worldpay solutions, specifically designed to cope with high volume and velocity transaction peaks, reaching as many as 200 transactions per second as donations flood in.
James Frost, UK CMO, Worldpay, said: "This is a very special event which raises lots of money for charities both here and abroad. We are proud to be able to support the work of Comic Relief by offering our gateway, acquiring and customer support services free of charge.
"This is the second year our call-centre staff in Gateshead have volunteered their time to support this amazing charity. During last year's Sport Relief event we took over £24,000 in telephone donations, managed over 700 calls that evening alone, and processed over £5 million in payments from kind-hearted donors. We're revved up to beat those figures this year."