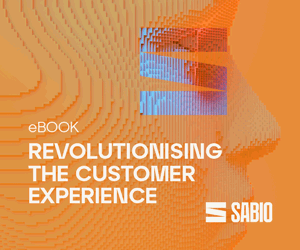 Joe O'Brien at Sabio reviews their Disrupt '22 event.
Well, as I sit here and reflect on our Disrupt event a week on, I can only settle on one word…WOW!
We welcomed hundreds of you in person and online through our live stream this year for Disrupt 2022, which marked our first physical gathering since 2019 – (yes, it really has been three long years).
But one thing's for sure, it was worth the wait!
From Sabio CEO Jonathan Gale's fascinating opening to the outrageously talented Dr Anne-Marie Imafidon's closing keynote, the day did not disappoint!
Set over two levels within the fantastic The Brewery venue in London, our audience (there were more than 400 of you gathered in person) were captivated from minute one.
We hosted a range of diverse and insightful presentations from our guest speakers, which were a mixture of Sabio's own experts complemented nicely by some seasoned veterans and new kids on the block from across the industry.
Kicked off by Stuart Dorman, our Chief Innovation Officer, Jonathan Gale opened up proceedings by bringing everyone up-to-speed on the modern Sabio, our growth journey to date and also where we and the industry in general are headed.
*Spoiler alert in case you didn't know – there's some exciting times ahead…
Barry Webb, Senior Manager of Business Technology at BGL Group, a provider of affinity insurance services, was next on stage for an AI and Automation themed masterclass.
Barry told of BGL's AI and voice successes to date, and how – by opting not to focus on what was working already and hypothesizing, testing and learning about what didn't instead – it helped them understand customer intentions and provide self-service through the voice channel.
A key success of this year's Disrupt was in the short and fluid panel discussions, which focused on industry megatrends as well as touching on key developments in the industry.
Mark Richards, CEO of makepositive, Sabio's specialist CRM consultancy, was joined by Ed Wall of Salesforce and Nigel Howell of FirstPort as part of a CRM-focused industry keynote.
Anne-Marie Stagg, a leading voice in the European Contact Centre space, then chaired an excellent and topical panel on Diversity in Tech, being joined on stage by Sabio's Lynsey McEwan and the excellent Vicky Nisbet, Senior AVP, Comms, Media & Technology at Salesforce, and Ashleigh Ainsley, Co-Founder of Colorintech.
The morning was rounded off nicely by Nidal Abou-Ltaif, President of Avaya, who spoke about the 'Experience Economy', the factors that define it and how today's customer is the 'Everything Customer'.
In a great move which kept delegates on their toes, the afternoon sessions were split into two 'tracks' – Strategy and Tech.
The 'Changing Role of Advisors' and 'Putting Your People First' were themes that dominated the Strategy track, with the worrying contact centre agent attrition levels and what the industry – and tech specifically – can do about it sparking lots of discussion and interaction from the audience.
Downstairs, the Tech track was continuously buzzing with activity thanks to the efforts of the vendor, Sabio and makepositive pods.
The sheer scope of tech in our industry was showcased in style and a huge thanks to all of our partners who joined us, including Avaya, Gamma, Google Cloud, Genesys, Salesforce, Semafone, Twilio and Verint.
It was also great to be supported by our friends at the CCMA – in particular, Leigh Hopwood and her team!
The buzz downstairs was intensified thanks to the official launch of Sabio's new 'Sabio Console' product to much fanfare.
Console has been many months in the making, and we're delighted to be able to now take the product to market in a bid to simplify the management of customer interactions, integrating customer contact channels with leading conversational AI capability.
A series of 'Everything You Need to Know' sessions dedicated to AI & Automation, CX Analytics, Moving Your Contact Centre to the Cloud and CRM & Agent Desktop rounded off the downstairs agenda.
Disrupt '22 was closed off in superb style thanks to the talented Dr Imafidon, MBE, a mathematics and technology thought leader and star arithmetician of Channel 4's 'Countdown'.
Dr Imafidon's brilliant keynote, entitled 'The Future of Work Is Good Work', was well received by the audience, in which she covered the power and potential of machine learning and artificial intelligence.
As with all great ideas (or most of them anyway!), Disrupt was born on a simple whiteboard in 2016. We landed our first event a year later and then a sequel the following year in 2019.
Covid had other ideas for our 2020 event – forcing us to shift online – and since then it's been a series of lockdowns, Zoom chats and Teams webinars…
But now we're back and it feels good to get our live events back up and running. I'm sure you'll agree that nothing can take the feeling away from seeing and speaking to colleagues and peers face-to-face.
Disrupt 2022 was excellent and certainly brought the feel-good factor back.
For more information about Sabio - visit the
Sabio Website