When an agent understands the customer on the other end of the phone (or any other channel for that matter), they can deliver a better service.
But it's easier said than done, as proven in a recent Call Centre Helper poll, which asked "In your most recent customer service interaction (as a customer), did you feel you were properly understood by the agent you were talking to?".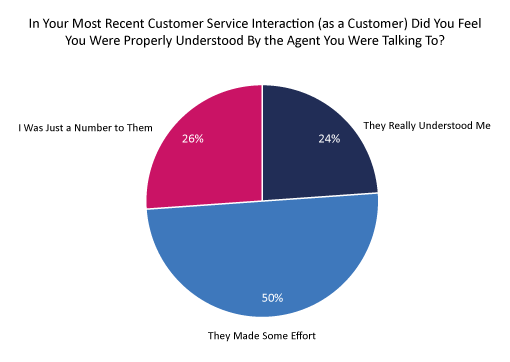 | Feelings of Being Understood | Response % |
| --- | --- |
| They Really Understood Me | 24% |
| They Made Some Effort | 50% |
| I Was Just a Number to Them | 26% |
Shockingly, only 24% said 'They really understood me' and a whopping 50% said 'They made some effort', compared to a further 26% who said 'I was just a number to them'.
Interestingly, the number of respondents who felt really understood (24%) was almost the same as for those who felt they were just a number (26%) – meaning that 50% of experiences are falling on opposite ends of the spectrum, where companies are either making a lot of effort to provide a personal experience or aren't making any effort at all.
However, it is important to note that a total of 76% of respondents feel that they were not truly understood by the agent they were talking to, meaning there is a lot of room for improvement in the quality of the service customers receive to ensure they feel valued and understood.
So how do you shift the dial and make sure every customer feels understood? To get answers to this we asked industry professionals to share their experience of the steps you need to take to better understand every customer.
☆☆☆☆☆
3 Steps to Better Understanding Your Customers
Step 1. Train Your Agents to Read Between the Lines of Every Call
Listen out for Background Noise – Including Barking Dogs or a Piece of Music
I don't want my customers to feel like another number. I want them to feel like I've made a positive impact and give them a memorable experience when they get through to me.
I listen out for a dog barking (or a piece of music) in the background to use this to relate to the customer and connect.
What Clues Are Customers Giving You About Their Lifestyle?
Sometimes customers will say "I've just come out of hospital", or "I only get a delivery every 2 weeks now".
These are verbal triggers to what's happening in a customer's life, and maybe what I can talk about to help them get more out of what we offer, while also making the customer feel listened to and valued. Empathy is also important and listening out for clues in what they're saying.
With thanks to Beverly Unwin, Customer Hub Advisor at Ocado Retail Ltd (also Shortlisted for 'Customer Service Star (Voice)' at the North East Contact Centre Awards 2022)
For advice on how to train your agents to listen effectively, read our article: How to Train Active Listening in the Call Centre – With Four Exercises
Encourage Your Agents to Consider the Journey From the Customer's Perspective
Without a doubt, encouraging your agents to consider the journey from the customer's perspective is essential to creating empathy and buy-in.
Every contact centre is different, though, so it's up to the management team to determine what's truly valuable for your agents to understand. For example, discovering potentially vulnerable circumstances and so on.
With thanks to Bob
Challenge Advisors to Try and See Customers as a Person Sitting in Front of Them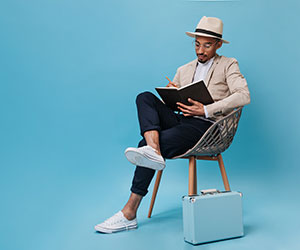 Try to always get agents to see the customer as a person sitting in front of them – rather than a number on the screen.
I always use the 'waiting for a drink in a bar' scenario, and that has always helped.
This is because you would make more small talk in this situation than you typically would do over the phone.
With thanks to Debbie
Ask Customers Open Questions
Ask customers open questions to understand the problems they are trying to solve.
Agents also need to be sure of what they heard, so tactics such as "playing back" for confirmation is key to allow you to understand the right problem and how to solve it in the right way.
With thanks to Laura
For some excellent examples of TED ('tell me', 'explain' and 'describe') questions, read our article: 15 TED Questions for Customer Service – With Examples
Practise Conversations to Develop Agents' Soft Skills
Equip your agents with (soft) service excellence skills and practise the conversations with the different customer types and skills. It can help to use an action map to find performance outcomes here.
Build this into your quality framework too and use it for call calibration and coaching for ongoing development. You can also use C-SAT to feed into this.
With thanks to Jenny
Step 2. Make Changes to Your Processes to Give Agents the Support They Need
Give Your Teams the Space They Need to Have a Proper Conversation
Remove all non-customer distractions, such as AHT and wrap times, and let your people use the skills they are born with to have a conversation without fear.
With thanks to Carmen
Empower Agents to Do What's Right for the Customer
Leadership has a big part to play.
Make sure you enable a permission culture, so your agents can do what's right for the customer.
With thanks to Robyn
To discover what an empowered employee looks like in the contact centre, read our article: What Does Employee Empowerment REALLY Mean?
Invest Time in Customer Profiling
Develop customer personas and storylines. Build them into coaching and new starter training.
Then, really analyse the data and specifics for your organization to get this right. Align these with the customer journey too, so you can adapt to customer preferences and help improve the customer experience.
With thanks to Roger
Make Your Clients More Visible
Make the personas of your clients visible and encourage your teams to pretend the clients are present in meetings when discussions are held.
Make the personas of your clients visible and encourage your teams to pretend the clients are present in meetings when discussions are held.
I believe this forms part of the company culture, but sometimes making it visible and allowing the client feedback as part of meetings does help.
With thanks to Yumna
Invest More in Onboarding Training
Orientation and onboarding training modules covering culture and empathy are crucial.
With thanks to Sophie
Spend a Day Meeting Customers Face-to-Face
Why not spend a day meeting your customers face-to-face, or shadowing the different departments in your organization?
With thanks to Mohamed
Step 3. Look for Key Trends Across the Contact Centre
Analyse the End-to-End Customer Journey
A key way to better understand your customers is to analyse a few customer journeys from start to finish with your advisors – looking at every touchpoint and output.
Were the right questions asked on the call?
Did you uncover the customer's need?
Did the advisor take responsibility and ensure the right outcomes?
What could you have done differently or better next time?
Also review the customer journey time.
Could it have been shorter?
Easier?
How many times did the customer call in?
Any lessons from that?
This has worked well, and we have had fabulous results off the back of working this way.
With thanks to Debbie
Look at the Frequency of Customer Problems
Build a picture of the type and frequency of customer problems, as well as what matters to them, to solve and innovate for customers.
This can also direct you to where and what to study in your organization – highlighting how well you solve matters today and where there's room for improvement.
With thanks to Ali
Invest in Conversation Analytics
When it comes to better understanding customers, I'd boil it down to what the agent would find valuable to know, depending on their role.
There's so much rich information sitting within both voice and digital calls that can be extracted behind the scenes.
Conversation analytics can assist with customer analysis, as there's so much rich information sitting within both voice and digital calls that can be extracted behind the scenes.
This can lead to some amazing insights. This information can also be fed back into the CRM to enrich the information already stored there.
With thanks to Paul
Build a Culture and Process of Reporting Concerns
To maintain a current picture of customer behaviour, capturing the voice of the customer is essential.
Agents should get into the habit of reporting key concerns to be studied and analysed. This can add extra insight to customer surveys already being sent out.
With thanks to Rob
To discover more great ways to improve your customer experience and connect with your customers, read these articles next: