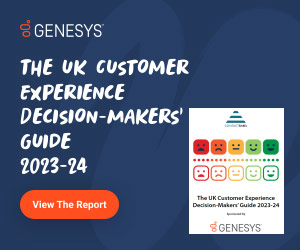 Our experts share their thoughts on creating an effortless customer experience.
Allow customers to opt out of waiting without losing their place in the queue
Cloud-based contact centres enable a range of features that can improve the caller experience, including the speed that a call is handled (a factor which, if mishandled, can drive up customer frustration).
For example, callers can opt out of waiting and get the first available agent call-back without losing their place in the queue. Any available data about that caller can be made instantly available to the agent, to save further time wasted and help ensure a professional service is given to the customer.
A blended contact centre can help callers get a faster response
Another benefit of the cloud is the ability to implement intuitive interfaces that automatically adapt to the call flow. For example, if there are more inbound than outbound calls, the agents who are usually focused on the latter can be switched to the former, meaning that callers get a faster response.
In other words, companies can create a blended call centre in an instant, with the ratios of inbound versus outbound changing in real time.
Dynamic routing can help ensure business continuity even in bad weather
Cloud-based solutions also give companies more flexibility over agent location, since calls can be dynamically routed or rerouted.
For instance, if there is heavy snow or a power cut, calls can be routed to agents working at home on their mobile phones, meaning that impact on customer service continuity is minimised.
With thanks to Justin Hamilton-Martin at Ultra Communications
Automate straightforward transactions such as card payments
Research suggests that customers like self-service and automation, providing it is easy and works for them.
Low-effort channels such as automated services should be provided for straightforward transactions such as card payments.
A "Get out of Jail" card
You should also provide your customers with effortless 'get out' routes if they fail to complete any transaction.
In addition, monitor your self-service failure statistics, identify any issues and seek to resolve them, even if that resolution means returning a particular service to an agent queue.
Transfer information with the caller to stop needless repetition
72% of customers cite repeating enquiry details to multiple people as a key component of a poor customer experience. Effectively use any in-queue information captured by transferring it with the call, via screen pop or whisper transfer, on each and every transfer.
One way to prevent a slow or missed response from souring a relationship or losing business is to generate a single view of customer data across channels and departments.
Doing this can transform customer engagement and increase satisfaction by improving response times, reducing customer effort and improving team productivity, quality and experience.
Ask "Was it easy to do business with us today?" AND analyse the results
66% of B2B buyers change supplier after a poor customer experience and 39% of customers actively avoid that supplier for at least two subsequent years. Why wait for your customers to complain? Actively survey post-call, using outbound calls or email.
Have courage and ask 'the' question – "Was it easy to do business with us today; did you achieve your goal?" Determine what has caused the high effort, then analyse the findings and plan exactly how you are going to resolve the issues.
Be your own mystery shopper and test the entire end-to-end process
69% rate a rapid resolution to an enquiry as a key element of a good customer experience. Be your own mystery shopper. Call during known peak periods and test the entire end-to-end process, being sure to include any IVR and queue experiences.
Also map your customers' journeys to limit the effort they have to make – and review all channels of communication, taking into consideration how the contact frequency and number of channels affect their customer effort scores.
Monitor what your customers are saying on social media
Negative feedback spreads faster and further than ever before. In our recent survey, more than a quarter of respondents said they use platforms such as Facebook and Twitter to express dissatisfaction and embarrass businesses into resolving a complaint.
Monitor what your customers are saying on social media using monitoring tools. Also analyse and plan how you could use proactive contact to resolve issues such as Next Issue Avoidance (NIA) or unnecessary inbound contact.
Scheduled call-backs and website call-backs can reduce customer effort
Queuing and contact routing models were invented in the 1970s and are inadequate in today's personalised internet world. Consider how alternatives to queuing can reduce effort, such as scheduled call-backs and website call-backs.
A call-back can be scheduled from the phone or web; it changes the queue model, shifts the call time, empowers the caller and allows you to handle peaks and troughs in call volumes.
With thanks to Richard Farrell at Netcall
Empower agents to solve customers' problems
Empower agents and release them from the constraints of a rigid script so they can be free to solve customers' problems and make their lives easier.
A robust approach to call centre quality monitoring, coaching and feedback needs to be part of the solution – and be complemented by effective coaching and feedback processes and intuitive knowledge management systems.
Technology in itself won't empower agents, but having the right tools in place can give them a level of autonomy so they can resolve queries first time.
Don't hide behind contact centre processes and business policies
Today, so many of our interactions with brands are faceless and, despite people's dependence on digital channels, most people still crave personal engagement. This means treating customers as individuals.
In order to treat your customers as humans you need to be as honest as possible and not hide behind contact centre processes and business policies. It's about understanding the process the customer has already gone through.
Mapping their journey and redesigning your front and back office operation can help address the underlying issues. However, giving agents access to details regarding all of the customer's previous contacts can help your front-line staff to better understand things from the customer's viewpoint. If you do this, many customers may be more forgiving, even if mistakes arise.
Build real-time customer feedback into your performance management system
Building real-time customer feedback into your performance management system allows your agents to focus on delivering the outcomes your customers want. By incorporating what you've learnt when it comes to performance review time, you can make the whole process more customer-focused.
Contact centres that take this approach typically find that agent morale improves as they start to better understand what is expected of them and how to improve – and that this corresponds with increased customer satisfaction.
With thanks to Jaime Scott at EvaluAgent
Deliver customer expectations but don't exceed them
Research shows that exceeding customer expectations results in virtually no loyalty gains. Instead, the best indication of increased spending and loyalty is the effort the customer needs to put into the relationship.
Don't waste expensive resources on exceeding customer expectations, just deliver what they need as quickly and effortlessly as possible!
Empower customers to self-serve as much as possible
The younger generation and the 16-24 age category, in particular, typically want to make contact via a smartphone or mobile device, the company's website or social media.
They will often be looking for voiceless interaction. Therefore offering these customers a one-time URL, enabling them to navigate their way into the heart of your systems securely and solve their problem themselves through a self-service approach, is likely to resonate well and save the organisation money.
Route customers to agents who understand their needs
Most customers want their problems resolved on their terms at a convenient time and on the device of their choice – and most will want all this to happen with as little effort on their part as possible.
In a recent poll of more than 2,000 UK adults, 55% said it was important to get quickly routed through to somebody within the business who understands their needs.
The emphasis here is speed and competence. Just routing through customers to anyone within the business is not the answer. It has to be someone qualified to deal with that specific type of customer and interaction.
Identify callers through their phone number
Giving people the opportunity to identify themselves through a customer number or a phone number allows you to apply intelligence in real time.
If you can access the relevant customer and transactional data, understand the type of problem the customer is trying to solve, and know who you have available in your organisation, then you can make a judgement call as to the best route for the customer to get what they want.
Be proactive and reduce the need for customers to chase you up
Keep the customer informed about promotional offers, the progress of a transaction, or of a query resolution.
Making sure they know what is going on at all times gives them peace of mind that they have not got 'lost in the wash', reduces the effort customers have to put in by eliminating the need for them to chase you up, and makes it easier for them to get what they need.
With thanks to Jeremy Payne at Enghouse Interactive
Equip your agents with the tools they need to deliver an excellent service
The secret to making life easier for your customers is making life easy for your call centre agents. To deliver the best customer experience every time, agents need to be equipped with all the right tools. If you make it easier to deliver excellent service, service levels will improve.
Implementing click to dial is a good place to start. When a dialler is working in preview mode, agents can click numbers to make outbound calls. This can help to increase the number of connected calls you can make per day, per agent.
The number of outbound calls you make each day can be increased further with progressive or predictive dialling, but this must be carefully managed since agents lose some degree of control.
Since click to dial helps agents work faster, it can reduce the time your customers will have to wait before they receive a call-back.
Click to dial is most effective when a screen pop can instantly present agents with customer records whenever calls connect. This is ideal for those unexpected inbound calls. Agents no longer need to keep customers waiting while their records are retrieved.
With thanks to Chris Key at Hostcomm
Real-time call monitoring can help you assess customer satisfaction
One of the primary benefits of speech analytics technology is its real-time customer contact analysis. In other words, call centre managers and supervisors can monitor agent and customer interactions while a call is still ongoing, as opposed to after the fact.
Such real-time call monitoring offers a variety of advantages (evaluating agent performance, monitoring for compliance, automating quality monitoring or call scoring, etc.) but one of the biggest is assessing customer experience and satisfaction.
Managers can discover the root cause of calls, actionable information that can help them resolve customer issues before they escalate. For example, supervisors and quality analysts can monitor in-progress calls for language and acoustic characteristics, which enables them to take immediate action or intervention when/if necessary.
The end result? A better experience for the customer.
Forecast and schedule properly for each different channel
Multichannel speech analytics solutions help call centres forecast and schedule properly for each different channel by identifying broken processes and improving agent performance across channels.
By monitoring and analysing customer interactions across channels, these solutions identify what it is customers want, which can help call centres figure out how to provide the right types of solutions.
With thanks to Jason Napierski at CallMiner
Businesses need to offer their customers a true channel of choice experience
Businesses need to ensure they are offering their customers a true channel of choice experience by having a solution that can manage multimedia in a single universal queue, rather than agents having to deal with piecemeal technology and legacy systems that are disparate and complex.
This will make life easier for the customer, as the agent will be able to deal with an enquiry much quicker, access all information and provide the same level of customer service, despite the channel used.
Mobile apps should connect customers directly with the call centre
Although there has been some mobile app success within businesses, these have been predominantly simple apps that only cover limited functions such as meter readings, balance enquiries and status checks.
Mobile apps now need to extend further to become an interactive channel that allows customers to communicate directly with the call centre via messaging capability and call-back options.
This will make life easier for the customer as it avoids listening to long and tedious IVR menus and provides them with a choice to progress using instant self-service channels.
Blend assisted and automated response to boost text-based communications
Businesses can effectively handle text-based communication by blending assisted and automated response.
Text analytics can identify and automate standard transactions, allowing routine operational queries (which typically would account for 60% of messaging interactions) to be handled automatically, while still intelligently routing more complex enquiries to the right place for assisted service.
This results in the customer receiving a quick response to their text-based enquiries, as well as having the option to speak to a live agent if the enquiry is more complex.
With thanks to Susannah Richardson at mplsystems
Good quality audio can help to keep the conversation on track
Ensure good quality audio on calls to reduce or remove repetition due to a 'bad line'.
This will help to keep the conversation on track and ensure it is wrapped up efficiently and as quickly as possible.
Wireless headsets can allow agents to find their supervisor during a call
Wireless headsets can be beneficial for advisors or their supervisors if they need to move around and speak to other colleagues or grab files during a call.
Wireless headsets allow them to carry on the conversation while walking, rather than lengthening the call and frustrating the customer by putting them on hold.
With thanks to Amanda Bowbanks at Jabra

Give your customers the option of a 'call-back'
If your customers are fed up with queuing, there are several questions you should ask:
Have you got the right contact centre technology? Is it correctly set up to reduce queues and keep customers informed?
Have you got services which offer the customer the chance to leave their number and receive a call-back or 'hang up' but maintain their position in the queue?
Have you tried blending advisors between inbound and outbound during peak times to optimise resources?
A properly updated CRM should ensure that a call-back to the customer happens as promised.
Simplify your menu options so customers can get to your agents faster
Make your menu options simple and few. Too often, customers get frustrated because the choices don't cover their issue or the voice recognition system refuses to understand their replies.
Remember, they just want to speak to someone and fast.
Offer visually guided menus on your website or mobile app
Offer your customers the option of using a visual IVR, with visually guided menus on your website or mobile app.
This provides them with a convenient menu-driven interface to your contact centre and allows them to easily select the options they need. For example, the caller can identify themselves and fill in their date of birth on their smartphone before they get through to you.
Then, when they do connect, the personal details have already been verified so they can get straight to the point.
Make customer records available to all relevant staff company-wide
Have a well-programmed ACD to route your customer through to the right person – and a CRM that provides the advisor with a single view of each customer and their history.
This can only be achieved by harnessing your data properly, be it email, address, phone number, and then creating a single customer record – which is available to all relevant staff company-wide.
Streamline agent desktops so customer issues can be resolved quickly
Ensure agent desktops are streamlined.
Install an app which reduces the number of screens they need to flick between, so they can answer customers' queries quickly and efficiently.
Don't automatically reply on the channel the query came in on
A customer may have contacted you originally via email or Twitter, but it might not be the best channel on which to reply.
For example, it's ALWAYS better to use the phone when dealing with a complaint. Social media is too public and a call resolves the issue faster than email.
With thanks to Ken Reid at Rostrvm Solutions
Get it right first time and customers will keep coming back
The thinking underpinning Customer Effort is that lasting loyalty is actually earned by delivering on basic promises rather than exceeding expectations during service interactions.
That's because most customer interactions are largely functional requests – customers just need a straightforward answer to straightforward questions. Do this right – each and every time – and customers will keep coming back.
Check there isn't a disconnect between self-service and the contact centre
If routine interactions can be handled seamlessly on the web or via an app then there's no reason why customers won't use them. However, the problems come when there's a disconnect between self-service channels and live contact centre service.
Recognising that these types of issues are now routinely being escalated to the contact centre, it's important that organisations equip their agents with the right tools and infrastructure to provide customers with the service they deserve.
Have more intelligent customer identification processes in place
Customers will also find that their life becomes easier when the service providers they engage with:
Have more intelligent customer identification processes in place
Support customers using effective case management and knowledge management tools
Protect them by offering safer and more secure payment systems
With thanks to Adam Faulkner at Sabio
Self-service portals help customers get what they want quickly and easily
In a mobile age, customers now have an expectation of being able to carry out certain transactions themselves. Why would you want to wait to speak to an agent just to find out your bank balance, where the nearest store is located or when a bill is due?
Self-service portals that are efficient and easy to navigate enable customers to carry out specific transactions themselves.
Not only do your customers get what they want quickly and easily, but it also frees up customer service agents so they can devote more time to handling more complex queries.
Mobile CRM solutions can ensure consistency wherever your agents are
Some customers are more likely to pick up the phone, submit online inquires or engage on social media. Whatever their preferences may be, businesses must be able to deliver and ensure that it is seamless and consistent across all channels.
Equipping your team with tools that integrate seamlessly with mobile CRM solutions means that your agents can work beyond the confines of an office, while ensuring that they have access to important CRM data.
Use CRM data to offer a personalised customer experience
The more agents know about a customer, the quicker they'll be able to solve the issue and deliver value.
Using CRM data provides customer insights, so agents can offer an efficient, consistent and personalised customer experience, put hot prospects to the head of the queue, route support calls to the right agents and give VIP customers priority treatment.
With thanks to Tim Pickard at NewVoiceMedia
Reduce the number of IVR options you use
Wherever possible, reduce the number of IVR options you use. Make sure you never have more than 5 menu choices off one list and that your menu is never more than three levels deep.
Customers become frustrated far faster if you expect them to remember more than 5 IVR choices, and find it interminable if they have to keep making choices.
Also, if you take a customer through in-IVR security before a call, make sure your agent doesn't need to ask the same questions again.
Use a menu system if you can't make the voice recognition work smoothly
Really good voice recognition is great when it works but not when it's patchy. Bear in mind that it has to understand the same words in a myriad different accents.
Wherever possible with these systems, guide the caller to speak in a way that simplifies the instruction for the system, e.g. 'Please read out the numbers on your card' works better than 'Please tell us the name of the person you want to speak to'.
If you can't make the voice recognition work smoothly it's preferable to use a menu system instead.
Provide different phone numbers to remove the need for an IVR
Use different phone numbers to direct the call to the right department – where possible – to save having to use an IVR.
You can take this one step further with web-to-call tracking – using number replacement for each visitor to your website so their website behaviour is tracked and the resulting call (if there is one) can be routed to the right department intelligently, based on the context of the call and the caller's interest.
Use mobile-friendly 03 numbers instead of costly 08 numbers
It's worth considering that many callers will use their mobile by default and that revenue generating numbers (0844, 0871, etc.) will cost them 10 times the revenue you get back, because the mobile operators charge so much for calls to these numbers.
So it may be worth losing the revenue generated from the call in order to get more calls (and sales). 0800 numbers suffer from this 'deterrent to call from mobiles' too.
Consider 03 numbering instead, which can still give the national presence without hurting the mobile user, as these calls are at lower tariffs included in people's bundles the same as 01 and 02 numbers – as they now increasingly know.
With thanks to Simon Beeching at Syntec
Integrate your channels so agents can easily switch between them
An integrated multichannel contact centre platform can allow agents to switch easily between channels.
With a cloud solution featuring CRM integration, you can empower your agents with the tools they need to manage those multiple channels – and allow your customers to pick and mix how they communicate with your business.
Direct each customer to the agent most able to help them
Intelligent call routing can assign each customer to the agent most qualified to deal with their enquiry.
An advanced call routing system should involve business rules coupled with CRM data to route enquiries to the right team and best available agent to increase productivity and again result in faster response times.
Then you can make sure that the agents with the right skills are managing the channels they are best suited to, and that you are not stretching your agents' capabilities to manage too many channels at once.
Blend inbound and outbound dialling to maximise your agents' skills
By blending inbound and outbound dialling, you can maximise your agents' skills, managing both while offering the additional flexibility to contact customers whenever and however they want to be contacted.
Thanks to the cloud, these kinds of solutions are now available to meet the needs of the customer without any major infrastructure investment. To make the most of this opportunity, customer service operations must begin to design their processes around the needs of their customers.
With thanks to David Ford at Magnetic North
Make sure all customer transitions are fast and seamless
When customers visit your website or use a mobile app for self-service and need (or choose) to call the contact centre, you need to make the transition fast and seamless.
All customers hate having to repeat themselves and it really should not be necessary. It is my wish is that the work 'silo' will have disappeared from the contact centre dictionary by the end of 2015!
If a call needs to be escalated, it is especially important to ensure their up-to-the-minute interaction history travels with them, so the new advisor can pick up where the other left off.
Offer webchat sessions to customers who appear to be having problems
Be proactive. If a customer is online and appears to be having an issue, then invite them to a webchat session with an agent who can help.
Voice biometrics can enable customers to get straight to the reason for their call
Using passwords for authentication? Think about replacing them. No one likes using passwords and it makes the identification process cumbersome. It is frustrating for the customer and costly for the contact centre.
Alternatives such as voice biometrics can help to streamline the process, enabling customers to get straight to the reason for their call. It can also have a big impact on your AHT.
Fix the problems that force customers to switch channels in search of an answer
If customers are channel switching in an attempt to resolve their issue they are exerting too much effort.
By getting to the root cause and fixing a broken, or convoluted, process you can make life easier for your customers, and for your agents.
With thanks to Craig Pumfrey at NICE Systems
What do you do in your contact centre to make life easier for your customers?