Want to improve customer satisfaction quickly? Here are nine strategies that will help a contact centre to do so.
1. Encourage Advisors to Talk Simply – Take the Complexity out of the Language
A simple strategy to improve customer satisfaction, according to Morris Pentel, the Chairman of The Customer Experience Foundation, contact centres should "take the complexity out of the language! As a customer, I want to know the impact of what happened more than I want to know the colour and the nature of it."
Morris also encourages advisors who are struggling to understand the customer to ask the caller: "Could you please explain it to me, so that I can explain it to my supervisor." This helps to foster simple communication.
Could you please explain it to me, so that I can explain it to my supervisor.
To ensure that advisors are not using any jargon that may confuse customers, contact centres could perhaps create cheat sheets filled with suitable replacements for phrases that the quality monitoring team have found to confuse customers.
As well as phrases that confuse customers, replacements for statements that irritate customers can be added too. For example, the phrase "it's a company policy" can annoy customers and could be replaced by: "I'm afraid that we cannot do that, but what I can do for you is…"
Phrases like those above demonstrate that the advisor is going the extra mile for the customer. Other examples are included in the graphic below:
These cheat sheets can also be used to improve efficiency on the phone and to lower effort. This is because advisors will often be using different methods to get the same information from both customers and systems.
So, cheat sheets that provide a simple process for handling difficult call types, as well as navigating different systems, can be used to improve customer satisfaction.
2. Find Out How to "Nudge" Customer and Advisor Behaviours
The first thing that the contact centre needs to do if it wants to get customers more engaged with the organisation is to ensure that they're engaged in communication, according to Morris Pentel.
Once customers are socially engaged with a company, advisors can be taught how to influence a customer's choice, "nudging" them towards an option that may have a higher customer satisfaction rate.
While this can be done by teaching advisors about cognitive biases, customer behaviour can be positively influenced by even the smallest of things, such as smiling and saying thank you, according to Morris Pentel.
One new habit every two weeks feels like change to me.

Morris Pentel
Although the customer may not be able to see the smile, they can hear it, and a simple smile can boost rapport and engagement. This important, as Morris says: "The first thing you need to do if you want to get customers more engaged in your process is to ensure they are engaged in communication."
The same can be said about the role of advisors in the contact centre. If they feel as though the organisation is doing its bit to engage with them, they are likely to do more to engage with the customer and "represent" the brand.
A classic way to do this is run a joint initiative with the team to raise money for a charity that matters to them, or to find ways to increase the presence of senior management on the contact centre floor and getting them to interact more with the team. Ask team leaders and management to discuss holidays, things that they found out this week and so on.
As Morris says: "One new habit every two weeks feels like change to me!" And he encourages contact centre leaders to "make it easy to engage and empower advisors and then you can ask the important questions, like: what should we fix? And, how do we become better?"
For some more methods to improve your customer satisfaction score, read this article. 
3. Make Customer Satisfaction Visual
Many organisations, such as AO, have taken to asking for feedback via SMS, instead of over the phone, to minimise customer effort.
However, doing so also has another benefit, according to Morris Pentel, who says that SMS gives an organisation a chance to present a visual scale like the one below. This can be presented with the typical question used when running a customer satisfaction survey: "How satisfied were you with our service today?"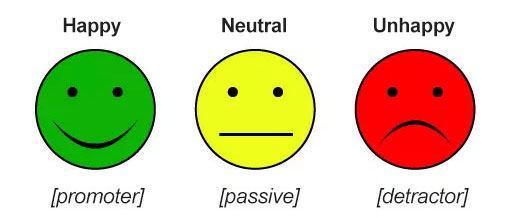 By doing this, an organisation will be left with a percentage figure of promoters and detractors, instead of basing a figure on a customer's response on a 1–10 scale.
Morris says that this is beneficial because "when you use symbols, the way that the customer's brain processes and makes a choice is different from when someone is asked questions directly – it is more of a subconscious process."
"Positive, negative and passive are either true or false, and using a binary scale like this is much more useful to an organisation than saying something like the customer was '20% dissatisfied and 12% disappointed, because I can't use that to drive my organisation."
Also, the positive option should be placed on the left-hand side of the customer's screen if this survey is sent via SMS. This is because certain devices may require the customer to scroll from left to right to see each face and, ordinarily, detractors are more likely to leave feedback than promoters, which could lead to biased results.
4. Focus on Lowering Customer Effort
Research shows that most effort reduction programmes result in an improvement in satisfaction and lifetime value.
But how can customer effort be lowered easily? Morris Pentel suggests looking into the time gaps in the customer journey, "by running through it yourself and asking: is this a delay or an awkward experience?"
Or it could be useful to create personas for different segments of the customer base when running through the journey, each with a different age, location, channel preference, spending habits, preferred brands etc. This will help to streamline the process, while enabling the organisation to align the functional experience with emotional expectations, to boost customer satisfaction.
However, when making changes to service at different stages of the customer journey, it is important to assess how the alteration will impact on other departments.
For instance, if home delivery is introduced to lower customer effort, the effect that this will have on the logistics and IT departments should be considered.
Find out more about creating personas in our article: Seven Top Tips for Service Design
5. Aim for Greater Social Engagement
Studies across the world have shown crowdsourcing, social networking and digital campaigns have proven to be financially efficient while improving customer engagement and driving innovation.
This is according to Morris Pentel, who says that "because our customers and our frontline inevitably know more about the customer relationship than we do, they are inevitably able to co-create and to come up with more ideas."
So, Morris suggests that contact centres ask themselves some questions about how to get more customers and staff involved in transformation, to help build customer satisfaction.
These questions may include:
– How often have customers and staff been involved in 2017?
– Which areas of social engagement have advisors been involved in?
– How successful has it been?
– What does success look like?
– Is it staff doing what they are told or something more?
Follow the link to find out how to: Involve Agents in Operations and Strategy
6. Find Ways to Evoke the Right Customer Emotions
Research from Forrester has found that a customer's happiness with their customer experience is principally determined by three factors: success, ease and emotion. However, emotion has the greatest impact on satisfaction, as highlighted below.

Yet few contact centres measure customer emotions directly. Instead, they use other metrics, such as a Net Promoter Score (NPS), where a customer answers a question like: "how likely would you be to recommend our product/service to a friend or family member, on a scale of 1-10?"
While NPS is great at measuring the percentage of an organisation's promoters within its customer base, it does not provide an overview of the customer experience at an emotional level.
Jonathan Kershaw, Director of Product Management at NewVoiceMedia, says: "To find out why the NPS  is so high/low or to see how a high score can be replicated, an organisation should look into the emotions during promoter/detractor calls."
But how can advisors evoke the right emotions from customers on the phone?
One tip would be to teach advisors the importance of reflective listening. This involves an advisor trying to understand the caller's idea, before repeating it back to the customer to ensure that it has been fully understood.
This technique goes beyond active listening and demonstrates to the customer that the advisor is mentally engaged during the call and that their query has been understood. Doing so may also allow the customer to feel fully relieved of their issue, knowing that it is in the hands of an understanding advisor.
For more tips like this, read our article: 7 Ways to Build an Emotional Connection With Callers
Tips From Our Readers
7. Ask Customers for Feedback in Their Own Words
Try running a surveying programme that not only allows the customer to rate their interaction, but also allows them to give their immediate feedback in their own words.
These words can then be categorised and grouped by positive or negative sentiment, as well as business segment and ease of service.
This can be done by asking a customer to summarise their interaction with the advisor who handled their call in just one word via an SMS message after the call.
Thanks to Christine
8. Look for Ways to Keep Employee Morale High
Keeping advisors happy is the key to ensuring that customers are happy.
Keeping advisors happy is the key to ensuring that customers are happy. Often, customers will mirror the mood of the advisor.
Monthly incentive schemes and coming up with new ideas to motivate advisors has helped in the past to raise customer satisfaction rates.
However, make sure incentives are offered regularly, even if the prizes are small. Consistent rewards help to keep motivation flowing, instead of a big reward that seems so far away that it does not make a difference to morale and motivation levels.
Thanks to Rune
For more on this topic, read our article: Use Your Imagination! 11 Creative Tips That Will Boost Morale in the Contact Centre
9. Ensure That Advisors Stick by These Basic Etiquette Rules When Closing a Call
Customers always want to be appreciated and well treated when they talk to the sales and support personnel. So, advisors should always be courteous and keep the following points in mind:
Always sound polite and cheerful
Don't forget to thank your customer
Make sure all their issues are resolved
End the chat in a more personalised way
Let the customer end the chat first
Although these points may seem basic, common courtesy must never be forgotten.
Thanks to Suvashree
Follow the link to find out: The Best Courtesy Words and Phrases to Use in Customer Service
For more ideas to improve customer satisfaction, read our article: