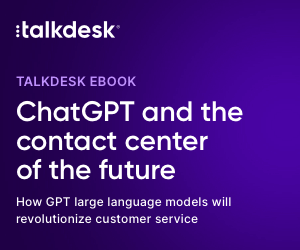 Talkdesk has announced that the Talkdesk Digital Showdown: Innovations in CX event will take place virtually on 26th May 2021.
The Digital Showdown has become a highlight on the events calendar at Talkdesk following a highly successful inaugural showdown in November 2020. Customer experience (CX) leader Annette Franz will guest host the live event, and more than $20,000 will be donated to a variety of charities. Talkdesk Digital Showdown will bring together Talkdesk and six partners across two categories currently trending in the CX space: AI & Automation and Employee Engagement & Productivity.
Following the recent "Talkdesk Makes History" launch, which introduced a reimagined logo, tagline and new products, the Digital Showdown combines two of the company's core values: courageous innovation with environmental and community giving. Participating partners have each selected a charity, and Talkdesk will donate $10,000 to the event winner's charity of choice, $5,000 for the runner-up's charity and $1,000 to all remaining participants' charities. Additional donations will be made by Talkdesk to Girls who Code and to Annette Franz's selected charity, ALS Association. Over $20,000 will be donated from a combination of Talkdesk and partner contributions.
"I'm looking forward to hosting this season's Digital Showdown and seeing all of the creative solutions in action during each competitor's live pitch," said Annette Franz, certified customer experience professional, founder and chief executive officer, CX Journey Inc. "Innovative customer experiences are the lifeblood of today's contact centres, and what better way to hear about innovations than in a setting that's also designed to give back, helping raise awareness for so many deserving charities."
At the first Talkdesk Digital Showdown in November, the grand prize was awarded to noise-cancellation app Krisp, with $10,000 going to Krisp's charity of choice, the Alameda County Community Food Bank.
Similar to the last showdown, each partner will have three minutes to convince a live audience that they have the most innovative CX solution on the market today, across either AI & Automation or Employee Engagement & Productivity. The event brings together a breadth of technology solutions – all from the Talkdesk AppConnect marketplace partners – spanning the CX ecosystem, including:
AI & Automation
Replicant, benefiting Build.org
Forethought, benefiting Code.org
Aigent, benefiting National Endowment for Financial Education
Employee Engagement & Productivity
Calabrio, benefiting Habitat for Humanity, Twin Cities
Tap My Back, benefiting Touch a Life
ProcedureFlow, benefiting Saint John Community Food Basket
"As we enter a new decade for Talkdesk, we're even more committed to courageous innovation and community giving. With the return of Talkdesk Digital Showdown, we're bringing both of these values together, showcasing the spirit and ingenuity at the very heart of the company and all that we do," said Tiago Paiva, chief executive officer, Talkdesk.
"For businesses looking to find a better way to deliver exceptional customer experience, this event offers a glimpse into the innovations Talkdesk and our partners are developing to help them transform their customer interactions."
The event will also showcase Talkdesk AI TrainerTM, the first human-in the-loop tool for contact centres. Register to attend the Talkdesk Digital Showdown and cast a vote for the winners.
For more information about Talkdesk - visit the
Talkdesk Website