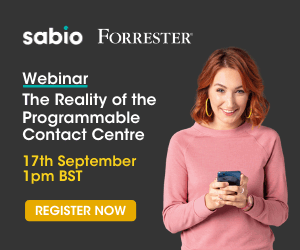 Join us online 17th September, 1pm BST
The contact centre has long been the domain of heavy infrastructure investment, long and expensive implementation cycles and cumbersome maintenance. The advent of cloud solutions has removed some of this pain but in a cookie-cutter way which limits functionality, customisation and ultimately results.
This webinar shares how an agile approach supported by the latest technologies can build a contact centre from the ground up or complement existing implementations to reduce cost and increase CSAT. Benefiting from fast delivery and rapid time to benefit, programmable technologies reduce risk and lead to better outcomes.
Hear from leading Forrester Research analyst Art Schoeller about the developments in programmable architecture and the scope, speed and outcome of successful projects that have been implemented by Sabio Group using Twilio and Google technology.
Speaker:
Art Schoeller, Leading Forrester Research Analyst
---