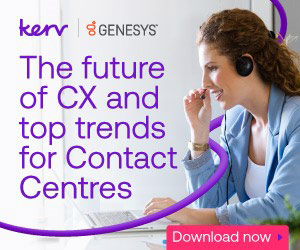 Engaging with customers has become an essential part of 21st-century customer service. Call Centre Helper's panel of experts share their top tips for customer engagement.
1. Remember that every member of staff and every customer is an individual
Avoiding calls that sound like an automaton is what separates the truly great customer engagement from the mediocre. Even in centres that deal with a high volume of calls, you can still put an element of personality behind it. A lot of it is down to the very old adage, 'always answer the telephone with a smile', and that still stands as true.
2. Be sensitive
From a personal and professional point of view, I think it is important to give customers a choice over how much information they wish to disclose, with a range of options. Some people are very open, and are happy to give lots of information. Some people don't want to disclose personal things over the internet. Some people are hesitant to relay too much information, hence the need to build rapport and gain their trust.
Because we help people relocate internationally, some of our customers have to get into really difficult stuff when telling us their requirements. For example, maybe if they're going through a difficult divorce or if they have children and want to make sure that the children aren't affected too much. It is important for us to engage with those customers and allow them to feel able to tell us their needs in whatever form and detail they see fit.
Karen Campbell – National Internet Sales Centre Manager, Crown Relocations
3. Build relationships
Customers love familiarity – ensure your organisation can intelligently route repeat callers to the same agent they have previously spoken to.  This will build relationships, loyalty and ultimately improve the customer experience.  Of course, this is assuming that the agent handling the call does so in a professional manner! Customers like the personal touch.  Install a system that summarises their ID details, welcomes them by name, and then updates them on their account.  This will set the encounter off on the right footing.
4. Ensure emails are properly managed
As more and more people now contact call centres by email, it's important for this method of contact to be properly managed.  How quickly are the emails dealt with?  Does the customer receive an acknowledgement of receipt of the email?  Many call centres or customer services departments are unaware that emails can be queued in the same way as calls and therefore dealt with appropriately.  In fact, both emails and calls can all go in the same queue to maximise customer engagement.
Chris Harris, Managing Director, Zeacom Europe
5. Listen to customer feedback
A two-way dialogue is imperative if a brand is to build customer engagement. It shouldn't be a top-down approach and it needs to be a win-win situation for the customer. In the current age, with social media platforms offering direct customer interaction, the opportunity is available to get them involved in product research and product sampling. By taking on board this feedback, even if it is unstructured, brands can use this to provide insight that can help them refine and develop their strategy and new strategies for the future.
James Le Roth, Contact Centre Director, Eclipse Marketing
6. Adapt to new technology
Social media is a mode of communication in the contact centre and moving faster than you think. Are you one of those who is adapting to the needs of your customers, both internal and external? If your company isn't taking into consideration the requirements of this changing market, it is likely that your competitors are. Those organisations that do not adapt with the times will quickly be left behind.
Tim Moynihan, Vice President of Marketing, Enterprise Business Unit, Empirix
7.  Have the right data and know how and when to use it
Knowing your customers inside out ensures that you are in tune with their lifestyle and buying habits and how they want to be contacted. By better understanding changes in consumer lifestyles, call centre staff can develop insight into who they are speaking to, their history, likes and dislikes and target them in the most effective and responsible way. Brands need to capture data at all points of the buying cycle so they can contact customers in the right way.
8. Target customers in an appropriate fashion
If someone is at work all day it's pointless phoning them at 2pm. Companies need to be sensitive to a customer's individual wants and needs. By using a medium that suits the individual customer, you not only increase the chances of speaking to the correct person, but also increase the chance that they will come back to you in the future because you cared enough to understand their preferences.
If someone isn't answering the phone, leave a voicemail or send a text – perhaps they will be more responsive then.
Duncan Graham, Commercial Director, Callcredit Marketing Solutions
9. Process-driven improvements don't change company culture
If you want to improve customer experience by introducing new processes, you must ensure that your employees are fully engaged with the changes. If you want to change your organisational structure and create a stronger customer focus, employees need to hear real feedback about real interactions.
Gary Schwartz, Senior Vice President of Marketing at Confirmit
10. Have an engagement strategy
A dynamic customer engagement strategy helps every customer interaction include context. When we have a conversation with a friend, it is influenced by a range of different factors – previous conversations and experiences, upcoming events, known preferences and also the situation right there and then.
Expectations are now such that customers demand that this interaction model be replicated in dealings with an organisation. But dynamic customer engagement is more than simply personalising service; a customer can do that themselves in most instances. Businesses, on the other hand, can adapt their own business rules to fit the customer, with options the customer doesn't know exist.
Companies like Amazon are great proponents of this approach – suggesting products you may be interested in by pooling all the information they have on you and putting it in the context of the behaviour of similar customers. This approach needs to move into all areas of customer service.
Keith Pearce, Senior Marketing Director EMEA, Alcatel-Lucent Enterprise
For more insights into how to improve customer engagement, read our articles: