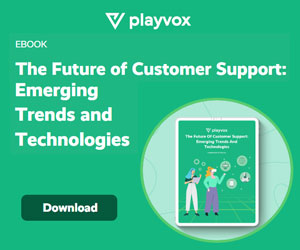 Once a bit of a gimmick, internet live chat is really starting to take hold in the call centre – particularly with the younger generation. We asked a number of experts for their top tips on dealing with chat.
There are two distinct types of web chat. These are agent chat and virtual chat (or chatbot). Both add value to the customer experience; however, it is important for customer satisfaction, loyalty and the protection of your brand, that you recognise the different function of each, and that your customers know which is which.
Chatbots
Chatbots are also known as avatars, virtual assistants, virtual agents, and concierges. They are great tools to greet customers and prospects in a personal manner and answer questions of low to medium complexity. These avatars can guide users around a website as well as allowing them to search, browse or view FAQs. They can also facilitate dynamically generated questions and answers to steer users through more complex diagnostics, as well as providing rich animated graphics for help with setting up products such as mobile devices.
For more information on installing a chatbot in the contact centre, read this article 7 Things They Won't Tell You About Installing a Chatbot.
Avatars should reflect the brand personality
The telecoms industry is without doubt leading the way here. Some of our large mobile operator customers have created really compelling animated characters that reflect the brand personality. By spending time to create a branded chatbot personality and integrate it into other service channels, these organisations have succeeded in migrating customers onto cheaper web self–service channels whilst increasing customer satisfaction.
As the chatbot trend continues, the pressures on actual agents will be relieved by web-based virtual agents. Virtual customer service will essentially be 'on tap', offering guidance, advice and feedback 24×7, 365 days of the year.
Leave people in no doubt that they are talking to a chatbot
For example, one of our telecom customers has deliberately chosen to create a chatbot character in the shape of a robot, as opposed to simulating a human appearance. This way, the customer is left in no doubt that they are interacting with an avatar, not an agent.
Live internet chat is a costly channel
So what is the purpose of agent chat? In a multi-channel environment, it should be considered an escalation channel. Its place within the contact centre is on a par with email and telephone enquiries. Like email and telephone services, it is a relatively costly channel to run in comparison to web self-service options. This is why it is increasingly considered the domain for complex and high-value services. Savvy organisations place a real value on agent web chat, enabling customers to interact with a knowledgeable and real-life agent when looking to resolve difficult service enquiries, when they cannot be dealt with efficiently via online channels.
Andrew Mennie is the General Manager at eGain EMEA
---
The iPad will drive up chat volumes
New mobile devices like the iPad, and the drive for real-time information are changing business expectations. Today's customers demand a faster, more responsive service across every channel of communication. Traditional contact centres have to keep pace with the rapidly evolving rules of customer service.
Xabier Ormazabal is a Senior Product Marketing Manager for salesforce.com
---
After five or six messages switch to a phone call
Text chat is becoming commonplace in social applications such as Facebook and Skype and contact centres need to keep up with the trend. In addition, applications such as Skype provide the ability to 'promote' a text chat to a voice or video chat – a function also known as 'click to call'. In many instances, after an exchange of five or six chat/IM messages, it is generally more productive to actually converse via voice and this is why many chat systems offer this capability.
Common internet chat applications
Chat is now widely available in many of the more 'internet friendly' sites such as in the travel industry and some of the retail industry. As the internet generation, who are very comfortable with text chat, ages, it is likely to become more common across the board. It can also be extended to sharing applications (used a lot in support of IT) and will also be extended to voice (Voice over IP), becoming a multi-media chat session. However, this is some way off.
The technology can fail
Internet chat technology often fails at the wrong time because it becomes 'stressed' under load conditions and faults appear that would not have been seen at other times. Therefore, proactive end-to-end testing and monitoring of the technology is essential.
Limit the number of simultaneous sessions
Also, in the past, agents have been asked to manage up to five sessions at one time to ensure productivity does not dip. However, the customer experience under these circumstances is poor with customers waiting for a long time for a response.
Hire chat agents for their written skills
Also, agents' skills need to be upgraded and some agents will not be able to apply themselves to this area if they have been hired for their vocal skills and not written ones.
Trevor Richer is Marketing Director EMEA at Empirix
---
Have you been experimenting with internet chat in your call centre? Please share your experiences in an email to Call Centre Helper