In our 2022 survey, we asked 294 contact centre professionals 'What Do Your Customers Value Most?'
This article is an extract from our 'What Contact Centres Are Doing Right Now' 2022 survey report, which was sponsored by NICE.
What Do Your Customers Value Most?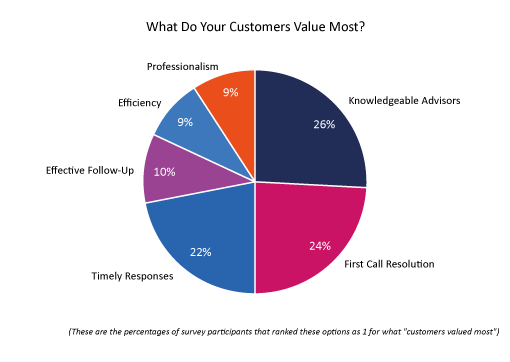 | Customer Value | Response % |
| --- | --- |
| Knowledgeable Advisors | 26% |
| First Call Resolution | 24% |
| Timely Responses | 22% |
| Effective Follow-Up | 10% |
| Efficiency | 9% |
| Professionalism | 9% |
Customers Want to Deal With Knowledgeable Advisors Who Can Solve Their Problems Quickly
Although the number of participants who selected knowledgeable advisors has dropped 17.8% from
31.6% last year to 26%, it remains the top choice among the responses.
In this year's ranking system it is also the top choice for the second and third rank of what customers want.
Once again, First Contact Resolution (FCR) came in second for what customers want, with 24% of our contact centre professionals selecting this option, down 18.4% from 29.4% last year.
This year has also seen the importance of response time almost double, rising 94.7% to 22% from 11.3%, suggesting that customers are now looking for speed when dealing with contact centres.
Combining the three percentages (Knowledgeable Advisors – 26%, FCR – 24%, Timely Responses – 22%), it can be concluded that 72% of contact centres believe that customers care most about dealing with advisors who have the knowledge to respond quickly with helpful and professional resolutions, ideally on the first contact.

It's Not All About Efficiency
The responses for professionalism have risen 45.1% to 9%, suggesting that customers want to have faith in the competence of the people they are dealing with.
Interestingly, looking at the responses from our contact centre professionals, efficiency has dropped 30.7% to 9%.
This could suggest that customers are prioritizing getting a resolution in general, rather than the
efficiency with which they get one, a great sign that people are shifting their values.
This survey was done in partnership with NICE
Related Research
To download the full copies of our 'What Contact Centres Are Doing Right Now' survey reports follow the links below:
You can also download the full copies of our 'Is Your Contact Centre Delivering Exceptional Customer Service?' survey reports by following the links below:
For more great information check out our other Contact Centre Research