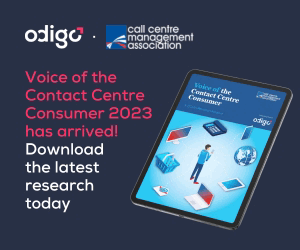 For the first time, we asked about ChatGPT in our What Contact Centres Are Doing Right Now (2023 Edition) survey – capturing a snapshot in time as to how this new technology is being adopted across the industry since its launch in November 2022.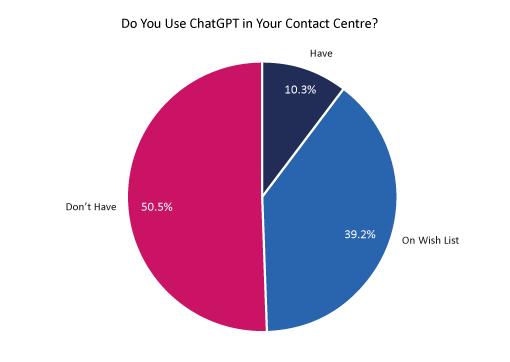 The industry seems to be very divided at this stage, with a clear head start by early adopters – approx. 10% of the industry – embracing the challenge of deploying it, with a further 39.2% intrigued enough to have it on their wish list.
In contrast, the other half of our survey responders (50.5%) claimed not to have it – perhaps waiting to see how the early adopters fare, so they can approach this with a more cautious, considered response.

Peter Massey, MD and Co-Founder of Budd UK Ltd, comments:
"I'm surprised the numbers for take-up are this low. I've seen a distinct acceleration in personal use this year and would expect that to be up around at least 50% even in the more mature age groups.
"After all, it's no harder than googling – although skilful use requires excellent questioning, refining and judging skills. The results can save huge amounts of time.
"At a customer-facing level, I suspect the majority of companies are experimenting, not always customer-facing first. As one tech client put it, "We have to be very careful what we release, as we don't want to shock people."
Run in partnership with Sabio, Centrical, Odigo, Scorebuddy, and NICE, this survey focused on the key elements of a contact centre, including advisor experience and engagement, artificial intelligence (AI), customer experience, quality assurance, workforce management, and more!
Download our What Contact Centres Are Doing Right Now (2023 Edition) Survey Report to uncover the latest and most exciting contact centre insights
Related Research
To download the full copies of our 'What Contact Centres Are Doing Right Now' survey reports follow the links below:
For more great information check out our other Contact Centre Research