Want to refresh your call centre scripts with great customer service greetings?
Or maybe you've pondered what the first sentence you say to every customer should be, or whether you really need to say 'thank you for calling' at the start of every conversation, then look no further!
Examples of Opening Spiel in the Call Centre
We've personally called up agents at some of the biggest brands to find out how they greet their customers – to gather examples for your teams to use when answering phone calls.
1. Lego
"Welcome to Lego Customer Service. My name is [INSERT NAME]. How can I help you?"
This pleasant phone greeting offers a unique opening in "welcome to…" leaning into the call being a positive experience, as opposed to a simple transaction.
It's also a bit more conversational and informal in using the phrase "how can I help you?" as an alternative to the more formal "how may I help you today?"
2. John Lewis
"Good afternoon! You're through to John Lewis. My name is [INSERT NAME]. How may I help you today?"
This jolly opening spiel from John Lewis uses three personal pronouns: "you", "my" and "I" as a method to help establish a personal connection.
3. DPD
"Good afternoon. You're speaking to [INSERT NAME]. How may I help you?"
This phrase – the greeting used by a customer service agent at DPD – uses two personal pronouns "I" and "you", which help to demonstrate that the agent wants to personally help the caller – as an individual.
4. Visit Wales
"Good afternoon! Visit Wales, [INSERT NAME] speaking. How may I help you?"
As is the case in some of the other customer greeting examples on this list, the agent opens with a traditional greeting, introduces the company and themselves, before asking the customer how they can help. This is a popular format for any welcome call.
5. UCAS
"Hi! You're through to UCAS, how can I help you?"
Beginning with "hi", this call centre greeting stands out as being more relaxed and informal.
Likely a deliberate choice from the UCAS team, due to their customer base being comprised mainly of students, this sets a more relaxed tone.
The use of the word "hi" also helps the conversation to sound more natural and less scripted.
Read this article for: Great advice on developing a call centre script
6. Autoglass
"Hello, good afternoon. [INSERT NAME] from Autoglass speaking. How can I help?"
This one is more conversational and wordier, with two separate openings in the greeting – "hello" and "good afternoon" – as well as stating the obvious of "speaking", but these additional words go a long way in helping the agent appear more human and less scripted/ robotic from the very start of the call.
7. British Airways
"British Airways! How can I help you?"
If you're looking for a short and sweet call centre greeting, here it is!
No doubt, this is a concise option for those looking for quick wins on reducing their Average Handling Time (AHT).
8. DW Sports Online
"Good afternoon! DW Sports Online, how can I help?"
In this customer service greeting, there is no introduction from the agent – only the company. Whilst this helps to keep it short, some would say the lack of personalisation here could compromise the agent building rapport with the customer.
9. Lidl
"Good afternoon! You are through to Lidl customer service. Can I take your name please?"
In this example, it's interesting to note that the agent asks for the customer's name – likely as part of a security process – before making time to introduce themselves.
Whilst this greeting cuts straight to the chase of resolving the issue in hand, the greeting could also benefit from being personalised before moving on to ask for the customer's information.
10. DFS
"Good afternoon! Welcome to DFS customer service. My name is [INSERT NAME]. Just to let you know our calls may be recorded."
This customer service greeting follows the widely used format of "hello, welcome, my name is…", but also prioritises telling the customer the call may be recorded.
Whilst agents are likely tasked with telling customers this, its place in the opening greeting feels a little hurried and shoe-horned in. It could perhaps be better placed within the initial conversation a bit further into the call.
To find out how your greeting can determine the success of the rest of the conversation, read our article: Customer Psychology: The Key to Better Contact Centre Conversations
★★★★★
What Makes a Good Call Centre Greeting?
Here are 10 top tips for customer service greetings:
1. Don't Be Too Formal
Not everyone likes being addressed by their first name, without being asked first.
Many customers prefer contact centre agents to use the opening "hi" instead of "hello". Also, not everyone likes being addressed by their first name, without being asked first.
People tend to prefer agents to keep the conversation informal, maybe so they feel as if the interaction is more natural, hinting that agents should not be robotic in their use of scripts.
2. Mirror the Customer
As Neil Martin of The First Word spoke about during this webinar on 'How to Give the Wow Factor on Email and Live Chat', agents should take their cue from the customer.
For example, if the customer signs off with their first name, you can use their first name to address them. The same can apply to phone calls and how the customer introduces themselves.
3. Ask "How CAN I Help You?"
In the theme of keeping a greeting informal, more of our survey respondents preferred a greeting to include the question "how can I help you?" (52.50%), as opposed to the slightly more formal proposition "how may I help?" (47.50%).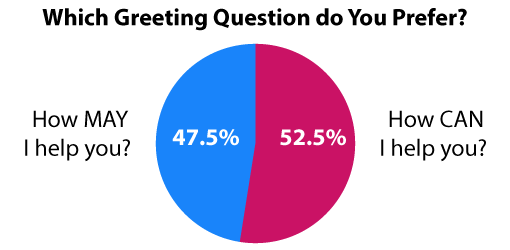 However, this was only by a very small margin, and it is important to remember that a more formal greeting may be more appealing for up-market brands.
Other questions that our readers have proposed using in a greeting, include:
"How may I be of service?"
"What can I assist you with?"
"What may I assist you with?"
4. Ask Your Agents to Introduce Themselves
As seen in the below poll, survey participants overwhelmingly believed that an advisor should introduce themselves in their greeting. In fact, 94.19% asserted that this was something that an advisor should do.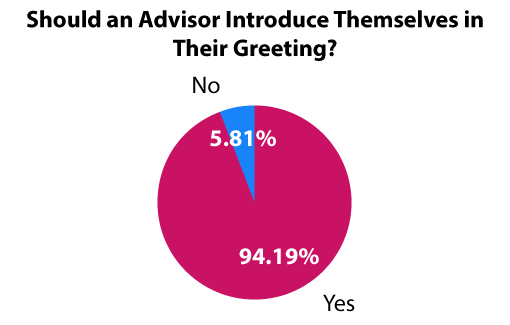 Yet Phil Anderson, Director at The Forum, offers a different opinion:
"If you want a customer to remember your name, don't include it in the opening message as this is likely to be too much information. Ask for their name/reference then introduce yourself; the customer is much more likely to remember you that way."
5. Consider Using a Play on Words
I work at a service company with a unique name. Our greeting is as follows:
"Thank you for calling Allgood Plumbing, Electric Heating & Cooling. This is Tiffany. How can I take Allgood care of you today?"
It's long, but we do get a few "that's cute" comments.
With thanks to Tiffany
6. Don't Apologise for the Wait
Say "thank you for waiting" when you have long customer queues, as opposed to "sorry about the wait".
If you start the interaction with an apology, you are put on the back foot immediately.
With thanks to Alex
7. Don't Repeat What's on the IVR
The IVR message already gives our company name to the customer, so we use this as a greeting: "Good day, you are speaking to [INSERT NAME], how can I help you?"
With thanks to Debby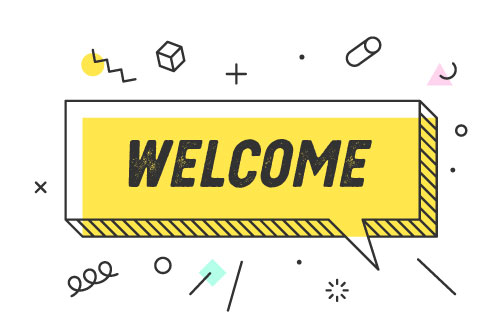 8. Don't Just Rely on Words
Words alone aren't enough! An agent could be using a well-rehearsed, tried and tested customer service greeting phrase, but it's useless if said with the wrong tone and intention.
9. Get Your Agents Involved
Involve your agents in the process too.
They know your customers better than anyone else at your company, and will be able to help you fine-tune your customer service greetings as they road test them day-by-day.
10. Don't Waffle
Time is precious! Think about what your agents really need to say and how quickly they get to the point.
Get a stopwatch out if you must, but don't waste your customers' time.
Found this article useful? Have a look at these:
Originally published July 2017. Updated in December 2022.