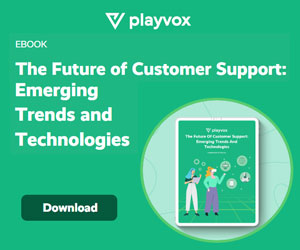 Want to coach your agents on acknowledging the customer's query at the start of every conversation, but don't know where to start? We're here to help!
There are lots of variations on acknowledgement spiel, but we've have pulled together a list of the very best acknowledgement statements for customer service and difficult situations – including sample acknowledgement statements to add into your call centre scripts.
These examples of positive acknowledgment statements can help your agents take ownership of a call and better manage difficult situations.
What is an Acknowledgement Statement?
An acknowledgement statement refers to the phrasing a person uses to recognise and validate a situation and how the other person feels.
They help the agent demonstrate that they have not only heard but have also understood the customer.
For example, these three quick-fire examples show acknowledgement statements in action:
"I recognize the difficulty of the issue, but let's strive to find a resolution."
"What you have gone through is equally as unacceptable to us as it is to you."
"I cannot even fathom how distressing it must be to…"
Why Use Acknowledgement Statements?
Successful conversations are the result of both sides being able to see the other's perspective and talk honestly – whether addressing a faulty product, a long call queue, or any other issue.
The acknowledgement step therefore helps agents to pause and double-check they are best serving the customer. While it can make conversations a little bit longer, it can help ensure the agent truly understands the issue and doesn't get off to a false start based on poor assumptions.
Without training, this can often be lost or forgotten in the haste to resolve the customer's perceived problem and can compromise the overall service experience.
★★★★★
Customer Service Acknowledgement Statement Examples
Here are our top 10 examples of acknowledgement statements for customer service and difficult situations:
1. "I realise that [insert problem] situation is difficult, but let's try and find a solution."
This acknowledgement statement recognises the difficulty of the problem without voicing a personal view on the matter.
2. "I would feel the same in your situation if I had [insert problem], but I will sort this out…"
It personally recognises the problem and turns the negative into a positive seamlessly.
This phrase is well received, as it personally recognises the problem and turns the negative into a positive seamlessly.
This one should be used sparingly, as it could come across as mimicking or patronising a customer's emotions if said too regularly in a conversation.
3. "I'm sorry you are having this problem with your [insert product/ service]. Let's see what I can do to help the situation."
Often saying "sorry" can lack authenticity. One way to overcome this is to make sure the agent always says, "I'm sorry" instead of "we're sorry", as the customer sees that the agent has taken personal ownership of the issue.
For information on crafting that all-important contact centre apology, read our article: Customer Service Apologies – Keeping Sorry Fresh and Sincere
4. "I know how frustrating it can be when [insert issue] happens. Let's see how we can help…"
Repeating back the emotion and acknowledging the frustration of a situation can help a customer to feel an agent is on their side.
It can also help to shift the conversation smoothly from a negative to a positive.
5. "Now that I am aware of the situation with your [insert product/ service], I will definitely do my best to fix it for you."
This is a good example of an agent taking personal ownership of the problem. In doing so, it uses "definitely", an important positive word to use in customer service, to good effect, in not only acknowledging the issue, but reassuring the customer they'll get it sorted.
Looking for some positive spiel to help brighten up your customer conversations? Read our article: Top 50 Positive Words and Phrases – With Examples
6. "Your problem with your [insert product/ service] sounds like it's been quite annoying for you, let's see what we can do to change that…"
This acknowledgement statement works well, as it reflects a will for a collaborative relationship between the customer and agent, whilst also demonstrating a keen interest in finding a solution.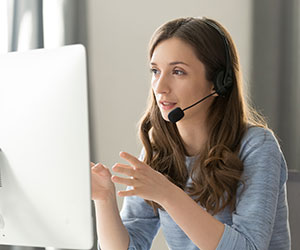 7. "I can only imagine how upsetting it is to have this problem with your [insert product/ service]…"
This statement both acknowledges the problem and shows empathy, helping to show the customer that the agent is on their side and wants to help.
8. "What you have experienced with your [insert product/ service] is no more acceptable to me than it is to you. Let's find out what's gone wrong here…"
Again, this statement has the added benefit of showing empathy whilst also acknowledging the customer's concern.
9. "Thank you for getting in touch about this problem with your [insert product/ service]. It really helps us to know these things so we can correct them as quickly as possible."
This statement helps to diffuse any sense of blame or disinterest the customer may be anticipating – by saying a simple 'thank you' for making the company aware of the situation.
Note, this one should be avoided where a customer is calling about a recurring issue, as it will come across as ingenuine and undermine the positive rapport the agent is trying to build.
10. "I completely understand why you need me to fix [insert problem] straight away for you."
This phrase can only be used in certain situations, but can help an agent to build rapport with an angry or upset customer – by showing they are on the customer's side and want to resolve the issue quickly.
☆☆☆☆☆
Key Components of Customer Service Acknowledgement Statements
If you are looking to put together your own acknowledgement statements, make sure you include these five key components:
Begin with Personal Recognition
It is important to use "I" rather than the more corporate "we".
Furthermore, using "I" in an acknowledgement statement allows the customer to feel as though they have someone working "on the inside" of the business, creating the perception that they have been personally recognised, which also builds rapport.
Finish with the Notion of Teamwork
Although it is advisable to start an acknowledgement statement with "I", to personally recognise the caller's problem, finishing with "we" creates the notion of teamwork, which ensures that the customer is not left isolated.
Using "we", as in the customer and agent, not the agent and the company, also demonstrates a commitment to working together, which aids the rapport-building process.

Turn Negatives into Positives
While many contact centres ban agents from using negative words, such as "no", "can't", "don't", etc., this can make the team use roundabout ways of saying things, increasing call duration and giving the conversation a disjointed tone.
Instead, agents should try confronting the negative before flipping it into a positive. After all, an acknowledgement statement revolves around the principle of recognising a problem.
For example, agents should be straight to the point and say "No, sorry, we can't give you a refund, but we can give you store credit.", instead of a long-winded, seemingly more positive spin of "We are fully committed to delivering a good quality service and giving you the best value for money. We'd like to offer you store credit by way of apology."
For further details on this principle, visit our article: How to Create a Positive Scripting Experience in Your Contact Centre
Create a Sense of Action
An acknowledgement statement without any reference to action is merely a vote of sympathy.
So, once the agent has recognised the problem, it is a good idea to reference the next action, to guide the customer through the process and create a sense of haste.
This enables the caller to interpret the agent's sense of urgency as a sign that the matter is very important to the agent and the company they represent.
Be Authentic
It is important for the contact centre team to be genuine when interacting with customers. If agents just repeat standard acknowledgement phrases without authenticity, resentment can grow and that can increase customer frustration.
For example, if a delivery containing a disability aid is delayed and the agent were to say: "I understand how you are feeling right now", the acknowledgement statement could be considered inappropriate and ingenuine.
Also, to make sure that agents don't sound robotic when using acknowledgement statements, encourage them to say "hi" instead of "hello" or "enjoy the rest of your day" instead of "goodbye", and other less formal examples.
Find more insights into how you can improve the quality of your customer service language by reading our articles: