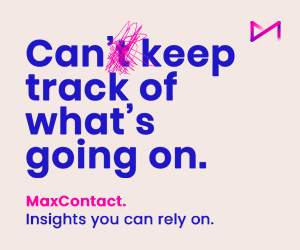 In this article written and investigated by Charlie Mitchell, we uncover what is meant by the term "customer management centre", highlighting the differences from a contact centre.
What Is a Customer Management Centre?
A customer management centre is an operations centre that oversees every part of the customer journey, from start to finish.
Some will see it as a fancy-fandango term for a multichannel contact centre, but with all of the technological advances within the industry, a "customer management centre" may well be a term for the future.
Active Management of Customer Journeys
Most customer contact centres are very reactive and wait for problems to reveal themselves.
On the other hand a Customer Management Centre is one where there is active management of the customer journey. In essence, the centre owns the customer journey, not the customer.
While the industry will likely head in the direction of proactive customer management, there is a significant amount of time and investment needed to get there.
How Does It Differ From a Contact Centre?
Many operations will call themselves "customer management centres" despite being no different from traditional contact centres. This is perhaps because of widespread confusion around the term.
In principle, though, a customer management centre will be fully committed to proactive customer service, so the customer very rarely needs to get in touch with the business.
By doing so, a customer management centre will:
Better inform customers
Show great value of a customer's time
Significantly reduce customer effort
Develop respectful customer relationships
Closely consider emotional responses
Increase customer confidence
While many contact centres may already have a limited proactive strategy, there will still be many friction points – most due to the mistakes of other departments – which will cause customers to contact them.
A customer management centre is, therefore, an undertaking for the entire organization.
The Many Different Names for Contact Centres
Although many would argue that there is a distinction between customer management centres and contact centres, this is not always clear.
There's nothing wrong with being loud and proud about working in this industry.
In fact, there are many names for contact centres. Some will be fairly commonplace, such as:
Customer Engagement Centre
Customer Experience Hub
Helpdesk
Some, however, are a little more mystifying. We've even come across:
Human Response Centre
Mission Control
Customer Therapy Facility
Yet traditionalists will still stick to the term "call centre". While they may employ many channels of customer contact, there's nothing wrong with being loud and proud about working in this industry.
Discover many more names for contact centres by reading our article: What Should You Name Your Call Centre?
Contact Centre Advisors Go by Many Names Too
Katy Forsyth of Red Recruitment has come across many of these eccentric job titles in her role, naming the following three as particular favourites:
Customer Service Gurus – Again, another name for inbound customer service advisors.
COps – This stands for Customer Operations Team, members of which are – you guessed it – inbound customer service advisors.
Parcel Detectives – Actually inbound customer service advisors for a delivery company.
Other standouts include Customer Service Champions, Ambassadors and even Ninjas.
In many cases, advisors receive one of these job titles once promoted to a senior advisor role. This signifies career development, something that can help to give the team a sense of moving forwards.
Still going to stick with the term "contact centre advisor"? Find lots more ideas in our article: What Should We Call Frontline Call Centre Staff?
Why Have Contact Centres Tried to Reinvent Themselves?
Throughout their short history, contact centres have often been negatively framed. Wishing to offset this image, many operations went through a stage of rebranding. This included a name change.
10-15 years ago, this was happening regularly. But this trend now seems to have subsided.
The same can be said of the advisor role. While many contact centres were turning away from the "advisor" and "agent" terms – often to reflect the increasing difficulty of the job – they are no longer doing so.
"We used to come across many different names for contact centres and advisor roles, but these often had significantly fewer responses to job adverts, as no one knows what they are," says Katy.
In an industry that suffers from high levels of attrition and shallow recruitment pools, renaming the contact centre and/or the job roles within, has potentially done more harm than good.
Also, by renaming the contact centre, operations run the risk of recruiting somebody who does not appreciate the fact that they are about to take on a contact centre job. They will then be in for a rude awakening.
The Current Reputation of Contact Centres and Their Challenges
In trying to reinvent their image, many contact centres had perhaps been struggling to establish themselves as a key priority within their organizations.
However, these negative perceptions are starting to become a thing of the past, certainly according to our latest research:
As evident in the chart, far fewer organizations view the contact centre as a "cost centre" or a "necessary evil" than did so back in 2019.
Although the chart suggests that there is still work to do in raising the profile of the contact centre, for many companies, this progression could be a key reason why fewer contact centres are changing their names.
If we are ever going to move towards customer management centres, however, this progression will have to speed up massively. This is because the contact centre will have to be at the front and centre of customer experience to properly manage customer journeys.
To get to this point, contact centres will have to overcome a whole host of other challenges too. These include:
Business Priorities
Firefighting
Only by overcoming these challenges can contact centres set themselves up for success in terms of managing the customer journey.
Even in doing so, they will likely face a great number of challenges in securing the right proactive tools and investment, accessing the necessary data and dealing with a great shift in culture.
Uncover a list of common contact centre challenges by delving into our article: The Top Ten Call Centre Problems
Business Priorities
For many contact centres, their biggest priority is determining the future work environment, which will likely be based on a hybrid model.
The development of customer experience has been put on the back burner or – in some cases – undermined by other priorities, such as cutting costs. There is a clear conflict between these goals.
In terms of business priorities, some are focusing on big transformational plans, but they must focus on other pressing matters too.
While extremely important, these restrict time. One good example is employee well-being.
"The biggest issues for the contact centres that we work with at the moment are people issues," says Mark Conway, founder of CCP,.
"It's easy to put on a façade in a Zoom call and pretend that everything's okay, when – in fact – it really isn't. Contact centres are realizing this and placing employee welfare at the top of their agendas."
Firefighting
Contact centres have to firefight much more than they would like, which holds back the development of transformation programmes. They constantly address slight dips in metrics, staffing challenges and reoccurring issues. Finding ways to create breathing space is, therefore, a real challenge.
When we asked a group of contact centre professionals about their time constraints, we uncovered some truly unnerving results.
If a contact centre wishes to become a true customer management centre – and control more of the customer experience – it will need a lot more time to plan ahead.
To develop this time, the contact centre can automate more of the reporting process, improve forecasting and scheduling and better manage time spend on email.
Final Thoughts
In theory, a customer management centre is a contact centre 2.0. It is proactive, manages customer journeys and is central to an organization's thinking.
Over 4% of the working population work in a contact centre and there are some extremely successful individuals within the industry.
However, many won't view it in the same way. They will see it as just another name for a contact centre, like many others that we have heard over the years. This includes your customer experience hubs, customer engagement centres and so on.
But let's not be frightened to use the "contact centre" tag any more. Over 4% of the working population work in a contact centre and there are some extremely successful individuals within the industry.
So, while in the future we may overcome problems – such as conflicting business priorities and firefighting – and step closer to a true customer management centre, for now, let's be loud and proud to work within the contact centre industry.
The contact centre of the future has been a key focus of this article. For more insights into the interesting topic, read our articles: