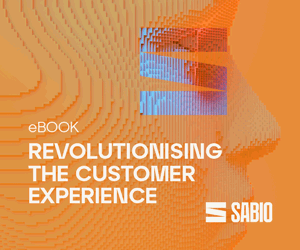 Contact centres are at the front line of customer service. But many things can stand in the way of world-class customer service.
So, what are the biggest problems facing call centres today? And crucially, what are the solutions to these issues?
What Are the Biggest Problems?
Over the past few years, we've asked hundreds of our readers "What barriers stop you from running your dream contact centre?" In 2021, we found the following results.
While this chart reveals some real challenges, there are also others, like absenteeism, flat structures and poor First Contact Resolution (FCR) rates, which can cause big problems for contact centres.
Below we discuss the negative impact of some of the problems on this list, and selected others, can have on the contact centre and introduce solutions for each, which will hopefully take you that bit closer to running your dream contact centre.
1. Lack of Budget
Tight budgets have been a perennial problem for contact centres, thanks to the high costs associated with staffing them.
In many cases, senior executives don't regard contact centre efficiency savings as a "nice to have". Instead, they are demanding them as standard. This view of the contact centre as a "cost centre" is one that restricts contact centres from providing their best possible service.
The Solution
According to Paul Weald, the Director at mcx, organisations faced with restricted budgets need to review their call centre strategy.
Paul says: "If your resources are being squeezed, you will inevitably need to lose headcount. And if you're going to do that, you need to reduce [call] demand to counterbalance it."
The key, he argues, is to create a mechanism that identifies the reasons people ring the call centre. By doing this, you can start fixing some of the problems at source and reducing demand that way.
"Also, try to improve or create new ways for people to find out information for themselves, rather than contacting the call centre – for example, by improving self-service and the FAQ section on your website," he adds.
2. IT Issues and Need New Technology
Today's contact centres are awash with software, ranging from predictive diallers, CRM databases and workforce management (WFM) tools, through to sales order processing platforms, credit card security applications and automated voice response systems.
The problem, of course, is that contact centres struggle to keep up. They have difficulties identifying which channels they should focus on and which technology is best to implement. And when new technology is installed, it is often not linked to other systems.
As Ben Dale-Gough, a contact centre operations manager, puts it: "With a variety of different vendors and products, contact centre agents can be working with more than ten different software systems."
"Each application is designed to perform a specific task, such as data capture or outbound dialling, and with many in use at once, the job becomes far more complicated."
"Advisors often find it tricky to tackle the maze of different systems, which has detrimental effects on their work."
The Solution
While the solution to this problem will likely lie in finding ways of attaining a bigger budget, such as putting together a good business case, there is also the question of choosing the right technology for your contact centre.
In terms of implementing new technology to support new channels, a recommended first step is to determine what you will need in the short and long term. It is good to separate the "must have" and the "nice to have" features.
Once this initial analysis has been done, Ben recommends that you "check that the new systems will integrate with the old, or – better still – choose a vendor that has consolidated its technology."
Check that the new systems will integrate with the old, or – better still – choose a vendor that has consolidated its technology.

Ben Dale-Gough
"A wide range of integrated applications in one system is easier to use, saves time and improves customer service." 
For best integration, contact centres will ideally move to the cloud, instead of having disparate systems. This is because cloud applications will integrate more quickly and easily with one another, providing you stick to the same provider.
3. Conflicting Business Priorities
It is the job of senior management to manage contact centre performance with respect to business priorities, but often these priorities contradict each other, making life very difficult.
For example, one priority might be to increase customer satisfaction, while another is to cut costs. However, improving satisfaction can be difficult when there is little financial support from elsewhere in the business.
The Solution
The first thing to do would be to list your priorities in order of importance. Ask other parts of the organisation for their main focuses and try to align your service with the values held in the highest regard amongst other departments. This will lead to a consistent experience.
Once you have done this, eliminate those priorities that are poorly defined, contradict those of greatest importance and go against organisational culture.
Then, commit your resources to the tasks that your organisation holds most dear, creating a plan for investments in time and money, making sure each is linked to the most important of your business priorities.
4. Absenteeism
According to a report by NICE, the average annual absence rate in contact centres across the globe could be as high as 10%.
While this might not seem particularly high, the stark reality is that a 100-seat contact centre with 10% absenteeism will only have an average of 90 seats occupied at any one time.
Unsurprisingly, a shortfall of this magnitude can have a huge impact on quality of service. This is because there are fewer staff available to handle customer interactions, wait queues tend to increase and agents are put under pressure to spend less time on each call.
Over extended periods of time, absenteeism can impact on staff morale and may even foster similar behaviour in those left to fill the gap.
The Solution
The first step is to track absenteeism, looking for weekly, seasonal and event-based trends.
The first step is to track absenteeism, looking for weekly, seasonal and event-based trends – for example, increased absence at weekends, in the summer or during events such as the World Cup.
Once you have this information, talk to your employees as a group and, appealing to their better nature, explain the effect that absenteeism has on the business.
It is also important to implement and communicate a robust absence management policy. Be clear that employees will be contacted during their absence and will need to undertake a return-to-work interview to help their manager understand why they were absent and how a repeat situation can be avoided.
To ensure real impact, staff should be made aware that repeated unsubstantiated absence will result in formal action such as a verbal or written warning.
For more advice on reducing absenteeism, read our article: 46 Tips for Managing Absence
5. Advisor Attrition
High staff turnover can negatively impact on contact centre quality because every time a trained advisor leaves, fewer are on hand to ensure an optimum level of service.
In addition to this, there are heavy costs associated with recruiting, hiring, training and developing new staff – not to mention the costs associated with the dip in productivity that is inevitable as new recruits battle to get up to speed.
The Solution
Anyone looking to tackle high staff turnover should think about prevention rather than cure. For some contact centres this means being careful when it comes to recruitment – looking for people who see call centres as a career option rather than a stop-gap.
For others, it's all about empowerment. As contact centre director James Le Roth says: "It's all well and good developing people and giving them skills, but if you're not going to allow them to use those skills in full, they are likely to get despondent and leave."
"The key is to empower advisors – even if it's through small activities like giving them freedom to authorise minor refunds. Giving people this kind of ownership helps prevent them from feeling like a number, and it makes them feel they are valued by the business, which is an incentive to stay."
For more on reducing attrition, read our article: Top 20 Ways to Reduce Attrition in Your Contact Centre
6. Lack of Time / Human Resources
This is really a workforce management (WFM) problem, and if your contact centre has problems with resources, you likely struggling in one of the following three areas:
i. Forecasting your requirements – Are you struggling to predict your contact volumes? Is you forecast accuracy way off? This can cause great understaffing and make scheduling a big challenge.
ii. Planning your work schedules – Can you successfully schedule the correct number of staff to meet your needs, while ensuring that you have the right skills available?
iii. Managing your employees' time – Are you prioritising tasks to make the best use of your time, as well as that of your advisors?
The Solution
For the first two issues, the solution is to train the WFM team to be confident using techniques like triple exponential smoothing for forecasting and tools like the Erlang Calculator for scheduling. Of course, the more data, in terms of historical contact volumes, the WFM team has access to, the easier this will become for them.
In terms of managing your advisors' time, this doesn't mean targeting them against time-based metrics like Average Handling Time (AHT) that can lead to negative behaviours. Instead, coach advisors to use techniques that improve the customer experience, while lowering AHT naturally.
Signposting is a great example of this. For instance, in the classic scenario when an advisor says: "I'm going to give you a reference number. Have you got a pen to write it down?", people will go on a hunt to find a pen. Yet time can be shaved off this process.
If instead the advisor was to say at the start of the call: "I'm going to give you a reference number. It might be handy to have a pen", the customer can rummage around as you carry on the conversation. This is a good example of how signposting can save advisors' time
To find out more about this technique, read our article: Signposting – A Technique for Reducing Your AHT by 15 Seconds
7. Lack of Skills
At some point or another, most call centres will struggle to increase their performance levels, often reaching a plateau or, worse, finding that their adherence to targets is starting to drop away.
In an in-house environment, this can lead to frustration for both managers and front-line staff. And in the outsource arena, it can cause clients to question the third party's capabilities.
A key problem in contact centres is that we get stuck in routines of firefighting and fail to invest in upskilling advisors to handle to needs of modern customers.
The Solution
According to Ken Hitchen, the owner of Sabio, traditional metrics such as "speed to answer" and "Average Handling Time" can be the reason why we fail to upskill advisors.
Ken says: "Such metrics, the kind of average measurements that can conceal variance, make it much more difficult to improve key measures such as quality and adherence."
"Organisations need to focus instead on more relevant, customer-focused metrics: measures such as Net Promoter Scores (NPSs), social networking comments, real-time customer feedback and balanced scorecards that all aim to match quantity with a qualitative performance aspect."
To find advice on avoiding firefighting and boosting advisor skills, read our article: How to Continuously Improve Contact Centre Performance
8. Advisor Buy-In / Engagement
At one extreme, contact centre work can be monotonous due to the highly repetitive nature of the job. At the other, it can be stressful, thanks to the seemingly impossible targets and strictures that some organisations place upon their staff.
In both instances, call centres run the risk of their agents losing enthusiasm and becoming demoralised, which in turn can lead to absenteeism and ultimately attrition.
The Solution
There are numerous ways that contact centres can improve advisor engagement, including: offering a clear path of progression, favourable shift patterns and general recognition, i.e. saying thank you.
In fact, just take a look at what our readers found to be the greatest keys to advisor engagement.
Offering incentives is another key to engagement, according to Claire Dykes, Head of Outbound Sales at a Dorset contact centre.
Claire says: "We offer the traditional incentive schemes, but we change these around regularly and are always coming up with new ways to recognise our staff's hard work and achievements."
"We have been quite creative with long-term incentives that support staff retention – for example, offering large prizes like 'Win-A-Car'!"
However, technology can also play a role. Systems such as intelligent call routing to direct a customer to the appropriate advisor or service and automating routine tasks free staff up to focus on more complex queries.
For more on using technology for this purpose, read our article: 13 Ways Technology Can Improve Employee Engagement
9. Management Buy-In
Customer service can be a key business differentiator. Yet in organisations that don't have this mentality, contact centres can really struggle to get buy-in from the wider business.
Without management buy-in, a number of the other problems in this list become harder to solve, including gaining more budget, replacing old technology and reducing attrition/absenteeism.
The Solution
The only way to improve management buy-in is to put effort into showcasing the value of the contact centre.
The contact centre is a "hub" for the Voice of the Customer, meaning that it holds great feedback that can be used for your organisation's creative, marketing and production teams. It is up to you to think of ways that you can drive the VoC into these departments for real change, to highlight your contact centre's value.
The contact centre is a "hub" for the Voice of the Customer, meaning that it holds great feedback that can be used for your organisation's creative, marketing and production teams.
Another way to achieve management's support in improving your performance is by presenting them with cost figures for absenteeism and attrition each year instead of percentage figures.
While this may seem like a small change, management will be more likely to invest in improving contact centre culture if they see a cost benefit as opposed to a mere percentage benefit. However, remember to include hidden costs of HR time and so forth in your calculations.
10. Flat Structures / Few Progression Opportunities
According to our research, fewer and fewer contact centres are multiskilling advisors, which may be good in terms of maintaining advisor focus, but is not so good in equipping advisors with the skills they need for future job progression.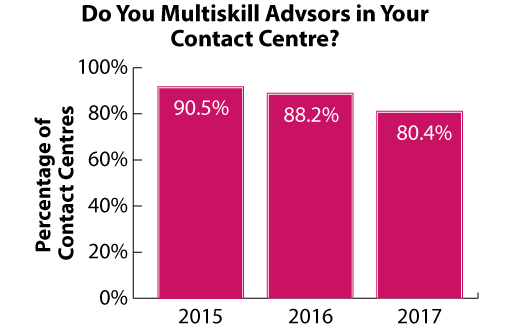 The problem, in essence, is that contact centres are inherently flat structures. Career prospects are often limited, as there are many more advisor roles than leader or manager positions.
The impact is clear: organisations risk losing their best people if they cannot provide adequate career opportunities. Talented staff might also become demotivated and stop working to the same high standards they achieved previously.
The Solution
It is good to get your 'future starts' engaged in the organisation and their own development much earlier, and be clear to them about the opportunities that will exist and the timescales involved, according to Keith Gait, a customer service director.
Keith says: "Be realistic. If you don't see opportunities arising in the short term, you have to manage the person's expectations."
"However, do look at where else you can involve and engage them in the business – for example, giving them responsibility for overseeing a new project where the skills they'll gain will be useful for a future management position"
Other Issues
As well as those problems highlighted already in our poll, there are a couple of other challenges that some contact centres struggle to cope with.
11. Poor First Contact Resolution Rates
First Call resolution (FCR) is regarded by many as the single most important facet in achieving customer satisfaction in the contact centre. However, as today's customers tend to ring with increasingly complex queries, it isn't always possible to provide an immediate answer.
If callers end up having to speak to several advisors regarding a single enquiry, the customer experience becomes diluted and satisfaction levels plummet.
The Solution
Michelle Black, a call centre manager, reckons a good way to overcome poor FCR rates is to engage in root-cause analysis – that is, to investigate the reasons customers ring a call centre – and to use that information to fix specific problems at source.
Another step, she says, is to build a knowledge base of questions as and when they arise, populating them with suitable responses.
"Our team know it's not necessary to know the answer to every question, but it's how to find out the answer and relay this back to the customer and add that knowledge for future use that counts," Michelle adds.
Find other ideas to boost FCR in our article: 22 Ways to Improve First Contact Resolution
12. Customer Churn
Customer attrition is a huge problem for contact centres, with NewVoiceMedia research revealing that poor customer service is costing businesses more than $75 billion a year.
Much of this poor customer service will likely include customers feeling undervalued, no resolution to customer queries and long hold times – among many other possible reasons.
The Solution
As is the case with advisor attrition, it is best to tackle customer churn before it becomes an issue.
To do this, ensure you have a robust customer retention policy in place. If you offer customers an automated menu at the beginning of all interactions, for example, give them a 'closing an account' option and ensure all calls of this nature are transferred through to a dedicated retention team. This retention team will include advisors who have been trained in complaints and objection handling.
Ideally, the customer retention team will also have the power to authorise 'sweeteners' that will prevent the caller from defecting to a competitor. These might include the ability to sanction refunds, better payment plans or complimentary goods or services.
For more advice on overcoming common contact centre challenges, read our articles:
Originally published in September 2010. Recently updated.