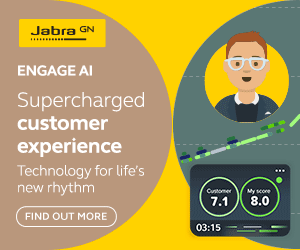 This article contains the extracted Headsets Chapter of our 2020 survey report 'How Contact Centres are Delivering Exceptional Customer Service', which was sponsored by Jabra.
The data that is included in this report was collected before the COVID-19 crisis took hold in many contact centre operations across Europe and the US
Are You Using Wireless Headsets?
Over 40% of Contact Centres Now Use Wireless Headsets
Our findings show that 40.1% of contact centres are now using wireless headsets, with a further 7.6% actively considering making an investment in the technology.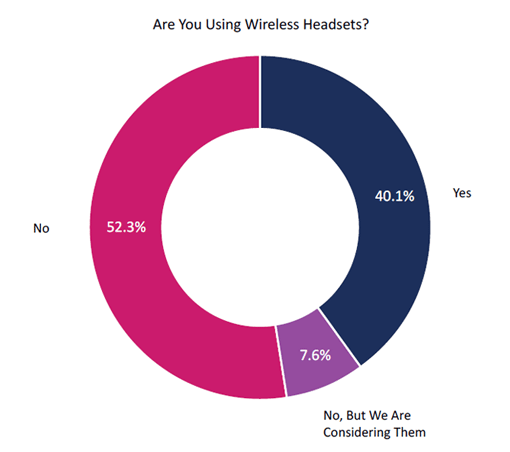 These figures may indicate that we may be finally about to realize the "wireless revolution" within the contact centre industry and recognize the many potential benefits that come with that.
The key benefit here is that we remove the industry stereotype of advisors being "tethered" to their desk all day, so advisors can move around more easily, including when on calls. This can therefore boost both morale and productivity.
However, over half of the contact centres surveyed (52.3%) are happy for now to stick with wired headsets, indicating that it still might take a while for wireless headsets to become the norm.
Do Your Advisors Suffer From Loud Background Noise When on Calls That Causes Conversation Repetition?
Over 65% of Contact Centres Still Have a Background Noise Problem
65.9% of contact centres are still negatively impacted by background noise, which can lead to the need to repeat conversations, as highlighted in the chart below.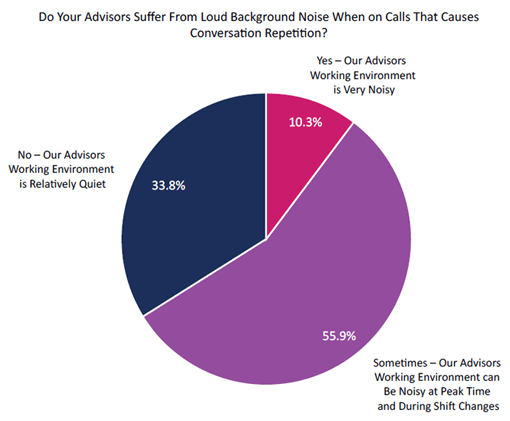 For most, this generally occurs during peak call times and shift changes. However, in 10.3% of contact centres, background noise is a common problem that occurs more frequently than in these particular moments.
The trouble with background noise is that it not only makes an advisor's job more difficult, as they will struggle to concentrate, but it can fill customers with a sense of dread – as it is a negative industry stereotype.
In better news, over a third of contact centres (33.8%) no longer suffer from background noise, reporting that their working environment is always relatively quiet.
These contact centres will likely have invested in noise-cancelling headphones, although there are other more unconventional solutions too. These may include white noise machines or even acoustic ceiling tiles.
What Does Your Contact Centre Headset Connect To?
Most Audio is Now Coming From a Computer
Most contact centres (71.1%) use headsets that connect directly into a computer. However, many will plug into at least one other device too.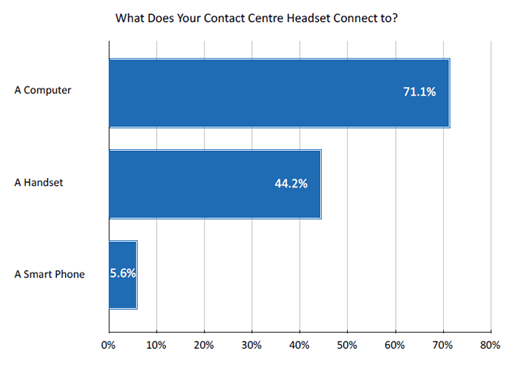 If we combine the percentage of contact centres that use headsets that plug straight into a computer (71.1%) with those that plug into a handset (44.2%), we can see that the percentage goes well above 100%. This means that many contact centres have headsets that can do both.
While a wireless headset allows you to switch between a computer and desk phone easily, contact centres with corded headsets can also achieve this functionality with a special adapter.
Headsets Can Also Plug Into Smartphones
As wireless headsets work on Bluetooth, many come with a function that allows advisors to connect their smartphone to their headset. 5.6% of contact centres have this functionality.
These contact centres will likely have a headset that can connect with a computer, handset and smartphone, all at once. This has the potential to boost productivity as advisors aren't constantly switching between devices.
Which Types of Real-Time Information Would You Like Your Headset to Provide to You With?
Contact Centres Want Headsets With Analytics Capabilities
According to each of the statistics below, it is clear that most contact centres are willing to embrace some of the new functionalities being added to headsets.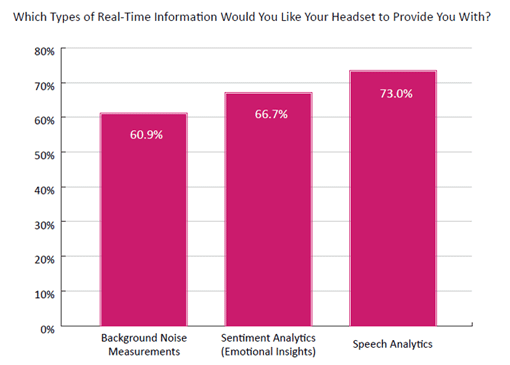 The most popular option is to use a headset that employs speech analytics to provide real-time reports across every call (73.0%).
In fact, analytics results would allow contact centres to identify many metrics, including advisor– customer crosstalk, while also helping to detect headset configuration issues and provide statistics to protect an advisor's auditory health.
To go one step further, you can employ headsets that monitor tone of voice and other language patterns in order to gather emotional insights. A third of contact centres (66.7%) were interested in this functionality too.
Finally, there is background noise measurements, which 60.9% of contact centres would like to use to find out just how detrimental noise conditions are to the customer's experience. This is likely only to be the lowest percentage, as many contact centres no longer have a problem with background noise – as we found in question 15.
Follow this link to view the full Call Centre Helper survey report 'Is Your Contact Centre Delivering Exceptional Customer Service?'.
Alternatively if you are interested in a specific chapter read one of these extracts next:
This survey was done in partnership with Jabra, NICE and RingCentral.
Related Research
To download the full copies of our 'What Contact Centres Are Doing Right Now' survey reports follow the links below:
You can also download the full copies of our 'Is Your Contact Centre Delivering Exceptional Customer Service?' survey reports by following the links below:
For more great information check out our other Contact Centre Research