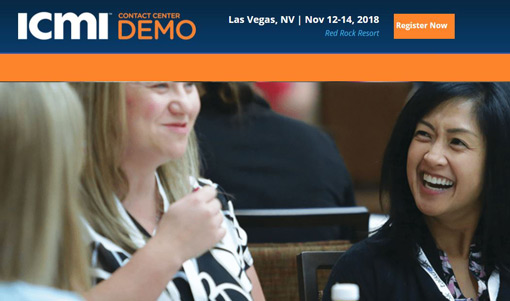 About the Event
THE DATE: November 12-14, 2018
With the largest network of your peers and the most comprehensive contact center instruction, ICMI Contact Center Demo is the ONLY Fall event with a consistent track record of providing tools & techniques for immediate implementation. Produced by ICMI this event is developed BY the industry, FOR the industry through an independent advisory board – guaranteeing a multi-faceted, impartial educational program featuring the timely and topical issues that are facing the industry today.
ICMI Contact Center Demo is an excellent investment in your contact center and your own professional development. You'll gain increased knowledge, professional contacts, and renewed enthusiasm that will carry you forward into the future, preparing you to meet the customer expectations ahead!
Produced by ICMI, a trusted advisor in the contact center industry for over 30 years, you can rest assured that the educational program offers deep, meaningful content addressing the most current topics of the industry.
If you are looking for technology or service solutions, the welcoming atmosphere of the Demo Hall provides an opportunity to explore the latest trends and technologies.Go ahead, ask questions, learn and evaluate the best products and services for your organization. It's all right here in the Demo Hall waiting for you to explore!
Add to all that the amazing networking opportunities, and you can easily understand why this event is a favorite of contact center professionals!
At ICMI Contact Center Demo, you will:
Discover what's trending in customer expectations and technology requirements
Gain exposure to best practices
Learn from and network with respected experts
Make valuable long-term industry contacts
Gain first-hand knowledge of the latest technology and service solutions
Whether you're new to the industry and looking for educational opportunities or a veteran looking to sharpen your skills with new approaches and techniques, ICMI Contact Center Demo is the event where you belong!
THE ORGANISERS: ICMI
THE WEBLINK: https://icmi.com/Contact-Center-Demo-Conference
Date and Time
Starting:
Monday 12th November 2018

Ending:
Wednesday 14th November 2018
Location
Date and Time
Starting:
Monday 12th November 2018

Ending:
Wednesday 14th November 2018
Location