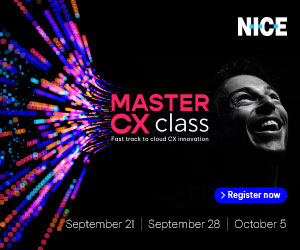 Charlie Mitchell investigates how call centre advisors can take control of customer contacts and provide outstanding customer service.
Taking Ownership of Customer Contacts
When an advisor takes ownership of a customer's problem, they can begin to rebuild trust.
Instead of being passed from pillar to post, a customer feels truly valued. It's as if they have their own personal ambassador within the big business.
In theory, the customer can sit back, smile and relax, as the advisor does all of the legwork. They go beyond standard protocol to fight for the right result for the customer.
By doing all of this, companies can reap the rewards in terms of First Contact Resolution (FCR), customer satisfaction and, ultimately, increased revenue.
This all sounds wonderful, right? Well, it's very rarely the case…
Why Do So Many Advisors Fail to Take Ownership?
To take ownership of customer contacts, call centres need to foster a culture of trust and empowerment. In many cases, however, the culture is much better defined as "churn and burn".
"While there may be a poster in a break room or on the intranet, with a bunch of commitments to customer service, for many, that's where it ends. These commitments are not enforced, practised or trained upon," says Bryan Horn, Founder of CX Solutions.
When advisors are not trained to meet key customer service goals, the result is not only a lack of ownership but high turnover too.
This point is significant because advisors can only do what they are trained to do. When advisors are not trained to meet key customer service goals, the result is not only a lack of ownership but high turnover too.
The good news, however, is that if ownership is placed at the heart of a contact centre's culture, the company will really stand out. This all starts by training advisors to say "yes".
Creating a "Yes Culture"
Instead of companies finding reasons to say "no", let's find more ways to serve customers and say "yes". Contact centres can then train these "ways" to advisors and give them the space to take true ownership.
"Unfortunately, customers have already come to expect the response "no" and that is why they often get so angry, because they're already on the defensive," says Bryan.
So, let's take a more proactive approach than simply training advisors to deal with angry customers. Using a quality monitoring initiative or a speech analytics solution, find examples of where advisors have said "no" to customers.
Dig into these. Consider how the advisor could have said "yes" and, if necessary, try to adapt the processes and policies that are preventing the team from best serving the customer.
If you find a better method, don't lecture the advisor on how they could have said "yes", coach them, as well as the rest of the team – especially if it's a common issue.
By coaching in these better practices, contact centres can build up advisor confidence, so they start looking for new ways to say "yes" to customers too.
Empowering Your People Properly
To further encourage advisors to say "yes", find ways to empower them. For example, lowering script adherence, giving recognition when the advisors find innovative solutions and showing trust can all work wonders.
This last point is crucial because you can only truly empower people when you trust them. Yet many contact centres operate through "command and control" culture, to meet short-term efficiency and cost goals.
When empowerment is limited, advisors cannot take real ownership of a query.
These cultures, which are based on rigid scripts, strict metric targets and inflexible policies, are not geared towards long-term success.
In many cases, they also highlight to advisors that they cannot be trusted and limit empowerment.
When empowerment is limited, advisors cannot take real ownership of a query. Why? Because the solution is out of their hands.
Instead, Bryan Horn recommends the Zappos model of empowerment.
"At Zappos, they have a list of five or six things that you cannot do. As long as it is not one of those, their message is 'do it!'," says Bryan.
This means that advisors in the Zappos contact centre are truly empowered to take ownership of customer contacts.
While your model may not be quite so extreme, there are lessons from the way in which Zappos operates, which also help in developing ownership and advisor accountability.
Customer service expert Paul Cooper once wrote a brilliant article on this topic. Find it here: It's Not Empowerment Unless You Trust People
Developing Accountability
Accountability is the art of assessing a situation and making deliberate choices about how you will handle it. Sure, it doesn't necessarily mean that the problem will be solved, but it shows the customer the right intention.
In other words, accountability is considering: am I going to do everything that's possible for this customer or am I taking a mindset into this conversation of "I don't care" or "I don't want to be here"?
Of course, very few advisors will go to work with the attitude of "I don't care". Yet accountability is a mindset that is very easy to drift in and out of. To make matters worse, a negative mindset oozes out of an advisor and customers pick up on that.
Maybe an advisor just isn't able to solve a problem, but the one thing that an advisor can control is whether or not they can take ownership for the customer.
An advisor always has the opportunity to positively influence the customer's impression of the brand by being accountable and making the decision to take ownership.
To help advisors maintain a mindset of accountability, there are a few things that contact centres can try:
Engage in trigger conversations to reset an advisor's mindset.
Share positive customer feedback to show advisors the difference they make.
Create a sense of purpose around the customer
Interested in how to create a sense of purpose? Well, you can find out more in our article: What Is the Purpose and Mission of Your Contact Centre?
Building Confidence
Why do advisors say "no" to customers? Sometimes it is because they are not confident in finding a good solution to the customer's query. They then resort to using horrible phrases like: "It's company policy" – more on this later!
But for now, let's think about how contact centres can build the egos of their advisors, so they are confident in taking ownership of customer contacts.
According to Helen Pettifer, Director of Helen Pettifer Training: "The first step is building up an advisor's knowledge, with continuous training. Share examples of best practice and give the team the necessary experience."
Contact centres can offer great support to advisors and bolster their confidence in taking control and ownership of conversations.
Roleplaying is a great way to build up this experience within a safe environment, while there's lots that a contact centre can do to boost knowledge. There is coaching, of course, but also try improving knowledge management, mentoring, as well as peer-to-peer quality scoring.
However, don't stop there when building up advisor confidence. Try to:
Engage in strength spotting and praise good performance.
Give clear, concise feedback when evaluating not-so-good contacts, making the ideal goal sound reachable.
Chunk down the change. When an advisor has to learn a new skill, break it down into little pieces and celebrate their progress.
By following these practices, contact centres can offer great support to advisors and bolster their confidence in taking control and ownership of conversations.
Changing Your Language
To start taking ownership, it is good to use personal pronouns. These include words such as: "I", "you" and "me", which show the customer that helping them is a personal priority.
While this is great, there aren't many other language tips and tricks to follow. Why? Because taking ownership is about ditching the script and set phrases and being the customer's advocate within the business. However, there are some bad language practices to avoid.
Some of these phrases may seem harmless. Yet when used they leave the customer stranded. This is exactly the opposite of what taking ownership of a customer contact is all about.
Here are a few examples of those killer words and phrases, as put forward by Bryan Horn:
"Unfortunately" – The advisor might as well say: "Brace for impact, something bad is going to happen." Taking ownership is about challenging what comes after the "unfortunately" to get the best result for the customer.
"That's against our policy" – This statement confirms the customer's suspicions that service and helping people is not a priority for your company. That leaves a bad taste in the mouth.
"I will do this as a one-time courtesy" – Talk about sending a bad signal to the customer. This shows that the advisor is not on their side, especially if the problem was caused by the company. The statement also indicates that the customer won't receive good support next time.
"I can't do that for you" – This immediately makes the customer want to be passed on to someone who can do that for them. It is the opposite of taking ownership and will ultimately end in a disgruntled customer asking for an escalation.
"I'm sorry you feel that way" – Sadly, some contact centres are training advisors to use this statement as a form of empathy but, in reality, it's anything but. Instead, it implies that the customer's emotional reaction is unjustified. Yeesh.
Do better than "I sorry you feel that way" by taking inspiration from our article: Customer Service Apologies – Keeping Sorry Fresh and Sincere
Ownership Statements
In contrast to the examples above, consider how statements like the following demonstrate ownership:
I will do everything I can to get this fixed for you before the end of the day.
I will contact you as soon as I can get an update.
The reason I can't do this right away is… However, I will talk to X department and see if I can speed things up.
See how the advisor makes themselves accountable with the use of personal pronouns? See how they are taking charge of the next step? That is taking ownership.
For more ownership statements, read the article: The Top 12 Acknowledgement Statements for Customer Service
Key Takeaways
To create an environment in which advisors feel comfortable in taking ownership of customer conversations, contact centres need to support their teams to find ways to say "yes".
This starts by analysing interactions and finding examples of when advisors say "no" to customers.  The contact centre can then devise ways in which advisors could have said "yes" and coach these in.
Develop a culture that supports ownership and then reap the rewards.
Another top tip is to share good examples of taking ownership of difficult customer conversations with other departments and sites across the company. This will also show advisors across the organization what "taking ownership" looks like.
Also, try to empower advisors to find new solutions for customers, build accountability and fill advisors with confidence to take charge of conversations.
By doing all of this, a contact centre can develop a culture that supports ownership and then reap the rewards.
Find lots more top tips for taking control of customer conversations by reading our articles: