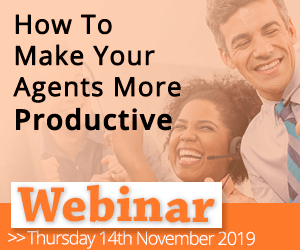 Click here to view the replay
We can't target agents on metrics such as handling time and occupancy in the hope of improving productivity as it will either cause advisors to rush through calls or cause burnout.
So, what can we do?
In this webinar, we provided you with a number of innovative strategies to improve agent productivity, without lowering call/contact quality and morale.
Agenda
Introductions – Charlie Mitchell, Call Centre Helper
Daniel Ord, OmniTouch International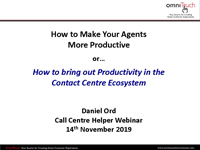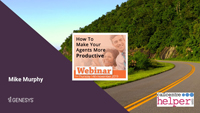 Topics discussed
How you should be defining agent productivity
How to balance efficiency and effectiveness
The keys to creating a positive contact centre culture
Tried and tested ways of keeping advisors motivated
Top tips from the audience
Winning tip – "We keep our teammates motivated by our culture. We all have one goal, and that is the customer's needs.
Therefore we only track CSAT, Quality and Adherence. We want them to focus on the the services they provide and not be a number." thanks to Amber5
Original Webinar date: 14th November 2019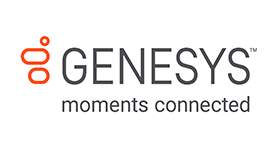 This webinar was brought to you by Call Centre Helper and is sponsored by Genesys.
Click here to view the replay.
---