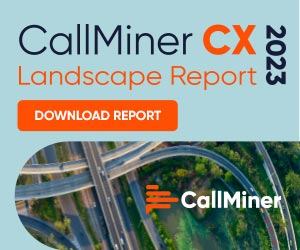 We asked our panel about the key features to look out for when purchasing a Speech Analytics solution.
Real-time analytics
Real-time monitoring is key to ensuring that any issues on a call are highlighted immediately and dealt with before they escalate.
Defining and tracking metrics as they relate to agent performance lets you identify behavioural issues to find business processes and procedures that might stand in the way of achieving your business goals.
Scorecards that automatically categorise and measure all calls
Many companies implement speech analytics to evaluate their agents and ensure compliance.
Scorecards can automatically categorise and measure all calls for each agent.
This could be based on key criteria that the manager sets, and the results should be displayed in simple chart format.
Structured searches
Structured searches enable you to find any words or phrases you can think of, without being restricted by a dictionary. Once you have found what you are looking for, simply save that structured search and use it to run reports and establish trends.
Saved searches can also be used to generate quality initiatives that become the areas in which your agents are scored, so that they can ensure their performance aligns with your goals.
With thanks to Sian Ciabattoni at Noble Systems
Reporting dashboards
How many times do agents get defensive in coaching, claiming that the bad call you chose to score was 'an exception'? It can be hard to counter this argument unless you have been able to listen to every call.
However, if your analytics product provides easy-to-read dashboards, you can report on how many calls did or did not follow protocols (such as data protection, FSA-regulated statements, asking for payments) or how many had long pauses.
Sharing this data in coaching sessions as a percentage of calls taken is very powerful.  It gives a more factual approach to coaching and quality monitoring than the traditional approach, which often feels more like 'opinion'.  The last thing you want is an agent feeling like you just picked a lone 'bad' call on purpose.
Multi-channel capability
The need for contact centres and agents to manage customer service capabilities across a number of channels is on the increase.
Being able to capture and analyse all of the customer audio and text interactions from a variety of channels (including chat, email, social media and phone) is therefore essential. Having this in place via a single interface should reduce training and administration time, and will enable the agent to offer a unified and effective experience.
The use of phonetics as opposed to speech to text
A product that works on individual phonetic sounds provides what is known as 'dictionary independence', which offers far greater accuracy than software that tries to convert 'speech to text'.
It also means that you only have to process the audio once and then you can search it with any number of different search queries. 'Dictionary independence' tends to be quicker and more accurate than other options.
With thanks to Carolyn Blunt, co-author of Delivering Effective Social Customer Service
Phonetic indexing allows you to tune recall and precision
Phonetic analysis allows you to tune each query to a very high tolerance level based on precision and recall. For instance, an organisation's contact centre will desire high levels of recall, whereas the same organisation's compliance department would require high levels of precision.
Since one cannot have high recall and high precision, it is important that you can choose the right trade-off within the speech analytics application in order to be able to make better business decisions.
You are also able to search millions of hours of audio in moments with phonetic indexing, and there's no such thing as an out-of-dictionary word.
Interaction analytics allows for targeted training
The ideal interaction analytics solution captures and analyses 100% of customer audio and text interactions from a variety of channels, including chat, email, phone and surveys, and gives companies the ability to monitor 100% of their interactions, so that every interaction, from every agent, can be evaluated for all potential regulation infractions, and for key performance indicators important to corporate goals.
Find a solution that helps supervisors relate agent performance back to corporate goals, by providing them with calls that are relevant to the KPIs important to the company. An interaction analytics solution should give supervisors the ability to target coaching to the individual agent, as they should no longer need to rely on random call sampling.
With thanks to Zaiba Mian, EMEA Marketing Manager at Nexidia

Automated scoring
Automated scoring allows for the aggregation of any number of metrics, including category hits or weights, acoustic measures, and measures ingested as metadata, into a performance index that is assessed against every contact.
This ability to score every contact objectively and consistently forms the basis of speech analytics, serving as an automated quality monitoring and performance management solution.
This is a must-have if you have any interest in reducing QA headcount and eliminating the labour-intensive process of manual call evaluation.
Full transcript approximation
The key benefits of full transcript approximation include faster response times for searches, the ability to analyse and preview individual phone calls by reading the text snippets, and integration of text-based communications within the same analytical user interface.
Sensitive data redaction
If you deal with sensitive customer data, it's important that the data is redacted before it is stored in the system.
If you have full transcript approximation, for example, compliance-sensitive words or phrases need to be identified and replaced with a generic term so that specific values are not revealed.
Automatic redaction of this data during audio ingestion eliminates the storage of sensitive information, preventing users of the speech analytics system from accessing this data either through transcripts or playback.
This allows organisations to maintain PCI and similar sensitive data standards compliance.
With thanks to Jason Napierski, Product Marketing Manager at CallMiner
Accuracy of results
The accuracy of the generated results is a key element to consider when purchasing speech analytics software. This is because, regardless of the engine that drives the technology, you need to have confidence in the outputs it delivers.
If you are spending more time removing 'false positives', the efficiency gains you get from deploying analytics are reduced.
Reporting function
Your solution must have an effective reporting suite built in that allows both high-level analysis and granular insight. This speeds up the analysis phase and helps you make business decisions more effectively.
Easy-to-use interface
Having a complicated or cumbersome user interface can be the downfall for even the best technology.
If the end user finds it difficult to access even the basic features of an analytics platform then it will take longer to embed, train and mature in your organisation.
With thanks to Chris Rainsforth, Customer Experience and Quality Specialist at Professional Planning Forum
Choose the right deployment model for your business
Speech analytics solutions tend to come in three models of deployment: hosted, managed service or on-premise.
If you are trying to avoid the initial outlay of an on-premise solution, a hosted or managed service might be a more viable option for you, so make sure you are aware of the different delivery models available.
Also ensure that your speech analytics solution is able to integrate seamlessly with your various data sources, and be aware of the frequency of the updates.
Make sure you can translate insights into action
In conjunction with the technology, your supplier should provide a robust and comprehensive analytical process that is able to take the output and enable meaningful operational change.
The solution should provide a means to make the insight actionable and drive value. The supplier should also provide a consultative and supportive approach to ensure the return on investment is delivered and provide an analytics toolkit for the business to deliver best practice.
With thanks to David Evans, WFO Consultant at Business Systems (UK) Ltd
Speech-to-text transcription of 100% of calls
Most speech analytics products powered by a speech-to-text engine transcribe only a fraction of calls due to scalability limitations. Yet there are several benefits to your software being able to transcribe 100% of calls.
Firstly, all emerging trends and unexpected events can be uncovered.
Furthermore, all search results can be returned to the end user with context, i.e. the transcribed words that occur before and after the word or phrase being investigated can be included with all search results.
This context enables "analysis through exploration", which is an important part of the analysis process. In addition, being able to quickly glance through a transcript of a snippet of a call instead of needing to listen manually to each call makes analysis and quality management processes much more efficient.
Speech categorisation
Categorisation is the process of classifying conversations according to the topics discussed. It is required in order to identify topics such as call reasons, agent skill usage, or customer dissatisfaction.
Once calls are classified according to all such topics, those topics can be correlated against your contact centre's KPIs in order to understand the root causes of performance problems.
With thanks to Sean Murphy, Director of Speech Analytics Product Marketing at Genesys
BONUS ADVICE: Clarity of objectives is needed from the outset
Executive buy-in at an early stage is essential. Many projects fail during procurement or, worse, during execution, because there isn't a clear understanding at the top of the organisation of the objective in using the technology.
If senior management have unrealistic expectations or are looking for an entirely different business outcome, then this has the potential to derail a project. Absolute clarity of objective and methodology from the outset will ensure that the project stands up to scrutiny later on.
With thanks to Chris Thomas, Workforce Optimisation Business Manager at Aspect Software
What features of your speech analytics software could you not live without?