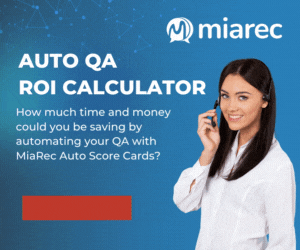 Lots of companies are looking at speech analytics as a way of providing insight into why customers are calling, as well as helping to improve quality monitoring and compliance.
But with so many different solutions on offer, how can you choose which solution is best for you? We asked a number of suppliers for their opinion.
If you're planning to invest in speech analytics, it's important to make yourself aware of the different options available in order to get the results most needed by your business.
Phonetic searching
Basic requirements, such as the language(s) spoken by your agents and customers, are catered for by many solutions. However, speech-to-text solutions (relying on written language models to make the speech searchable) may be harder to adapt than phonetic solutions (which break audio down into constituent sounds) to the different ways that a language can be spoken by a population.
Other important considerations will include finding a tool that can work with your call recorder (or that is recorder agnostic), or one that produces real-time results if your business requires on-the-spot insight.
On-site or managed service
What you hope to achieve with speech analytics is another major consideration. This will depend on the size of your organisation and the resources you have available to invest in a solution. A large organisation (with a high volume of calls) seeking transformational change may be best to focus on on-premise enterprise solutions that allow for the sort of comprehensive analysis required for such a project. A dedicated employee may be required to manage the tool, although this is more of a need when using speech-to-text solutions (which require more fine-tuning than phonetic solutions). A large organisation looking for more ad hoc analysis but retaining the depth of analysis could consider a managed service solution and have only part-time resources dedicated to it.
Smaller organisations with fewer resources will not necessarily need the same level of powerful analytical application and so could consider a desktop solution with an option to export the information to data processing systems, if need be. These solutions offer basic call categorisation and more flexibility with regard to when and how they are used, also making them highly suitable for one-off projects in large organisations which do not seek long-term change, but instead need to identify specific calls for another purpose, e.g. internal investigation.
Look for an independent provider
Before purchasing speech analytics, be sure to consider your needs (and limits) first and foremost and consider working with an independent provider who can provide an unbiased view on the solution that best matches these.
Tracy McAvoy & Alex White, Business Systems (UK) Ltd (bslgroup.com)
Speech analytics has the potential to revolutionise how a contact centre manager monitors and improves staff performance, particularly in the areas of coaching, conflict resolution and up-selling. There are several key factors which should be considered in order to ensure that a company invests in a solution that allows them to effectively utilise the information gathered using speech analytics software.
High levels of accuracy
Firstly, as obvious as it sounds, the solution needs to offer a high level of accuracy. The software selected should have a high recognition rate that can effectively measure the level of emotion of the caller and the agent. The contact centre can select the words which the software recognises, including positive words that signal a caller's intent to purchase or words which suggest the caller is dissatisfied.
Real-time analytics
It is also vitally important to select a solution that offers speech analytics in real time. Those solutions that analyse calls retrospectively are only able to identify problems once the caller has left the system, by which point they may already have decided to purchase from a rival supplier. Analysing calls in real time means that the speech analytics algorithm is running in the background, detecting words or phrases and changes in emotions.
This means that any customer grievances can be flagged to a supervisor and resolved on the spot, helping to achieve first-call resolution and increase overall customer satisfaction. Real-time speech analytics also enables contact centres to maximise any selling opportunities. For example, if a customer displays buying signals, a pop-up script can be enabled on the agent's desktop prompting them to close the sale. By analysing in real time, supervisors can make use of whisper functions, either to advise agents how to finalise a sale, or to offer guidance through a difficult call. In the most severe cases, an alert can be sent to a supervisor to intervene in a difficult call to resolve the situation.
Ease of product configuration
Finally, it is important to consider the ease of the product configuration as this will have considerable bearing on the cost effectiveness of the solution. By choosing a solution that can be configured by individuals within the contact centre, companies are able to cut down on administration costs, as well as making it easier to react to ever changing business circumstances.
Dave Paulding, Interactive Intelligence (www.inin.com)
Speech analytics is a powerful tool that can fix, automate and improve many business processes within the contact centre and the wider organisation.  In a recent poll of contact centre and customer service professionals, 64% were currently running, piloting, or considering the use of these solutions.
Integration with call recording
However, all speech analytics solutions are not equal, and there are many considerations that will influence choosing the right one. The solution should be proven, easy to use, integrate with existing recording technology, capable of being deployed on-premise, or hosted and offer real-time analysis and decisioning. Also, the technology underpinning the solution will have a significant bearing on performance and the level of insights, such as phonetic indexing and word/phrase spotting for immediate results, and speech to text and natural language processing for deep root-cause analysis.
However, the over-arching question that should be asked is: What do you want to achieve by using speech analytics?
Speech analytics enables you to identify, shape, improve and ultimately own the decisive moments (points in the interaction when the customer will take a course of action that will have either a positive or negative affect on the business) in the many thousands of voice interactions taking place each day.
Multi-channel analytics
So, whilst speech analytics is an excellent tool for revealing the decisive moments in these interactions, it is important to note that today customers are contacting service providers through an ever growing number of communication channels, ranging from the telephone, web, SMS, email and IM, through to social media and mobile apps. In fact, in our recent research on consumer behaviour, 86% of respondents said they are interacting more often, or at the same level with their service providers than two years ago, through an average of six different communication channels. So when a customer is on the phone with an agent, it is just one stop in their interaction journey which spanned different channels.
Real-time interaction analytics
Therefore, if you are only using analytics for speech you are listening to an ever smaller percentage of the overall interactions and missing out on the opportunity and benefit of owning the decisive moments occurring during these interactions. With this in mind, my recommendation would be to consider a real-time multi-channel interaction analytics solution, which includes speech technology but also the power to 'listen' to every interaction, on every channel.
As channels evolve and new ways of communicating are introduced, the journey of the customer will continue to become more complex and demanding, and making the right investment now will future-proof the contact centre and the business.
Craig Pumfrey is the Director of Marketing & Communications at NICE Systems (www.nice.com)
Tight integration with call recording
For example, a company's existing call recording and quality monitoring infrastructure should be properly equipped to handle the introduction of speech analytics technology.  Ideally, the combined solutions should offer a tightly integrated user experience, minimising or altogether eliminating the need to alternate between separate application interfaces.  An array of flexible deployment and usage options should also be offered.
Basic speech search capability
Selecting a solution that effectively and pragmatically meets the needs of the business is truly important.  In many cases, a more complex solution is disproportionate to what a company may actually require.  This can serve to increase deployment costs and lengthen the time to return on investment.
For instance, an organisation primarily concerned with managing compliance, one of the most common drivers today for investigating speech analytics technology, may find that basic speech search functionality is appropriate for their needs.  That capability alone can deliver substantial time savings and greater accuracy and relevancy of results when reviewing large sets of audio data.  More complex implementations geared toward different business uses can prove a poor fit for many companies and become counterproductive.
Kevin Burns, Managing Director, Oaisys (www.oaisys.com)
Don't let the tail wag the dog! would be my candid advice
The old adage of 'don't change your processes to fit the technology – choose the technology that best suits your particular business requirements' is the key to making any investment decision in anything 'new'… and the adoption of 'speech analytics', with its many differing attributes, certainly falls into this massive minefield.
In my article published in Call Centre Helper's Newsletter on 16th May 2012, I argued that before considering the purchase and/or adoption of any solution you really do have to consider what problem(s) you are looking to solve… what 'pain' point(s) you need to address to make your call/contact centre operation more efficient… or a better place to be… or more customer centric… or…?
In my discussions with a growing number of contact centre managers I am finding that they all have their different challenges, ranging from 'I know I have a problem within my contact centre operation because we are not achieving XYZ… but I don't know what is causing this!' to 'I know what my problems are… our agents are not saying this or that… but I don't know how to deal with this effectively.'
Data mining
If your challenge falls into the first category then I suggest you look closely at one of the many 'data mining'-type solutions available today that analyse what has been said during any number of calls in order to ascertain a number of key/common words and phrases that have been used during the calls in order to ascertain what has been going wrong. This type of solution is now available via a number of different models, including limited pay-as-you-use managed services via third-party specialist providers.
Live, on-the-call quality monitoring and/or phrase recognition
If, on the other hand, you know what your agents are doing wrong or could improve upon or need to ensure full compliance on each and every call, then I suggest you really need a solution which can provide live, on-the-call quality monitoring and/or phrase recognition which can effectively 'coach' individual agents, automatically, on what they have forgotten to say during the call and also identify and report, live, on any number of other issues such as agent/customer stress, harmony, speech rate, etc., all key attributes that have a meaningful effect on customer experience.
Start with a small pilot
Finally, once you have identified the solution that you believe to be the right one for you, can I suggest that you start small with either a pilot project or a trial based upon achieving the deliverables that have been promised by the 'specialist vendor'? Just to make sure that 'it does what it says on the tin.'
Graham Chick, GemaTech (www.gematech.com)