We reveal 21 ways you can improve the letters you send out to your customers.
How do you write a message to customers? Whether sending out a response to a complaint, a service notice, or a simple thank you note, these tips can help you to get it right first time…
1. Write the Letter ASAP
If you are writing the letter in response to a specific event, such as a complaint, send the letter as soon as possible!
If it's because of a first-time customer purchase (and you are quick enough), you could even put the letter in the box with the order, along with a discount coupon for a future purchase.
2. Never Use an Anonymous Greeting
Starting a letter with "Dear Valued Customer", "Dear Valued Client", "Dear Customer", or "Dear Occupier" is not the way to show customers that you care.
It is good practice to personalise customer interactions to build relationships with customers, when possible.
Worst still is the use of "To all our valued customers", as this clearly shows that their letter is a print run of 100s, if not 1,000s, all saying the same thing – with no care or attention to their personal situation.
Whilst undoubtedly quicker to implement, this approach will make people feel like 'just a number' – not a genuinely valued customer of your business.
So, what can you say instead of "dear valued customer"? If you really want to show a customer that you value them, use their name.
We know that it can be tempting to bulk print letters in advance, but try to avoid this if you can. It is good practice to personalise customer interactions to build relationships with customers, when possible.
For some great suggestions on personalising customer interactions, read our article: How to Personalise Customer Interactions
3. Don't Risk Being Too Informal
It can be very tempting to adopt an informal approach to customer service letters but, particularly if you're writing in the early part of the customer journey, it is better to stick to Mr/Mrs.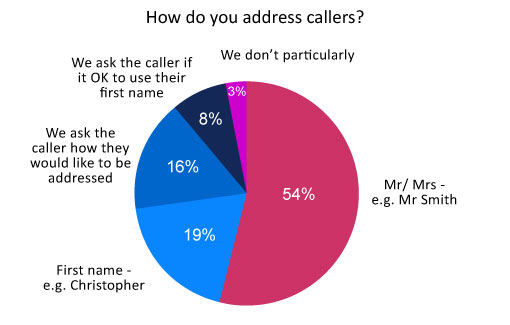 This follows suit of how agents address callers over the phone, as shown in the graph:
If you do not have good records on Mr/ Mrs, then try and keep it formal with the use of their full name, for example "Dear Alex Smith".
The main exception to this is if calling the customer by their first name better suits your company's brand image.
In this case, then there is certainly a case for doing so.
Top Tip
This all depends on the type of customer letter you are writing. If the letter has legal subtexts, it will be better to use Mr/Mrs for example. Whilst for writing a thank you letter, a first name may be more appropriate.
To discover the ground rules for writing a thank you letter, read our article: How to Write a Thank-You Letter to a Customer – With Examples
4. Address Customers how THEY Would Like to be Addressed
Using "dear customer" or "dear valued customer" is really poor show if the letter you're sending is in reply to a letter that was sent in by the customer.
In this instance, the title that they used for themselves to sign off their letter is the one that should be used in your response – however formal or informal. Always address the customer how they would like to be addressed, wherever possible.
5. Get Someone to Check the Name Is Right… Before Sending It Out!
Always make sure that you address people by their correct name. ALWAYS!
A sure-fire way to avoid problems like this is to get someone to check it before the letters go out.
This should help you solve problems such as "Dear Smith" syndrome, where someone's surname has been wrongly entered into the database, or "Dear Donald Duck", if people have entered a false name.
While this might sound time-consuming, it can pay dividends. Afterall, you do not want your basic mistakes to be the root cause of incoming customer complaints, or to be shared online – as we saw in this unfortunate example: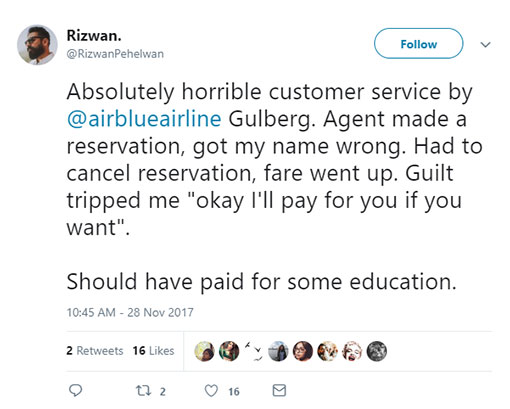 6. Thank Them for Their Custom
Too often, businesses take customers for granted and don't thank them enough. However, it is very easy to add, "Thank you for your order" or "We appreciate your business" to your letters for a quick win.
You could even go one step further and come up with a less generic sign-off, to show a vested interest in the customer as an individual.
For example, if the customer has been with the company for 10 years, the letter could include a statement such as: "Thanks for your order and your 10+ years of support. It is greatly appreciated."
You could also try using some of the words in the following article to show courtesy: The Best Courtesy Words and Phrases to Use in Customer Service
7. Offer Something in Return
If you really want to show that you value someone's custom, then offering something in return can be very valuable.
Here are a few examples of nice bonuses to add to your customer letters:
A £10 off voucher if you spend over £50 on your next order
A code for 15% off your next order
Free delivery on your next order
A free copy of our magazine
A nice message to "set-up" these options for the customer would be something like "As a sign of our appreciation, I am enclosing…"
The use of the personal pronoun "I am" instead of "We are" also implies to the reader that the writer is interested in them as an individual.
This can make a difference, as creating the impression that they have an "insider" within the business is a great way of boosting customer loyalty.
Looking for ways to hold on to and create loyal customers, read our article: 11 Tips to Create and Maintain Loyal Customers
8. Place Important Information in the P.S. Section
It is often said that, after the title and / or headings, the second-most-read part of a letter is the P.S. section. In many cases, the person receiving the letter gives it little more than a quick scan before setting it aside.
Key information needs to be prominently displayed in a way that customers will notice. One way to approach this is to include an eye-catching P.S. section, after the main body of the text.
This might be a summary of the main message of your letter, advice on what steps the customer should take next, or details of the offer that you are providing.
9. Set Expectations With Clear Time Frames
Clearly stating your next steps and time expectations is crucial – particularly when handling complaints – as this helps to reassure customers, as well as prevent additional queries coming into your call centre.
This is particularly useful when handling complaints, as the customer is really only interested in 'Are you listening to me?', 'Are you interested in me?', and 'What are you going to do about it and when?'.
10. Let Customers Know Who They Are Dealing With
Dealing with a faceless organisation is off-putting, so take simple steps to let your customers know exactly who they are dealing with.
One way to overcome this is for your advisors to introduce themselves by name, tell them something work-related about themselves, and personally thank them for their custom.
Take a look at the example below of an advisor who made sure that she added a distinctive and personal touch:

In the letter, "Lanny" mentions that she's often given a nickname and that the customer can call her by that nickname too, adding a personal element to the letter. This is a great rapport-building tool.
11. Adopt a Clear and Striking Layout
Sometimes you will have a lot of information to deliver. Writing dense blocks of text, running to hundreds of words, practically guarantees that the reader will not be able to absorb it all.
Make sure the design of the letter helps to communicate your key messages – instead of hindering them – with good spacing and coloured boxes, for example.
12. Use Bullet Points to Break up Large Chunks of Information
In lengthy amounts of text, headings can be a good way to segment text and improve structure. Bullet points are also useful as they help to create better visual impact than large paragraphs of information.
When you open a letter and see only words and long paragraphs, it's hard at first to understand what's important.
13. Use Simple, Straightforward Language
Your company jargon will probably be so familiar to you that you forget how it is less clear to others. Making customers work to decode your correspondence is not going to encourage engagement.
Making customers work to decode your correspondence is not going to encourage engagement.
Consumers interpret jargon as nonsense at best. At worst, they see it as dishonesty, because it can appear as though you are hiding your real meaning.
Keep your message clear and direct, even in the fine print.
14. Be Upbeat!
The letter should also be written in an upbeat tone, when appropriate.
So why not try including some of the following; Positive Words and Phrases
15. Remind Customers How to Contact You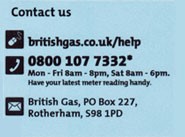 If a customer does need to contact you for further information, it should take as little effort as possible.
Customers should not need to seek out your details online if they have already received a letter from you.
You should display these details prominently on your correspondence, just like this example from British Gas.
16. Tell Customers How to Stop Receiving Letters
Customers are often keen to switch to other formats, as many of your letters will be looked at once and thrown away. However, customers are not likely to spend their own time finding out how to change to an alternative.
If you take the initiative and include information on switching in every letter, customers may very well take you up on it.
17. Hand-Sign the Letter
Nothing says that you value a customer more than hand-signing the letter.
Ideally, this should be in a different colour to the text. Blue ballpoint pen is quite good as it shows an impression on the page.
An alternative is to write the signature in fountain pen using water-soluble ink, so the reader (if they doubt that it is original) can smudge the ink.
This takes more effort, but if you are sending out fewer than 100 letters per day, it could prove a real return on investment.
Or, if the customer is really special, and you have the time to wow them, why not handwrite the whole thing? Customer service doesn't get any more personal than that!
For an example of a great customer service letter, read our article: How to Write a Good Customer Service Letter – Example
18. Put Terms and Conditions on a Separate Page
When you need to include detailed terms and conditions, you could try putting them on a different page.
If you don't, the recipient might be overwhelmed with information and put off reading the key points of the letter.
★★★★★
Three Additional Bonus Tips

Here are three more tips, provided by Neil Martin of The First Word, on how to write a better customer service letter.
These three points can also be applied to other written contact centre channels like email and live chat:
19. Write Down Each Point in Order of Importance to the Customer
All the key points of a customer service letter should be written in order of importance to the customer.
When customers write in, or even call in for that matter, they may describe things chronologically from beginning to end. But it might not be until the very last paragraph that they tell us what's really important.
However, when writing a letter in response to a customer query, it is important to avoid responding to each issue "one by one" and instead take on the biggest problem first. This will help to ease the customer's mind immediately.
It might not be until the very last paragraph that they tell us what's really important.
Also, if a valuable freebie is offered along with the letter, it will likely be of strong interest to the customer. So, introduce the "freebie" closer to the top than the end.
20. Reflect Back on Their Experience
Whatever the reason for the letter, reflecting back on the customer's experience is an important way of demonstrating that they have been listened to.
Reflecting on a positive experience is a good way of reinforcing that you care about your customers, while reflecting back on a negative experience is a key way of showing empathy.
While the latter is more expected in a customer service environment, it is often ignored and a simple statement, such as "I'm sorry that you felt the need to complain," is used instead.
Note, if you simply use a statement like this, you are not showing that the other person is your sole focus and that you are taking personal responsibility for them. So you are missing the opportunity to build rapport.
21. Take Ownership Using the Active Voice
It is important to stay in the active voice and not the passive.
To help check that you are using the active voice, add the words "by robots" to the end of every sentence that you write – as a simple test.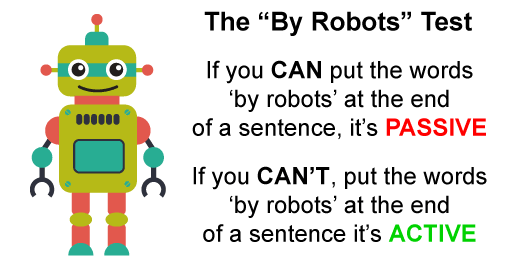 If the sentence still makes sense, then it is written in the passive voice. If it does not make sense, it's written in the active voice.
For Example:
"Your case has been reviewed by robots" DOES make sense and is therefore passive.
So, it should be replaced by something like "I have looked over your case by robots", which DOESN'T make sense and is therefore active.
For more great tips from Neil Martin, watch our Recorded Webinar: How to Give the Wow Factor on Email and Live Chat
Looking for more top tips on customer service letters? Read these articles next: