Five organisations won prestigious innovation awards for outstanding initiatives that are making customer operations great places to work and transforming the experience of customers.
The overall winner was Three Ireland, with individual awards taken by Aegon, TUI, L&G and Sky Betting & Gaming.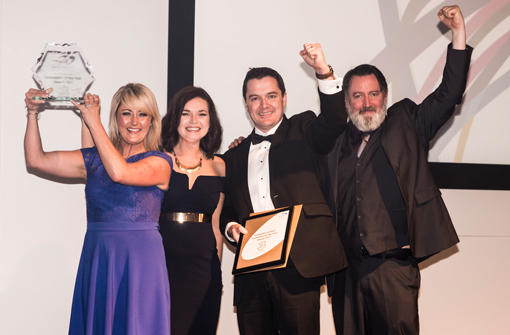 Organised by The Forum, these sought-after awards, celebrate and benchmark excellence in the industry. These awards, together with our five Forum Heroes, were presented at the Forum's Customer Strategy & Planning conference in Harrogate on 25th April, where each talked about how they achieved their outstanding results. The Forum also organise opportunities to see them and learn more during their best practice site visit programme during the summer and autumn.
Three Ireland gained the overall Innovation of the Year Award. Empowering leadership has released potential, building customer focus and enabling functions like real-time planning to innovate in analytics, technology and social media. They were also presented with the Innovation Award for Real-Time Empowerment.
"We took something that looked complicated and made it simple." David O'Brien, Capability Lead Developer, Three Ireland, explained. "At a glance and with ease a use can now view the status of the call centre and its main departments." "Being given the time to develop the dashboard was fantastic. People trusted that I knew which way to go." added John Steele, Business Analyst. "When I ran out of skill I took it to the Transformation Team who made it fly."
The winners were selected by a team which included 12 experienced industry practitioners, many of them previous winners or finalists. Judges visited each of the shortlisted organisations, and then assessed them against a strict set of criteria.
"This year, we will continue to explore our theme of "Breakthrough" but with a new focus on "Releasing Potential". How can we unlock the very best from ourselves and our teams? Breakthrough doesn't happen by chance; pioneers and leaders achieve results because they set out to do this and put in place the preparation and support that is required," explained Steve Woosey, CEO, The Forum.
Four further awards recognised innovation in specific areas:
The Innovation Award for Customer Experience was awarded to Aegon, for the way they applied behaviour psychology to transform sales and put the customer first. This creates great conversations, based on new scripts and training that gives the confidence to go beyond them.
The Innovation Award for Transformation & Engagement was won by TUI, who achieved an extraordinary depth of engagement in Swansea, the hub of a new operating model that has turned around performance in a competitive market, with a 40 point rise in Net Promoter Score and £17m benefits.
The Innovation Award for Simplifying Service was gained by L&G, by using collaboration and empowerment to release potential. By raising 1,300 ideas from colleagues in just 30 months, continuous improvement has saved 200 FTE overall and raised Net Promoter Score.
Lastly, Sky Betting & Gaming swept away the Innovation Award for Entrepreneurial Culture. Specialism has created a culture of experts that is helping to grow the customer base 40% a year. They took customer satisfaction to a record high, cut attrition and raised speed of answer by a third.
Forum Hero awards
Forum Hero awards were presented to five outstanding customer contact professionals, recognising their exceptional personal contribution in developing the role of planning, analysis or quality. They join our growing ranks of heroes, reflecting excellence at all levels in our profession.
The 2017 Heroes are:
David Edwards, European Head of Workforce Management, Staples
Bob Stella, Head of Business Implementation, L&G
Andy Bugg, Quality Analyst, Financial Conduct Authority
Jo Hale, Customer Contact Director, Domestic & General
Peter Massey, Managing Director, Budd UK Ltd
Find out more by visiting theforum.social