This article explores the answers of 224 contact centre professionals when we asked 'What Are the Greatest Challenges in Managing Your Knowledge Base?'
The results have been taken from the Knowledge Management chapter of our 'What Contact Centres Are Doing Right Now' 2021 survey report, which was sponsored by ProcedureFlow.
What Are the Greatest Challenges in Managing Your Knowledge Base?
Challenges for contact centres when managing knowledge bases – results:
| Challenge | Percentage |
| --- | --- |
| Finding Information Quickly | 58.6% |
| Information is Difficult and Time Consuming to Update | 37.0% |
| Out of Date Information | 32.7% |
| Employees Don't Like Using Our Knowledge Base | 27.8% |
| Not User Friendly | 27.2% |
| Duplicate Information | 25.3% |
| Only a Small group of People can Make Changes | 23.5% |
| Hard to Learn How to Use | 10.5% |
Finding Information Quickly Is the Biggest Challenge
More than half of contact centres admit that their advisors often fail to find information quickly when using knowledge systems.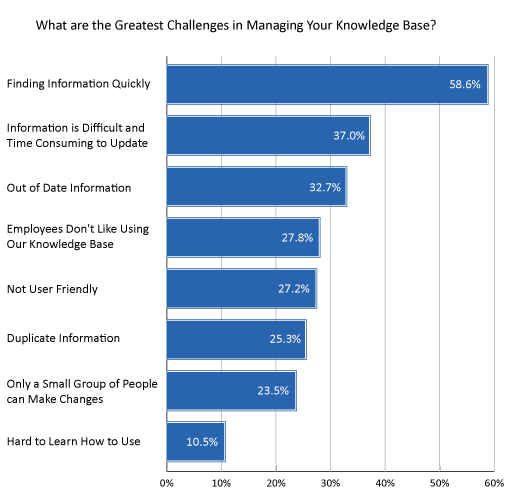 In fact, 58.6% of contact centres are struggling to combat this problem, indicating that the search function within knowledge bases is causing difficulties.
Other major issues mostly revolve around the quality of content that's stored within the system.
For example, the second and third greatest challenges included information being difficult to update (37.0%) and out-of-date information confusing advisors (32.7%).
These problems bring to life the value of setting up reviews and monitoring knowledge metrics to bolster the system's reliability.
This survey was done in partnership with Akixi, NICE, Nuance, Odigo, Poly and ProcedureFlow.