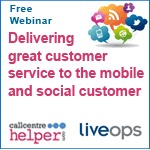 Today's customers are mobile, interactive and social. Every one seems to have a favourite anecdote that highlights the difficulty companies are having in responding to customer service issues raised via Facebook or Twitter.
Our increasingly mobile and social customers are more than ready to provide a running commentary of a poor experience, played out in public to shame a brand into action.
In this webinar, we outlined how to engage customers online.
Agenda
Introduction – Jonty Pearce, Editor, Call Centre Helper.
Trends in management of the mobile customer – Simon Foot, Ember Services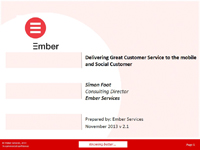 Using technology in the customer journey – Siobhan Payet, LiveOps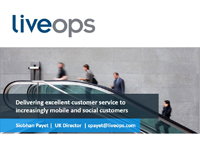 Winning tip – "Listen to the customer and collate this information before making changes. With the use of tools such as Post Contact Surveys, you will be surprised how many customers want to leave feedback positive and negative. They will help you highlight areas in which you are good at and areas which need improvement. Treat the negative feedback on the social side with importance but also make the social media response more "fluffy". "thanks to Nilesh1
All the tips from the audience have now been turned into an article Top 10 tips for delivering exceptional customer service
Interactive Q&A – Live questions from the audience
Topics to be discussed
Adding social, mobile and chat channels to your voice and email teams
How agents can 'pivot' from a public, social conversation to a private channel (e.g. voice, email or chat) to resolve customer problems quickly and confidentially
Happy agents make happy customers: Importance of a unified agent desktop to support the emerging 'super customer service advisor'
Managing these new channels within the contact centre rather than calling upon the over-stretched IT department
Proof points from the experiences of Wokingham Borough Council and the Royal Mail
Original Webinar date: November 2013
---