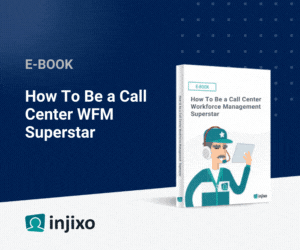 Here are a few ideas that we picked up from our visit to the re-opening of Domestic and General's contact centre in Nottingham.
1. Redesign the Contact Centre in Bright Colours
Contact centres don't have to all be bland and corporate.  Redesigning the contact centre to be bright and cheery can make a big difference. Rather than doing a straight corporate design, Domestic & General asked the contact centre team to be involved in the design.
The results speak for themselves…
Domestic & General Fact File
Contact volume – per month
Inbound contacts: 700,000
Outbound contacts: 350,000
Advisors
1600 FTE
700 seats in  Nottingham
550 – 600 seats in Brighton
450 FTE Outsourced
Technology
ACD and  Call Recordings
Genesys Pure Connect
Workforce Management
Injixo
Speech Analytics
Genesys
Advisor Desktop
Genio/ Verint(Kana) Frontline
IVR
Virgin (cloud based)
Headsets
Plantronics (Binaural Noise Cancelling)
Email
Verint (Kana)
Customer Surveys
BrightIndex
Holiday Processing
QStory
2. Introduce Long-Service Awards
A simple technique for saying that we value our people is to give out long-service awards. These are particularly good for any multiple of five years.
When we visited, eight people had been given awards for 15 years' and one for 20 years' service.
3.  Move Break Rooms Away From the Contact Centre Floor
All too often the breakout rooms are right next to the contact centre. This can mean that certain members of the team are dragged back onto the contact centre floor, when they should be enjoying their hard-earned break.
So, Domestic & General have their breakout rooms on a different floor, to minimise disturbance. These spaces were designed to provide a nice living-room environment with pool table, table football and a widescreen TV.
4. Dogs in the Contact Centre
It's always nice to see dogs in a contact centre. Domestic & General only allow assistance dogs at the moment, but as this happy dog has helped to lift spirits in the team, let's hope they extend the policy to include other well-behaved dogs.
For more on this subject, read this article: The Latest Trend: Dogs in the Contact Centre
5. Hold an Opening Ceremony
Rather than just revamping the contact centre, Domestic & General held an opening ceremony at their Nottingham contact centre. Ian Mason, the company's CEO, visited, and Michael Edwards, the Lord Mayor of Nottingham, cut the ribbon to open the building.
6.  Publicise the Employee Engagement Survey
If you want people to fill in the employee survey, then it's a good idea to publicise it. In this case, Domestic & General positioned banners and posters in prominent places around the contact centre.
By doing so, the company really are aiming to show the team that they value their feedback.
7. Lots of Coat and Locker Space
I don't think that I have seen so much locker space in one building. It was across all of the back walls. Everyone has their own space where they can store personal items.
8. Use Speech Analytics to Find Out Why Calls Are Transferred
Around 8% of Domestic & General's call volume are transfers, which does not sound like a lot. But when it adds up to around 700,000 transfers per year, then it is worth looking into the reasons these calls are getting transferred.
To find out these reasons, the company are using speech analytics to discover what is happening on calls, for both repeat calls and call transfers.
Many thanks to Jo Hale for the invitation. It was also nice to catch up with Steve Woosey (formerly of The Forum) and with David Davies.
Here Are a Few More Photos of the Contact Centre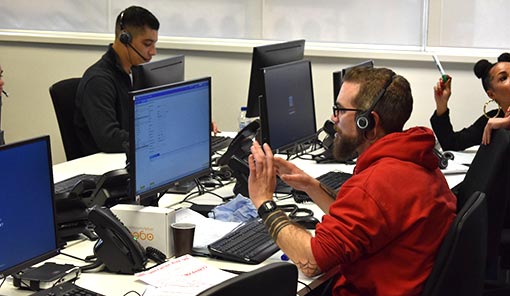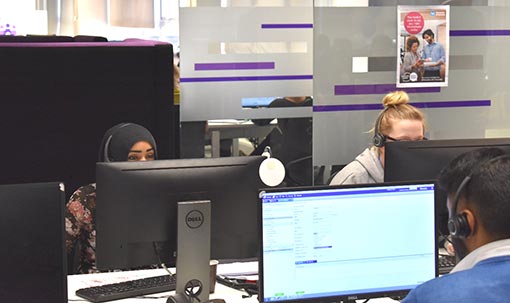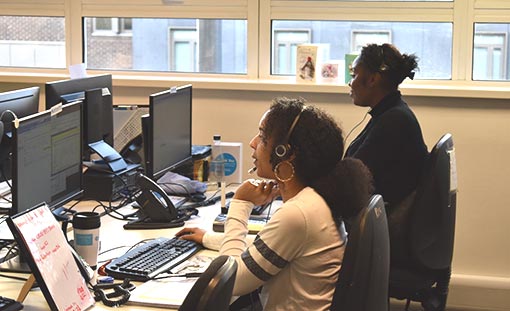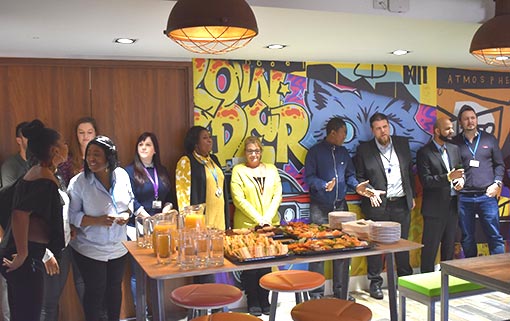 But what about you? Do you fancy showing off your contact centre?
If so, you can contact: newsdesk@callcentrehelper.com and maybe we will see you soon!