In this article we explain what KPIs you should display on your contact centre wallboard, and what KPIs you should avoid using.
What Is a Wallboard?
A wallboard is an electronic display within the physical location of a call centre, used to give the management and agents a view of their own team's performance.
A contact centre wallboard is a powerful tool for business growth.
Used correctly, the right tools can inspire and engage your team, introduce opportunities for training and development, and improve customer experiences. Wallboards give a quick behind-the-scenes view into your contact centre operations, optimizing staff and guiding supervisors.
Of course, to leverage the most value out of a wallboard, you'll need to determine what types of data to display and how to display each property.
The Key Types of Data to Display on Your Wallboard
Wallboards are highly customizable tools capable of adapting to suit the specific needs of your business. As such, there's no real one-size-fits-all strategy. Instead, you'll need to consider your wallboard audience's particular needs, goals, and quantifiers they are measured against.
For instance, you may have a different data set in place for your management team compared to your remote contact centre agents.
The best wallboards drive success for everyone in the team, from management to in-office or remote employees, by giving them the data they need in a clear, easy-to-follow environment.
There is a lot of debate in the industry about whether wallboards are good or bad for agent morale.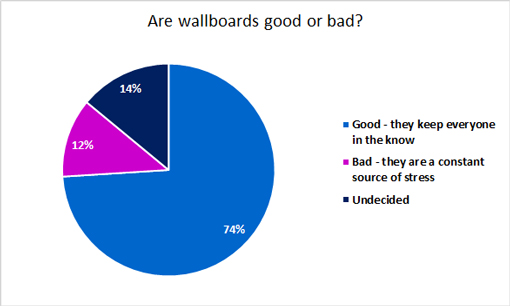 When we last asked, only 12% of contact centre managers believed that wallboards are a constant source of stress.
| Opinion on Wallboards | Result |
| --- | --- |
| Good – they keep everyone in the know | 74% |
| Bad – they are a constant source of stress | 12% |
| Undecided | 14% |
With this in mind, let's explore what should be included on a wallboard and what you should avoid using.
★★★★★
What SHOULD Be Included on a Wallboard?
Here's a list of what you should be displaying on your wallboards, in terms of metrics and other innovative ideas, to encourage positive advisor behaviour.
KPIs for Personal Goals
One of the best ways to use wallboards in the contact centre is to engage, motivate, and inspire your employees. This is particularly important in the age of hybrid work, where staff members working remotely may need additional support or motivation.
KPIs for personal growth provide your agents with real-time insights into how well they're performing.
Examples of KPIs for Personal Goals Include:
Call Answering Speed:
How quickly can your employees answer a call or respond to a message when working in an omnichannel environment? The faster your agents answer the calls, the more likely they will have a higher satisfaction rate.
Average Handling Time:
AHT or Average Handling Time refers to how long it takes for an agent to complete a call. While fast resolutions are essential, ensuring your agents are dedicating enough time to delivering an excellent customer experience is crucial.
Customer Satisfaction Scores:
How do your customers rate the experience at the end of the call? You can use surveys at the close of a call or message to determine whether your clients were happy with the service they received.
Small Group KPI Targets
Splitting a large contact centre into smaller groups has been proven to increase productivity, efficiency and engagement amongst advisors.
So, bringing this small-group mentality into a large contact centre, by segmenting the floor space into groups, can be beneficial. And, if you use wallboards to provide KPI statistics for each group, you can offer a source of motivation, as each advisor can see how their contribution has affected team stats, growing a sense of community.
Also, if you compare groups with one another and have live leader boards on screen, you can offer healthy competition, which may boost morale.
In large centres, I'm not a fan of generic wallboards. But, with smaller niche teams we have found them to be quite effective to promote agent autonomy and get away from rigid rosters.

Peter Mumford, Customer Service Centre Manager
In terms of the metrics targets that should be displayed, Colin Gill, Head of Product and Solutions at Akixi, recommends: "how long the longest call has been waiting, the average answer time and the average abandoned call time."
Colin also suggests that "these last two call statistics are the most significant to most customers, as they allow contact centres to reduce abandoned call rates very quickly and easily.
"For example, if the average abandoned time is 12 seconds and the average answer time is 14 seconds, the advisors can see that they need to answer the calls two seconds quicker to improve the abandoned call rate."
For more insights into KPIs and call centre reporting, listen to our conversation with Akixi's Colin Gill from The Contact Centre Podcast.
The Contact Centre Podcast – Episode 31:
How To Improve Your Call Centre Reporting
KPIs for Team Goals
Running a successful contact centre is a team effort. Examining the performance of your entire team can provide insights into whether your staff members need extra training or support to achieve desired outcomes.
KPIs for team goals are also helpful for determining whether your contact centre technology is adequate for your staff.
Examples of KPIs for Team Goals Include:
Average Time Spent in Queue:
How long do your customers spend waiting in a queue for an agent? If this number is too high, it could indicate your employees are struggling with call resolutions or that you don't have the right number of staff on hand to handle the volume.
First Call Resolution:
How frequently do your agents resolve a customer's issue during the first call? If this number is low, it could be a sign your employees need more training. However, it could also indicate you're not initially routing your customers to suitable agents, which increases your transfer rate.
Average Abandonment Rate:
Do customers abandon a call before an agent picks it up? A high abandonment rate could indicate you need to increase staffing or provide alternative channels for communication.
KPIs for Management
You will need specific contact centre metrics for management and supervisors on your team.
The focus here will be to assess your team's overall performance and the impact you're having on your customers.
Examples of KPIs for Management Wallboards Include:
Growth or Retention Metrics:
Tracking of overall business goals, including sales forecasts, subscription renewals or service levels.
Adherence:
Are your agents following their individual schedules? Are they effectively managing their scheduled time for work activities?
This KPI will help you to understand if your agents' schedules align with their actual work times. Workforce management is critical for call centres and this data will allow you to improve performance and optimize your team.
NPS Scores:
What are the chances your customers would recommend your business to another consumer? An NPS score can give insight into your clients' overall perceptions of your business. The higher the score, the better your performance.
Percentage of Calls Blocked:
If your agents regularly block callers or transfer them to other agents, this could be a sign they need additional training to work through a difficult situation. Keep an eye out for signs your staff members need further training or guidance.
Real-Time Updates
Real-time information relevant to your employee's workflow will help them to stay productive. Use your wallboard to update staff about manufacturing shipping delays or power outages for utility brands.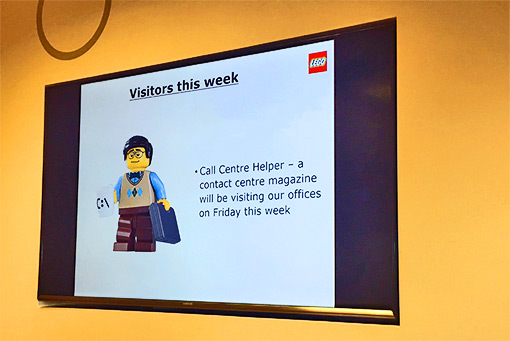 These updates will ensure your employees can answer customer questions effectively.
Contact centres are often frustrated by the lack of communication from other departments in the company.
For example, the marketing team may not inform the contact centre of a new offer on a product/service, causing difficulties when customers phone in.
So, why not give marketing and production space on your wallboard to present live updates on products and deals?
This will keep advisors in the loop, increase brand awareness and improve communication between departments.
PhotoBox do this by sharing spreadsheets with other departments. These are linked to advisor desktops but could just as easily be displayed on wallboards.
Customer Journey Information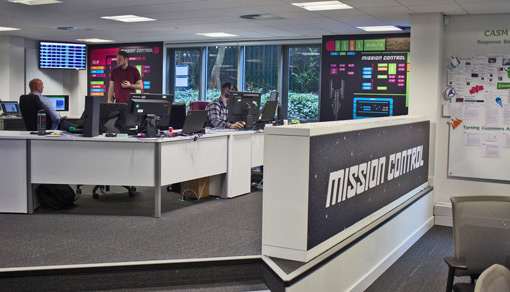 During a visit to AO's contact centre in Bolton, we discovered that the company designated wall space to flowcharts which follow separate customer journeys.
The impact of doing this was to remind advisors of the processes that customers follow to get to their desired outcome.
So, why not use wallboards to the same effect?
Give advisors the information to steer a conversation in the most efficient way that also reduces customer effort.
Training Materials
It is a common problem for contact centres that they do not get the time to train advisors thoroughly before they get onto the call centre floor.
So, why not use wallboards to give advisors additional tips for building rapport, using empathy, positive words and so on, to remind advisors of content covered in the training process.
Giving advisors these helpful hints and techniques to try out increases the number of approaches that advisors use during calls, which enhances advisor adaptability.
Videos and presentations are often used to increase interactivity and variety, but they must be replaced every week or two, to maintain interest in what is being displayed.
Key Trends
If you include data on team trends, comparing actual performance against goals or the current week's performance versus the week before, this information can spur advisors on to give that little more during customer interactions.
The trend comparing performance against goals can be very useful, especially if achieving these goals can be rewarded in some way, as targets can be brought to life.
Also, comparing current performance to a previous point in time can help to show advisors how they have improved over this period, providing a sense of accomplishment.
Other Valuable Data to Include on a Wallboard
Aside from the essential KPIs you'll be showing to individual users, teams, and managers, it's also worth evaluating how you can enhance the value of your wallboards with other insights.
Some of the most valuable "extra" information to share includes:
Extra Information
Details

General communications:

Announcements from business leaders, and even messages about birthdays, work anniversaries, and training sessions can all be valuable additions to the employee wallboard environment.

Employee communications:

Recognizing advisor achievements and sharing them with the rest of the contact centre team can improve morale, as advisors feel the work that they are doing is appreciated.

These achievements would ideally be a mixture of a "spotted doing something great" type recognition or based on daily, weekly and monthly statistics which shine a light on the top performers.

Policies and procedures:

When the company changes policies and procedures that have an impact on the contact centre, it is important to let advisors know.

Placing this information on wallboards is a great way to help the team not to forget about changes and can boost proactivity, if advisors are made aware of the need to alter something.

However, be wary of spreading confidential information, especially if there are external visitors in the building.

Location information:

Data related to an agent's location can benefit their workflow. For instance, you might provide traffic and weather alerts to in-office agents and positive messages about holidays and occasions to remote agents.

Incentive reminders:

Wallboards provide the ideal platform to publicize the incentives that are offered to advisors, making the contact centre team aware of the efforts that are being made to improve their work environment.

So, advertising gatherings, competitions, events, holidays, lunches, rewards programmes, and so on, will subtly signal that effort is being made to refine the workplace and break up the repetitive routine.

Also, promoting these functions can increase turn-out, allowing more of the contact centre floor to associate positive experiences with the workplace, boosting their affinity with the company.

Motivational messages:

Keeping your employees engaged and happy is crucial in any contact centre. The occasional motivational message can improve your company's culture and help users feel more optimistic about the workplace.

Significant sporting events:

Absenteeism and sick days will undoubtedly rise during the Olympics, the World Cup and Superbowl, but call volumes will be unlikely to change.

So, it could be wise to show the action live on the wallboards, to minimize the negative impact these events have on staff numbers.

Furthermore, contact centres can use the excitement of these events to bring a positive atmosphere into the contact centre by turning them into games, sparking healthy competition between advisors and building a community environment.

This will peak during the action of the competition, making the option of having coverage live on wallboards even more appealing.
However, it is important to keep information on wallboards positive, as negative messages may lower productivity, damage morale and increase attrition rates.
☆☆☆☆☆
What SHOULD NOT Be Included on a Wallboard?
If used in the ways specified above, wallboards can be a great motivational tool in the contact centre. But using them as highlighted below may actually reinforce negative behaviours.
Metric Overload
Too many metrics on a wallboard at one time can be confusing, and visibility could also be an issue if all metrics are crammed onto the screen.
The confusion stems from the fact that the image on a contact centre wallboard will change every fifteen seconds, on average, and whilst managers may have spreadsheets of statistics which give them time to review the information, advisors do not have that luxury.
But do not just leave the screen there for too long. So change the content so that advisors engage with the wallboards, instead of forgetting they are even there.
KPIs That Negate Best Practice
It may be a good idea to remove time-based metrics from wallboards and instead focus on those that positively influence call quality, such as First Contact Resolution (FCR).
I'm not convinced that showing staff how many calls are queueing, for example, would add much value.
This is because displaying KPIs like Average Handling Time (AHT) could encourage negative behaviours, such as shortcuts to politeness to mimic building rapport, as discovered in our article: Why Removing Negative Words Could Hurt Your Contact Centre
Paul Bryant, Head of Operations at Clydebank, suggests another metric that could be considered inappropriate for wallboards, stating: "I'm not convinced that showing staff how many calls are queueing, for example, would add much value.
"Surely, the call they are handling is the only thing they should be thinking about and handling it as best they can, not just getting off that call quickly to be able to handle another."
In addition, James Soules, Head of Sales & Services at Mulberry Holiday Cottages, notes that "in my experience, restricting the view on the number of available advisors is worth considering.
"Let your management team see this data to ensure headcount and call-flows are managed, but not the wider workforce. This will help stop any possible drop in individual productivity."
Seeing that a % of advisors are waiting for a call or are available could lead to certain types thinking it does not matter if they stop working or log out etc. Your availability can quickly vanish.
Negative Feedback
Any messages displayed on wallboards should be positive, especially if the posts are specifically directed at particular agents.
This means that only the statistics of top performers against certain metrics should be shown, not the whole list of advisors.
This is because advisors at the bottom of the list may have only been unfortunate with the calls that they received, and if this is broadcast in a negative light on the wallboards it could have a negative influence on their morale.
So, be wary of sharing negative information like this and disciplinary warnings etc., and also remember the importance of avoiding confidential information being on show, particularly if "outside" visitors can view the wallboards.
Low-Visibility Information
What is the point of having a wallboard if advisors cannot even read the information that is being displayed?
None. So, it is important to go to the furthest point of the contact centre space designated for that screen and try out font sizes and styles to find the optimum conditions.
Also, be aware of how the colour schemes chosen will affect advisors who are colour-blind and therefore cannot see the thresholds and/or data well enough.
Phillip Reynolds, Oak Innovation, adds that it is advisable to "make use of appropriate colours (red, green etc.) and flashing panels, when KPIs or other critical metrics are being missed."
Don't get so much information crammed on the real estate of the screen that you must be within an arm's length of the wallboard to see what is going on.
Finally, whilst this is not exactly about what is on the screen, think about the angles at which advisors are viewing the wallboards. Do these affect the ability of advisors to read the information?
★★★★★
How to Display Your Wallboard Information
Notably, choosing the correct data to display on your wallboard is only the first step. Once you've pinpointed your necessary messages and KPIs, you'll need to think about conveying that information. The key to success is making the data as easy to consume as possible.
Think about the visuals you can use to make data more accessible. Graphs and charts can make it easier to process number-based information. Pictures and graphics can also add context for your agents and make it easier to engage your workforce.
Don't forget to experiment with colour in order to emphasize specific data or incorporate your brand colours to showcase inclusion for the team.
The use of branding colours can be a great way to make the wallboard feel more specific to your business. You can also use colour to highlight levels of urgency connected to a data point.
Interactivity can make user engagement more successful by providing links for follow up actions. Encourage responses by supplying an actionable button or link such as "schedule training" or "rsvp to the company event".
When in doubt, ask for feedback from your employees on how you can better share the correct information for their needs.
Thanks to Akixi and Geomant for their help writing this article
For more great insights on wallboards, read our articles: