THE DATE: Tue, 5 June 2018, 08:00 – Wed, 6 June 2018, 18:00 BST
THE LOCATION: Stamford Bridge, the home of Chelsea Football Club. Fulham Road, London, SW6 1HS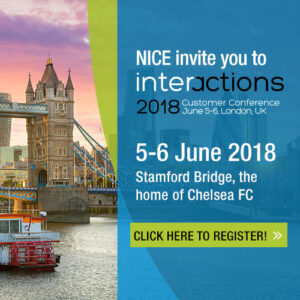 THE DESCRIPTION: Interactions EMEA 2018 is a great opportunity to network and share experiences with NICE's customer community, experts, and industry peers from across Europe. Unique perspectives on industry trends, real-life case studies, and best practices are just part of the event's prolific agenda.
Join us in London on June 6 when our customers, partners and other industry leaders will discuss topics important for your business, including insights into how to optimise your NICE solutions, recent product enhancements, product roadmaps and more.
Also learn from our experts about the various NICE solutions during the Interactions 2018 Pre-conference on June 5, which features hands-on training and demos on live systems and the sharing of best practices.
Interactions 2018, London, is for existing customers or prospects of NICE and NICE inContact only
THE PROGRAM AT A GLANCE Interactions 2018 will feature over 25 sessions, with over half of them led by industry experts and NICE customers. The conference features a rich array of breakout tracks dedicated to helping you and your organisation succeed in areas such as customer experience, operational efficiency and compliance.
FEATURED KEYNOTE SPEAKER – SIR LENNY HENRY
We are excited to reveal that we will be joined by the multi-talented award winning comedian, celebrated actor and Comic Relief co-creator – Sir Lenny Henry.
REGISTRATION RATE:
Regular Price – £299+VAT
Early Bird Price – £199+VAT
(until March 31st, 2018)
THE ORGANISERS: NICE
Sponsors and Exhibitors: NICE inContact and Business Systems.
THE WEBLINK: https://www.nice.com/Interactions2018London/index.html
---