We asked 224 contact centre professionals 'On a Scale of 1 – 5, How Accurate Is the Information Within Your Knowledge Base?' This article explains the accuracy of information in their knowledge bases.

The results have been taken from the Knowledge Management chapter of our 'What Contact Centres Are Doing Right Now'  2021 survey report, which was sponsored by ProcedureFlow.
On a Scale of 1 – 5, How Accurate Is the Information Within Your Knowledge Base?
Contact centre knowledge base accuracy – results:
| Knowledge Base Accuracy | Percentage |
| --- | --- |
| Very Accurate | 19.1% |
| Reasonably Accurate | 43.1% |
| Average Accuracy | 21.6% |
| Inconsistent | 13.8% |
| Not at All Accurate | 0.6% |
| We Do Not Have a Knowledge Base | 1.8% |
Knowledge Base Information Is Not as Accurate as It Could Be
Over four-fifths of contact centres admit that the information stored within their knowledge base is not as accurate as it could be.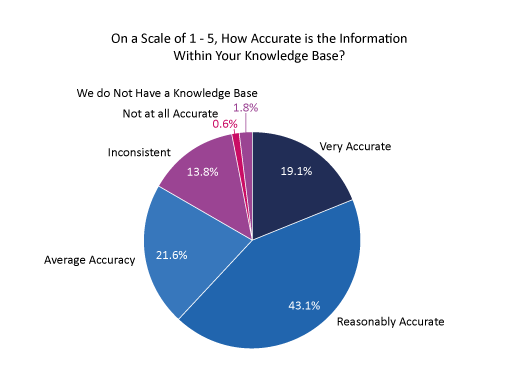 To be precise, only 19.1% of contact centres informed us that their knowledge base was fully up to date, with very accurate information.
Perhaps this is a worry, as advisors can lose faith in knowledge systems after just one bad experience. Yet 43.1% of participants did state that the information was "reasonably accurate".
The greater cause for concern is that 13.8% of contact centres have inconsistent standards of knowledge accuracy and a further 0.6% admit that their knowledge is "not at all accurate".
Indeed, across the industry, it seems that better knowledge management practices need to be established.
This survey was done in partnership with Akixi, NICE, Nuance, Odigo, Poly and ProcedureFlow.