What Are AER Statements?
AER stands for 'Acknowledgement', 'Empathy', and 'Reassurance'. Bringing these elements together into a series of connected phrases is a tried-and-tested way to help agents better manage difficult or upset customers.
As outlined below:
Acknowledgement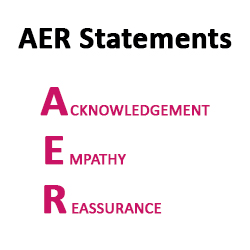 Tuning into and accepting the customer's problem and feelings.
For example, "I know how difficult it sometimes is to set up a new smartphone."
Empathy
Affirming the customer's emotional state.
For example, "I can see why you must be frustrated."
Reassurance
Confirming to the customer that they are in safe hands and you'll be able to help them.
For example, "The good news is you're through to the right person and I'm more than happy to help guide you through the process".
When Is It Necessary to Deliver an AER Statement?
The short answer = whenever appropriate.
An agent should be able to pick up on a customer's tone, stress levels, anger, or frustration and gauge when it's the right time to deliver an AER statement in response.
Three AER Statement Examples:
It's great that you're in the process of setting up your new phone. I'm sorry to hear you are having issues getting up and running. I'll help you with this.
Thank you for getting in touch about your slow broadband. I realize how frustrating this must be. Let me look into the problem and help get it back to where it should be.
Sorry you've had to ring through to us today about your broken glasses. I would be upset too. Let me look into ordering a replacement for you to arrive as soon as possible.
If you are looking for more information on statements, read these articles next: