What is an Outbound call Centre?
An outbound call centre is a business activity where a collection of call centre agents make outgoing calls to prospective or existing customers. This activity is usually technology enabled – typically using a predictive dialler – so that large numbers of calls can be made per hour.
The most common uses of outbound call centres are:
Proactive customer service (e.g. informing of delays, problems, delivery arrangements, etc.)
Sales calls to new (prospective) customers
Renewals (sales calls to existing customers)
Cross-selling or up-selling sales calls to existing customers
Debt collection
Customer satisfaction surveys
Market research
Appointment booking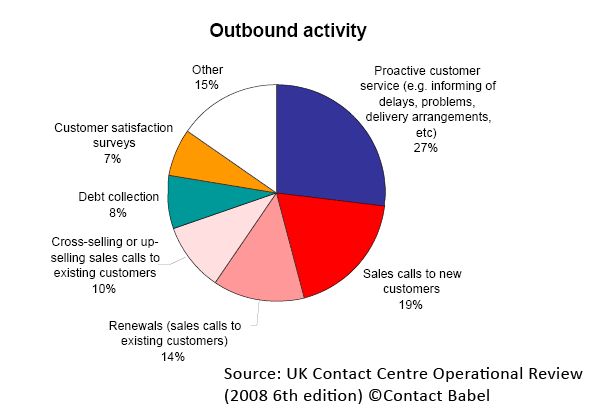 Outbound dialling can be intrusive and there are a number of Outbound dialling issues and Dialler regulations to deal with.
Further Reading
Contributors
Jonty Pearce at Call Centre Helper and Steve Morell of Contact Babel