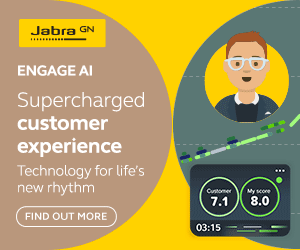 Our panel of experts drill down on the contact centre technologies that can create a better working environment and reduce agent stress.
1. Hygiene factors are also important in keeping stress levels low
Hygiene factors are almost invisible if you get them right, but get them wrong and employees will definitely complain!
Room temperature and ventilation – An accurate time-based thermostat can help agents feel comfortable during working hours.
Lighting – Studies have shown that lighting at the 'warmer' end of the spectrum can reduce eye strain and mental fatigue. Find out what colour temperature your lighting is set at and see if it can be adjusted.
White noise speakers – These dampen the background noise of a busy shift, something which agents can find stressful and customers perceive as unprofessional.
2. Apps and automated login can help reduce agent effort on a day-to-day basis
The easier it is for an agent to do their work, the less they will have to worry about.
Here are some technologies which can make an agent's job easier:
Self-service IVRs for calling in to report sickness or late arrival.
WFM apps can enable agents to use their smartphones to check work schedules and/or swap days with colleagues.
Automated or unified logins are valued where agents need to use multiple systems.
With thanks to Valur Svansson at IP Integration
3. Help agents focus on genuine customers
Call centre workers are under a lot of pressure to deliver an excellent customer service. This becomes a lot harder for them to do when fraudsters attack the business they are working for.
Fraudsters have many techniques which help them bypass security. For example, distortive or synthesised noises can alter the sound of a voice, making it hard to verify and accurately define calls as fraudulent.
When faced with a possible fraudster, an agent usually has two options:
They can risk transferring funds to a criminal in an attempt to deliver a great customer experience.
They can treat a genuine customer like a fraudster and negatively impact the service they provide.
Anti-fraud technology can help by analysing the characteristics of a call to identify malicious behaviour and verify legitimate callers.
It can also look at specific components of each call, such as the location a call is coming from, the device, whether it's a mobile or landline and whether the phone has been used to call the company before.
Combined, these can help detect fraudulent activity before it becomes an issue, and support call centre workers in prioritising a good customer experience.
With thanks to Matt Peachey at Pindrop
4. Scripting software can take the pressure off learning new subject matter
Having to learn a new job or new subject matter can add to the stress agents are already under on a day-to-day basis.
Drag-and-drop workflow-based scripting and call guidance software can help to take away some of the uncertainties and remove some of the stress of the "new" from agents, as well as introduce consistency.
A well-written script can include all the decisions and logic of a call, and their outcomes can result in more efficiently completed calls, happier agents and happier customers.
With thanks to William Hare at QuickScripts
5. Next-best-action guidance can help agents say the right things at the right time
Unfamiliar patterns cause the brain to go into an alerted state, which causes stress and impairs our ability to make decisions, store and retrieve information, solve problems and think creatively.
An agent assistant desktop solution can monitor live calls in real time, offering script-compliance monitoring, emotion detection, next-best-action guidance, event alerting and automated context-driven workflow initiation directly to agents' desktops.
This reduces the stress from some scenarios by giving agents certainty about what to say next. This is especially helpful where agents must adhere to compliance rules and regulations.
With thanks to Maureen Szlemp at CallMiner
6. Headsets need to be comfortable to support agents through a full 8-hour shift
As call centre agents typically wear their headsets for a full 8-hour shift, the hardware should be comfortable.
Soft ear pads, an adaptable wearing style to suit the agent's individual needs and a padded headband provide all-day comfort which can reduce stress levels among agents.
Noise-cancelling headsets can also contribute to a better customer experience.
The ability to block out background noise, combined with the knowledge that private calls aren't being overheard, instils confidence and reduces the risk of complaints. It also limits the number of times a customer has to repeat themselves.
Technologies such as HD Voice/Wideband also play a part in improving the customer experience by producing clearer calls.
With thanks to Nigel Dunn at Jabra
7. A personal dashboard can help agents track their progress over time
Not knowing how you are performing can be very stressful.
By sharing feedback via a personal dashboard, agents can identify where they are doing well as well as areas that they need to work on. Supervisors can also share coaching tips with the agent via a messaging window.
This regular, quantifiable feedback should give agents a clear picture of how they are performing, reducing stress and improving the relationship between supervisor and agent.
With thanks to Dick Bourke at Scorebuddy
8. Skills-based routing means agents only receive calls they are comfortable with
The stress of not being prepared or unable to answer a query without reference to others can be avoided with skills-based routing.
Skills-based routing in the cloud means that every agent can be assigned multiple skill or proficiency levels based on ability, not just length of service.
Customers benefit from being connected to the person most likely to answer their query first time round, while agents only have to deal with queries they are trained to answer.
9. CRM integration gives agents greater visibility of a customer's call history
Integration with customer relationship management (CRM) solutions can give agents greater visibility of the customer's account and call history.
It can also save time switching between applications, providing an improved customer experience and less stressful agent experience.
10. Gamification helps to make the job more fun
Competitions and rewards have always been popular methods of motivation in contact centres, the only difference now is that technology has allowed the automation of the process to make it more inclusive and fun.
Data integration in the cloud makes gamification possible and is a great way to reduce stress and make work fun.
With thanks to Colin Hay at Intelecom
11. Wallboards can help keep agents informed
Wallboards can be used to provide news and messaging that encourages and informs agents throughout the day.
For example, the latest company events, colleagues' achievements, etc.
With thanks to Valur Svansson at IP Integration
12. Self-service IVR options can help to reduce agent workloads
The use of self-service solutions – such as interactive voice response (IVR) and artificial intelligence (AI) – can help to reduce agent workloads within the contact centre.
A fully developed self-service solution can resolve common customer issues and reduce the need for regular agent intervention. This can help to ensure that their skills are better deployed to more complex customer cases or offline work.
13. The misallocation of calls can add to agent stress levels
As contact centres become more and more complex, effective customer call routing is a key element of reducing agent stress.
Without a strategic approach to managing inbound customer calls, agent resources can be strained through the unnecessary redistribution of calls between departments, often as a result of misallocation or inaccurate routing.
A well-developed IVR system can help to mitigate the time lost to cases such as these, and enhance the customer experience.
With thanks to Lucille Needham at Genesys
What technology have you introduced to help reduce agent stress in your contact centre?
Put your thoughts in an email to Call Centre Helper.