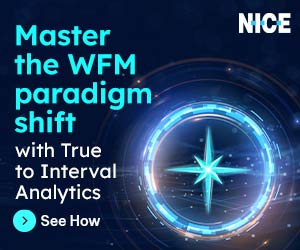 We asked our readers 'How Are Digital Channels Managed With Your WFM Solution?' This article looks at the responses of 224 contact centre professionals.

The results have been taken from the Workforce Management Chapter of our 'What Contact Centres Are Doing Right Now' 2021 survey report, which was sponsored by NICE.
How Are Digital Channels Managed With Your WFM Solution?
How digital channels are managed with WFM solutions – results:
| Channel Management | Percentage |
| --- | --- |
| Manually Forecast for Digital Channels | 50.0% |
| Set Channels as a Skill for Forecast and Schedule Activities | 30.0% |
| Use the Same Average Handle Time (AHT) Across Different Types of Chat or Social Media | 21.4% |
| Block Schedule for Specific Digital Channels | 15.7% |
| Set Concurrency Limits By Channel and by Agent | 10.7% |
Half of Contact Centres Manually Forecast Digital Channels
50.0% of contact centres manually create forecasts for digital channels. This is despite channels such as live chat and messaging being notoriously difficult to plan for.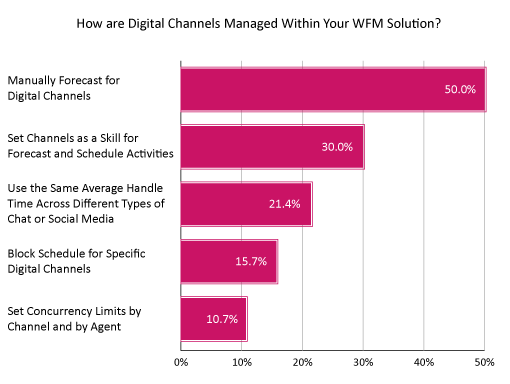 Why? Well, having advisors manage multiple conversations at once adds another layer of complexity to the planner's job.
To overcome this challenge, 10.7% of operations set concurrency limits by channel and advisor.
Other shortcuts that planners use to plan for digital channels include using the same AHT across different types of chat or social media (21.4%) and block scheduling for specific channels (15.7%).
While these tricks can simplify the planner's job, each can also lower planning efficiency.
This survey was done in partnership with Akixi, NICE, Nuance, Odigo, Poly and ProcedureFlow.